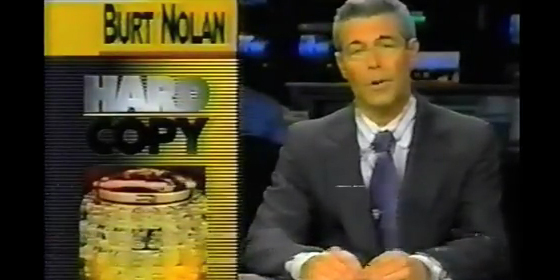 As part of the viral campaign for The Girl With the Dragon Tattoo Sony have released an ingenious recreation of a 1990s TV show.
It has never ceased to amaze me how badly big budget movies have traditionally executed on screen news graphics (e.g. that 'news report' during climax of Spiderman 3).
But David Fincher isn't the kind of director to allow sloppy visuals into his movies.
Even if he just oversaw it, his noted perfectionism and knowledge of various video formats may have influenced the final result, due to his extensive work in commercials and music videos since the 1980s.
So perhaps that was why this fantastic recreation of Hard Copy appeared on YouTube recently:
Those who have read the book, or seen the Swedish film, will note how events from the plot are woven into the news segment.
But check out the audio and visual fidelity to the original show.
It appears the look they were going for was a VHS copy recorded to TV, transferred to a computer and then uploaded to YouTube – note the tracking lines and period commercials.
Digital editing programs now it easier to recreate this older look but it is still an impressive feat, along with some (possible) Easter eggs for the eagle-eyed.
If you want to compare it with the actual show, check out this actual clip from September 1989:
If you don't remember it, Hard Copy was a US tabloid news show that ran from 1989 to 1999.
Like a sleazy tabloid cousin of 60 Minutes, it wasn't afraid of sneaky tactics and attracted controversy due its airing of violent material.
In short, a perfect fit for the dark world of Steig Larsson's book.
Note that the channel is called Mouth Taped Shut, which is also the blog which has been hosting various production photos and viral tidbits.
One intriguing episode of Hard Copy was their investigation into the notorious Nine Inch Nails video for Down In It:
Given that NIN frontman Trent Reznor is actually scoring Fincher's new film, was this whole concept inspired by his past appearance on the show?
It's a very effective viral campaign but also suprisingly mischievous and playful – a bit like Fincher and Reznor perhaps?
> Mouth Taped Shut
> Details on the soundtrack
> More on the Stieg Larsson novel and Hard Copy at Wikipedia