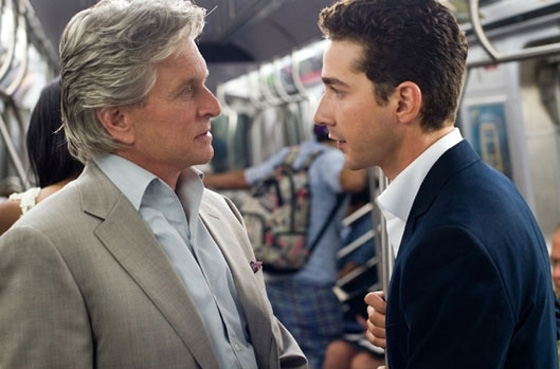 Two decades since Oliver Stone chronicled financial greed in Wall Street, he returns with a sequel set amidst the recent global economic meltdown.
Opening with Gordon Gekko (Michael Douglas) getting out of jail in 2001, the story quickly moves forward to 2008 where a trader, Jake Moore (Shia LeBeouf), is looking for revenge after his firm is taken over by a ruthless rival, Bretton James (Josh Brolin).
Enter Gekko, the author of a new book warning of the market meltdown. Jake happens to be dating Gekko's estranged daughter Winnie (Carey Mulligan) and agrees to help him reconnect with her, in return for information about James' firm.
Given that 23 years have passed since the original film, it is remembering that its cultural status built over time. Although Douglas won an Oscar, it was not a huge critical or commercial hit and it took time for his phrase 'greed is good' to enter the lexicon.
Gekko was loosely based on disgraced figures such Michael Miken and Ivan Boesky, but gradually became a hero over time to a generation of financial workers who helped stoke the boom years under Clinton and Bush Jnr.
LeBeouf noted that for this film, Stone and Douglas were treated like royalty whilst filming on Wall Street because of the impact of the 1987 film – a cautionary parable about greed that ironically inspired a generation keen to emulate the villain.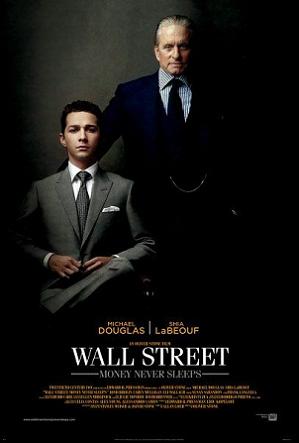 The new film has a promising concept: what would Gekko himself make of the financial crises of 2008 and the bailout of Wall Street banks by the taxpayer?
Much of the plot involves a thinly veiled dramatisation of the collapse of Lehman Brothers, although the names of the firms have been changed, and the efforts of the US government to stop the financial system collapsing.
On the plus side, the return of Douglas as Gekko is actually the most enjoyable aspect of the film. Not only does he paint a convincing portrait of a disgraced titan looking to get back in the game, but he balances genuine emotion with sly humour.
Where the film is less successful is the way in which it crams in too much domestic drama alongside the Gekko narrative.
The screenplay by Allan Loeb and Stephen Schiff is weaker when it comes the emotional conflicts of Jake and Winnie, which feels stodgy and undercooked, and it never really nails the extraordinary events of the last 2 years.
Although Le Beouf is agreeable in the role, his character's passion for green technology seems forced and Mulligan is almost completely wasted in a one-dimensional role.
Brolin is suitably menacing as the natural successor and rival to Gekko, but there is a curious lack of drama to scenes involving his bank and a global financial apocalypse.
The actual news bulletins from 2008 felt more exciting than the dull sequences here where bankers gather round tables and spout dialogue like it is some kind of TV reconstruction.
Roderigo Prieto's visuals are curiously muted and also feature a bizarre amount of old school split-screen effects (some not seen since the early days of MTV) and an overuse of graphics which don't actually explain that much.
At around 130 minutes, it lacks the spark and fizz of the original and by the end credits audiences may be wondering what Stone was thinking as it flounders towards an unsatisfactory conclusion.
The biggest strike against the film is that it doesn't place the 2008 crash in proper context. Although a few neat lines are offered as explainers, it should have gone deeper in to why the Clinton and Bush years led to the current disaster.
Strangely for the Oliver Stone, there is little of his energetic anger or style, and he seems more concerned with sentimental family drama than the underlying social issues, which must rank as a massive missed opportunity.
Douglas ultimately provides a reason for watching, but it seems like this film will have a much more muted cultural impact than the first, as it fails to form an effective response to the current financial meltdown.
Wall Street: Money Never Sleeps opens on Wednesday 6th October
> Official UK site
> Wall Street: Money Never Sleeps at the IMDb
> Reviews at Metacritic
> Find out more about the original Wall Street film and the current economic crisis