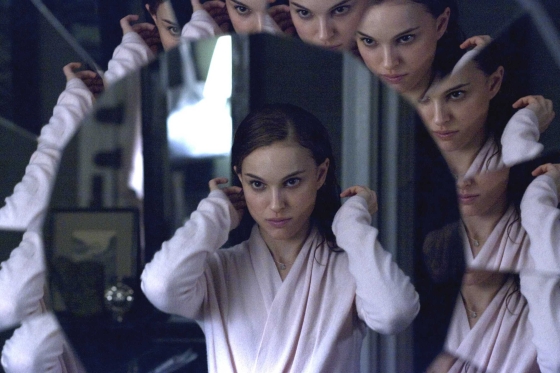 Darren Aronofsky's portrait of an obsessive ballerina is wonderfully intense experience, powered by a standout performance from Natalie Portman.
Set amongst a New York City ballet company producing Swan Lake, it focuses on the psychological and physical tribulations of Nina (Portman), a dancer desperate to impress her demanding director (Vincent Cassel) and possessive mother (Barbara Hershey).
After she wins the lead role we see Nina's ambition and drive turn into something much darker.
She begins to have suspicions about her predecessor (Winona Ryder), a fellow dancer (Mila Kunis) and herself as she becomes burdened with all kinds of psychological and physical problems.
Incorporating a variety of influences that include The Red Shoes, Repulsion and David Cronenberg, it also riffs heavily on the raw source material of Swan Lake itself.
Tchaikovsky's original work is given a modern day twist, as the trials of a young princess turned into a swan by an evil sorcerer get unsettling and often surprising parallels.
At one point Cassel's director says of his staging of Swan Lake:
"It's been done to death, I know, but not like this. We're going to strip it down and make it visceral and real"
This might also be Aronofsky talking, as that is exactly what he does with Black Swan.
Clint Mansell's score also emphasises this, expanding on Tchaikovsky's original compositions but taking it to a more sinister place, which, allied with some highly effective sound design, makes for an arresting audio backdrop.
Intriguing parallels with The Wrestler abound: both examine the physical and mental costs of being a performer; show the pressures of ageing; feature a character's desire to connect; and climax with a grand flourish.
Black Swan goes further in cranking up the tension and, along with a paranoid, unreliable narrator, there is an unusual amount of visual effects shots that depict the crumbling reality of Nina's world.
Mirrors are a recurring motif throughout and shots in rehearsal rooms are designed so we don't see the reflected cameras; people and body parts morph in creepy ways; and a variety of subtle effects are used to make us question what we have just seen.
Part of what gives the film such an exhilarating kick is Matthew Libatique's handheld visuals, shot on grainy 16mm. Like in The Wrestler, his work has a fluid urgency which really pays off in the dance sequences and also the claustrophobic world of Nina's apartment.
But the heart of Black Swan is Natalie Portman's captivating central performance. In what is easily the best part of her career, she conveys a believable kaleidoscope of emotions – including fear, aggression and pain – in a relentless push for artistic perfection.
Performing well outside of her comfort zone as an actress, her work has a certain meta quality that reflects the journey of her character, although we can safely assume the actual film production wasn't as gruelling as the fictional ballet.
In supporting roles, Vincent Cassell is brilliantly arrogant as the manipulative director; Mila Kunis is a charming foil; Barbara Hershey conveys a suffocating and vicarious ambition, and Winona Ryder has a small but juicy role as a fading star.
Since establishing himself in the independent sphere with films such as Pi (1998) and Requiem For A Dream (2000), Aronofsky has carved out an impressive niche for himself with thoughtfully crafted character portraits that have included mathematicians, drug dealers and wrestlers.
Black Swan is probably his most daring film yet: the bold mix of genres, combined with a dark sensibility may put off some audiences, but is also a reminder of how rich and rewarding his work can be.
Black Swan played at the London Film Festival today and screens on Sunday 24th and Monday 25th.
> Black Swan at the LFF
> Official site
> Reviews from Venice and Toronto at MUBi