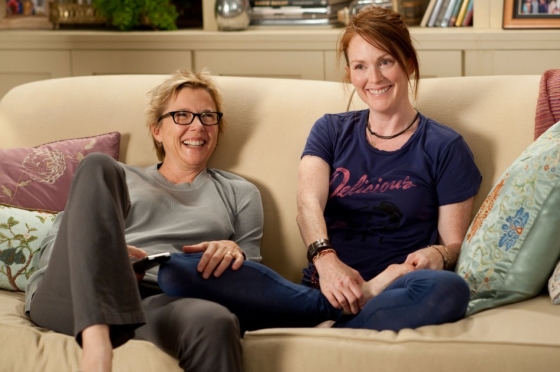 A perfectly pitched comedy-drama about family tensions, director Lisa Cholodenko's third film is also a showcase for some stellar acting.
When a Los Angeles lesbian couple, Nic (Annette Bening) and Jules (Julianne Moore), discover their two teenage kids, Joni (Mia Wasikowska) and Laser (Josh Hutcherson), have got in touch with their biological father (Mark Ruffalo) it causes various complications.
As with Chodolenko's previous films, this is very much a character piece exploring the intricacies and complications of human relationships.
But it is a step up from her last two films, applying a light touch to potentially heavy issues, and much of the enjoyment comes from the actors fitting snugly into their roles, especially the two leads who have their best parts in years.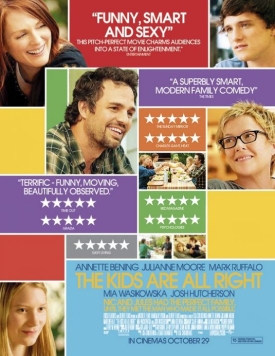 Bening is excellent as the career-orientated matriarch. As an uptight, wine-loving physician she manages to convey a genuine warmth and affection for her family that often seems hidden beneath her surface anxieties.
Moore gets to explore a more vulnerable side, as someone less interested in a career and who strays of the beaten track in looking for someone to spice up her domestic routine.
The chemistry between the two is striking and they paint a convincing picture of a genuinely loving couple who are nonetheless susceptible to the insecurities and problems of everyday life.
Already attracting awards season buzz, it will be interesting to see which categories both actresses are submitted for. At the moment the smart money is for Bening, but it seemed to me that Moore had slightly more screen time.
In the key supporting roles, Wasikowska and Hutcherson provide a nice contrast to their parents with their charming levelheadedness, whilst Ruffalo exudes a relaxing, easy charm as the man who is a catalyst for unexpected change.
The screenplay, by Cholodenko and Stuart Blumberg, manages to flesh out the characters and impressively depicts underlying tensions, be they of gender, sexuality or background.
Perhaps the most striking aspect of the film is how purely enjoyable it is to watch, moving from scene-to-scene with witty dialogue and organic humour generated from the interaction of the well-drawn characters.
This has the added bonus of dramatic moments arriving with unexpected force and when they do, it is with a lack of bombast unusual for films dealing with relationship problems.
For an independent film, albeit an upscale one, the look and feel of the production is convincing and special credit must go to editor Jeffrey M. Werner who helps move scenes along with an understated ease and fluency.
Added to this is an excellent soundtrack, which seems to reflect the different tastes of the family: for the parents there is David Bowie, Joni Mitchell and The Who, whilst for the kids, we get tracks from Vampire Weekend and MGMT.
Comedy-dramas (or dramatic comedies) can often be a hellish thing to get right, but here Chodolenko strikes just the right balance, with a tone that never takes its characters too seriously, whilst still treating them with respect.
Although the issue of gay marriage is still a contentious one in America, this film goes a long way in putting forward the idea that a happy family doesn't have to be a conventional one.
Without resorting to grandstanding polemic and instead just showing the bittersweet ups and downs of a loving family, Chodolenko has made a convincing case that the kids will indeed be alright.
The Kids Are Alright screens at the London Film Festival (Monday 25th, Tues 26th and Weds 27th) and opens in the UK on Friday 30th October
> The Kids Are Alright at the LFF
> IMDb entry
> Reviews at Metacritic