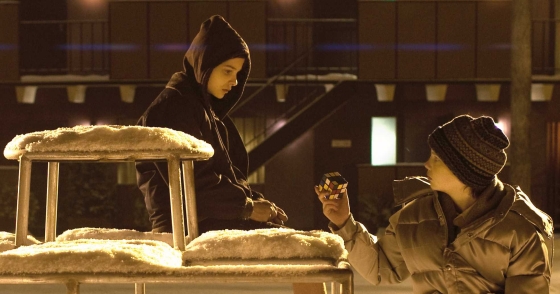 The US remake of the Swedish vampire classic manages to confound expectations by actually improving on the excellence of the original.
For those unfamiliar with the story, it involves a lonely young boy (Kodi-Smit McPhee) struggling at home and school, who befriends a mysterious girl (Chloe Grace Moretz) who moves in next door with a older guardian (Richard Jenkins).
Director Matt Reeves (who made Cloverfield) has wisely stayed faithful to the source material, which includes the 2008 film and the original novel by John Ajvide Lindqvist.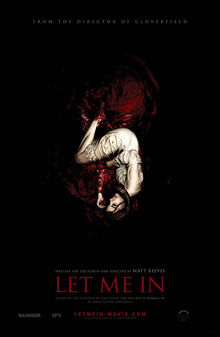 Relocating it to Los Alamos, New Mexico in early 1983, it begins with a police officer (Elias Koteas) investigating a mysterious death which we later find out is just one of many plaguing the area.
From this opening sequence, a convincing sense of time and place is established and Michael Giacchino's wonderfully creepy score sustains an ominous mood throughout.
Shooting mostly on location, Reeves and cinematographer Greig Fraser have crafted their own visual style which keeps things atmospheric and murky, referencing the original but also defining its own visual palette.
One sequence involving a car is a virtuoso piece of shooting and editing, whilst the bleak, wintry terrain of New Mexico evokes the sense of doom incurred by being the place which gave birth to the atomic age as well as Regan's nuclear escalation in the early 1980s.
It is no coincidence that we see Regan as a background presence on TV denouncing the Soviet Union as an 'evil empire' and generally contributing to the dark mood throughout.
Reeves doesn't shy away from the darker elements of the material: the school bullies are depicted as unremitting monsters (as they can seem to a child) and the violence hasn't been curbed to get a softer rating.
McPhee and Moretz are excellent in the lead roles and have a rare emotional chemistry for actors of their age. Their relationship is all the more moving because of the danger at the heart of it.
Richard Jenkins and Elias Koteas also bring gravitas to their characters whilst Dylan Minnette deserves special praise as an impressively repellent school bully.
As a horror remake this is light years ahead of the horror junk that has been seeping out of Hollywood recently.
For those unfamiliar with the original, it will be a rare chance to appreciate a well crafted and emotionally effecting horror film.
But how will this play to audiences who have already seen the original Swedish film?
It is a difficult question to answer. Some will see it as redundant, others might even refuse to see it at all.
As a big fan of Tomas Alfredson's movie, it seems odd to confess that Reeves has actually made the creepier film.
It doesn't have quite the same mood or crisp visuals and will inevitably be seen by some as the lesser work because it is a remake.
But it feels like Reeves spent a good deal of time going over the original novel, as well as the first film, and worked hard to create something that can stand on its own.
The horror genre has seen too many bad remakes over the last decade, along with films that omit genuine scares for voyeuristic sadism.
Let Me In is a rare exception, a film which builds on the original and makes for an unsettling horror which affects the head and the heart.
Let Me in is out at UK cinemas on Friday 5th October
> Official UK site
> Let Me In at the IMDb
> Reviews at Metacritic
> Interview with Tomas Alfredson about the 2008 Swedish film