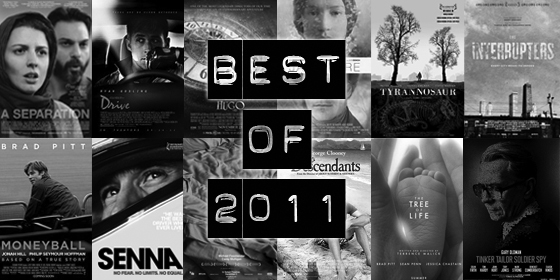 Although it was a year with a record number of sequels, there was much to feast on if you really looked for something different.
The year will be remembered for momentous events which overshadowed anything Hollywood could come up with: the Arab Spring, the Japanese Earthquake, Hackgate, the death of Osama Bin Laden and the continuing meltdown of the global economy.
But cinema itself underwent some seismic changes: in April the thorny issue of the theatrical window raised its head, whilst James Cameron suggested films should be projected at 48 frames per second instead of the usual 24.
But by far the biggest story was the news that Panavision, Arri and Aaton were to stop making film cameras: although the celluloid projection will effectively be over by 2013, it seems the death of 35mm capture is only a few years away.
So the medium of film, will soon no longer involve celluloid. That's a pretty big deal.
As for the releases this year, it seemed a lot worse than it actually was.
Look beyond the unimaginative sequels and you might be surprised to find that there are interesting films across a variety of genres.
Instead of artifically squeezing the standout films into a top ten, below are the films that really impressed me in alphabetical order, followed by honourable mentions that narrowly missed the cut but are worth seeking out.
THE BEST FILMS OF 2011
A Separation (Dir. Asghar Farhadi): This Iranian family drama explored emotional depths and layers that few Western films even began to reach this year.
Drive (Dir. Nicolas Winding Refn): Nicolas Winding Refn brought a European eye to this ultra-stylish LA noir with a killer soundtrack and performances.
George Harrison: Living in the Material World (Dir. Martin Scorsese): Scorsese's in-depth examination of the late Beatle was a passionate and moving tribute to a kindred soul.
Hugo (Dir. Martin Scorsese): The high-priest of celluloid channelled his inner child to create a stunning digital tribute to one of the early pioneers of cinema.
Jane Eyre (Dir. Cary Fukunaga): An exquisite literary adaptation with genuine depth, feeling and two accomplished lead performers that fitted their roles like a glove.
Margin Call (Dir. J.C. Chandor): The best drama yet to come out the financial crisis is this slow-burn acting masterclass which manages to clarify the empty heart of Wall Street.
Melancholia (Dir. Lars von Trier): Despite the Cannes controversy, his stylish vision of an apocalyptic wedding was arguably his best film, filled with memorable images and music.
Moneyball (Dir. Bennett Miller): The philosophy that changed a sport was rendered into an impeccably crafted human drama by director Bennett Miller with the help of Brad Pitt.
Project Nim (Dir. James Marsh): A chimpanzee raised as a human was the extraordinary and haunting subject of this documentary from James Marsh.
Rango (Dir. Gore Verbinski): The best animated film of 2011 came from ILMs first foray into the medium as they cleverly riffed on classic westerns and Hollywood movies.
Senna (Dir. Asif Kapadia): A documentary about the F1 driver composed entirely from existing footage made for riveting viewing and a truly emotional ride.
Shame (Dir. Steve McQueen): The follow up to Hunger was a powerful depiction of sexual compulsion in New York, featuring powerhouse acting and pin-sharp cinematography.
Snowtown (Dir. Justin Kerzel): Gruelling but brilliant depiction of an Australian murder case, which exposed modern horror for the empty gorefest it has become.
Take Shelter (Dir. Jeff Nichols): Wonderfully atmospheric blend of family drama and Noah's Ark which brilliantly played on very modern anxieties of looming apocalypse.
The Artist (Dir. Michel Hazanavicius): An ingenious love letter to the silent era of Hollywood is executed with an almost effortless brilliance.
The Descendants (Dir. Alexander Payne): Pitch-perfect comedy-drama which saw Alexander Payne return to give George Clooney his best ever role.
The Guard (Dir. John Michael McDonagh): Riotously funny Irish black comedy with Brendan Gleeson given the role of his career.
The Interrupters (Dir. Steve James): The documentary of the year was this powerful depiction of urban violence and those on the frontline trying to prevent it.
The Skin I Live In (Dir. Pedro Almodovar): The Spanish maestro returned with his best in years, as he skilfully channeled Hitchcock and Cronenberg.
The Tree of Life (Dir. Terrence Malick): Moving and mindblowing examination of childhood, death and the beginnings of life on earth.
Tinker Tailor Soldier Spy (Dir Tomas Alfredson): Wonderfully crafted John le Carre adaptation which resonates all too well in the current era of economic and social crisis.
Tyrannosaur (Dir. Paddy Considine): Searingly emotional drama with two dynamite lead performances and an unexpected Spielberg reference.
We Need To Talk About Kevin (Dir. Lynne Ramsey): Audio-visual masterclass from Ramsay with a now predictably great performance from Tilda Swinton.
Win Win (Dir. Thomas McCarthy): Quietly brilliant comedy-drama with Paul Giamatti seemingly born to act in this material.
HONOURABLE MENTIONS
A Dangerous Method (Dir. David Cronenberg)
Anonymous (Dir. Roland Emmerich)
Another Earth (Dir. Mike Cahill)
Attack the Block (Dir. Joe Cornish)
Bobby Fischer Against The World (Dir. Liz Garbus)
Confessions (Dir. Tetsuya Nakashima)
Contagion (Dir. Steven Soderbergh)
Four Days Inside Guantanamo (Dir. Luc Cote, Patricio Henriquez)
I Saw the Devil (Dir. Kim Ji-woon)
Into the Abyss (Dir. Werner Herzog)
Life in a Day (Dir. Kevin MacDonald)
Martha Marcy May Marlene (Dir. Sean Durkin)
Midnight in Paris (Dir. Woody Allen)
Page One: Inside The New York Times (Dir. Andrew Rossi)
Super 8 (Dir. JJ Abrams)
The Adventures of Tintin (Dir. Steven Spielberg)
The Beaver (Dir. Jodie Foster)
The Deep Blue Sea (Dir. Terence Davies)
The Girl with the Dragon Tattoo (Dir. David Fincher)
The Ides of March (Dir. George Clooney)
2010 FILMS THAT CAME OUT IN 2011
Armadillo (Dir. Janus Metz)
Beginners (Dir. Mike Mills)
Cave of Forgotten Dreams (Dir. Werner Herzog)
Submarine (Dir. Richard Ayoade)
Cold Weather (Dir. Aaron Katz)
Tabloid (Dir. Errol Morris)
> Find out more about the films of 2011 at Wikipedia
> End of year lists at Metacritic
> The Best Film Music of 2011
> The Best DVD and Blu-ray Releases of 2011