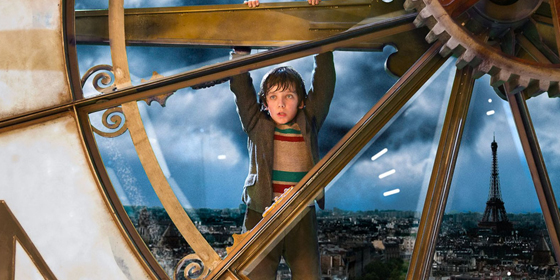 The latest filmmaking technology provides Martin Scorsese with the tools to create a passionate love letter to the early days of cinema.
Adapted from Brian Selznick's illustrated book, the story explores what happens when a young orphan (Asa Butterfield) living in a 1930s Paris train station comes across an older man selling toys at a stall.
That man (Ben Kingsley) may literally have the key to the mysterious robotic automaton Hugo's late father (Jude Law) left behind before perishing in a fire.
With the constant threat of being taken away to an orphanage by the local police inspector (Sacha Baron Cohen) Hugo finds out more about 'Papa Georges' by befriending his granddaughter (Chloe Grace Moretz).
Although best known for his masterful explorations of the American male (Taxi Driver, Raging Bull, Goodfellas, The Departed) he has long shown an interest in stories involving martyrs and redemption.
His most controversial film (The Last Temptation of Christ) and perhaps his most overlooked (Kundun) were both about spiritual figures of major religions.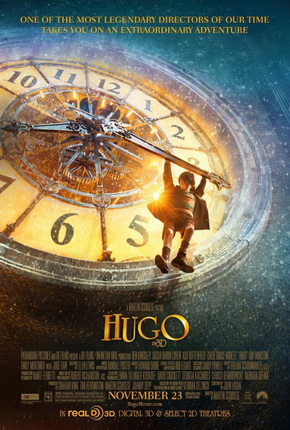 Now the director turns to the religion of film and one of its key pioneers, Georges Melies, who for many years was largely forgotten after World War I.
Despite Hugo being something of a departure for the director in that it is suitable for family audiences, it is also one of his most personal works.
It isn't a stretch to read the central character as the young asthmatic New Yorker who fell deeply in love with cinema or even Melies as the director who represents his fears (rejection) and dreams (longevity).
In order to achieve this vision he has recruited a glittering array of world class technical talent.
Dante Ferretti's detailed production design offers us a fantastical recreation of 1930s Paris, which is skilfully augmented by Sandy Powell's costumes and Rob Legato's visual effects work.
The blending of all these design elements is dazzling, filled with detail and depth, which provides a solid basis for Robert Richardson's stunning 3D photography.
Using the new Arri Alexa camera with a Cameron-Pace 3D rig it provides Scorsese with a new tool for executing his vision with longer takes and immersive shots.
The wonderful irony is that these cutting edge digital tools – which involved pioneering lenses and an on-set data system – are used to pay tribute to one of the founding fathers of 'celluloid cinema'.
Visually, this is done with recurring motifs: wheels turning, trains, clocks and objects coming towards the camera, which are brought to life by a use of 3D which enhances, rather than distracts from them.
Although Scorsese has talked about the adjustment he and Richardson had to make coming from the world of 35mm film, the end result is a master class in digital cinematography, filled with stunning compositions and rich layers of detail.
The performances don't quite match the visuals, but Butterfield and Moretz do enough to convince in their roles, whilst Kingsley paints a convincing picture of a man haunted by regret.
In supporting roles Sacha Baron Cohen's mannered comic performance is somewhat overshadowed by his dog, but Helen McCrory and Christopher Lee are both touching in key minor roles.
John Logan's screenplay manages to blend the traditional storytelling elements of the book, whilst also providing a neat framework for Scorsese to explore his own inner passion for movies and film preservation.
Without going into spoiler territory, there are numerous references to the Lumiere brothers, the silent era and 1930s French cinema.
The beauty of these hat tips is that – like the 3D – they do actually serve the story rather than function as a commercial indulgence.
Thelma Schoonmaker's editing also skilfully blends key flashback scenes, numerous chase sequences in the station and archive footage of classic cinema works which brilliantly concentrated down to their essence.
It is also refreshing to see a family film is respectful to audiences of all ages and not a pat morality or coming-of-age tale filled with lazy in-jokes.
Unlike many contemporary films, it actually rewards patience and curiosity, before climaxing with a moving ode to both the art and experience of cinema itself.
Beneath the fantastical surface there are serious emotions and one can sense the ghost of Michael Powell – a neglected director Scorsese helped revive interest in.
Perhaps the most surreal aspect of Hugo is that a $150 million advert for film preservation is going to be screened digitally in multiplexes around the globe.
Like the early work of Melies, it seems like a form of magic that this film even exists.
> Official site
> Reviews of Hugo at Metacritic and MUBi
> Find out more about George Melies at Wikipedia and Senses of Cinema
> Martin Scorsese discussing 3D