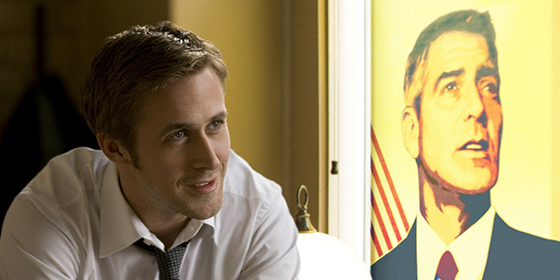 A wonkish but highly efficient political drama provides George Clooney the chance to pay tribute to his favourite era of filmmaking.
Adapted from Beau Williams' stage play Farragut North, the basic story is a cocktail loosely inspired by the skulduggery of recent US presidential primaries.
It focuses on a young, ambitious strategist (Ryan Gosling) who is assisting his campaign boss (Philip Seymour Hoffman) in getting an inspirational Democratic candidate (George Clooney) elected.
With the Republican field bare, the primary takes on extra significance, especially when a rival campaign manager (Paul Giamatti), a journalist (Marisa Tomei) and an intern (Evan Rachel Wood) start to pose ethical and moral dilemmas.
With a script credited to Williams, Clooney and Grant Heslov, it seems to be a deliberate attempt to apply the weary but wise tone of classic 70s cinema to recent times.
It offers up an approach that seems to draw on the best work of directors such as Alan Pakula and Sidney Lumet, with moral ambiguity, composed framing and a considered use of long takes all adding to the atmosphere.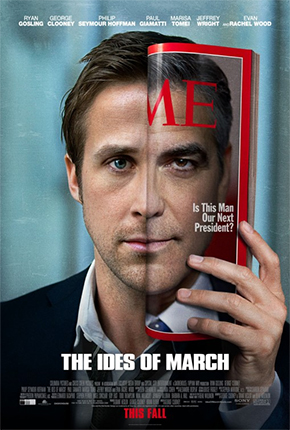 Clooney has admitted that he delayed making this film until the brief tidal wave of hope that got Obama elected subsided and there is no doubt that this is trying to capture the dynamics of modern politics with an eye to the past.
It even appears to draw from some of the drama of the 2008 Democratic primary campaign, as well as its 2004 predecessor in which Williams worked for presidential hopeful Howard Dean.
Throughout the film is peppered with neat little political references, be it the Shepherd Fairey Obama poster, Eisenhower's campaign slogan ('I Like Ike' crosses party lines to become 'I Like Mike') and there is a great line about an 'unofficial rule' for Democratic candidates (which I wont spoil here).
It seems the writers and crew have been absorbing documentaries as D.A. Pennebaker's The War Room, reading dishy campaign books such as Race of a Lifetime by Mark Halperin and John Heilemann, whilst blending them in with current disillusionment about the US political system.
For non-political junkies, this occasionally veers into territory that some might consider arcane, with operatives discussing strategies, insider websites and how a story might be killed or resurrected (then killed again), which might leave some audience members cold.
The original title of the play refers to a Washington metro station near to where veteran campaign operatives 'retire' to create lucrative political consulting firms.
But Clooney has opted to widen the scope of the material: the new Shakespearean title (which both refers to Julius Caesar and Super Tuesday) and the emphasis on themes of loyalty give it a relevance beyond a particular campaign or country.
One of the most immediately pleasurable aspects of the film is the pacing of the narrative, which starts off brisk and then sucks you into the unfolding drama, courtesy of the script and Stephen Mirrione's brisk, efficient editing.
Shooting on location in Ohio and Michigan has paid off handsomely, as the bleak wintry landscapes not only feel realistic but seem an appropriate backdrop for the actions of the central characters.
This is probably one of the most dazzling Hollywood ensembles in quite some time: Gosling is believable as the brilliant but naive protagonist; Clooney exudes the charm and ambition of a serious candidate; Seymour Hoffman and Giamatti excel as the weary but wise campaign managers and Wood and Tomei are convincing in small but key roles.
If there is a flaw with the casting, it is that actors of the quality of Jeffrey Wright and Jennifer Ehle are limited to very minor roles.
Cinematographer Phedon Papamichael skilfully channels the desaturated look of 70s dramas like Three Days of the Condor, The Conversation and to create a strong visual palette for the movie.
One particular influence appears to be Michael Ritchie's The Candidate, which starred Robert Redford as a hopeful Democratic candidate: it would make an interesting double bill with this film.
As an actor-director making serious movies inside the Hollywood system, Clooney is in some ways a modern day Redford and both films present fascinating depictions of ends justifying the means, both in politics and art.
Another film that offers an interesting comparison with this is Michael Clayton, a 2007 corporate thriller which itself was heavily indebted to Pakula's conspiracy trilogy of the 1970s, only in The Ides of March it is Clooney in the Sydney Pollack (or maybe Tom Wilkinson?) role and Gosling in the Clooney part.
This isn't quite on the same level as Tony Gilroy's film, let alone its 70s forebears,  but it nonetheless offers us a darker-than-usual depiction of power, politics and the reality of grasping the White House from your ideological enemies .
The score by Alexander Desplat is suitably brooding and atmospheric, without ever overpowering the action on screen and combined with some clever sound editing, makes for some highly effective moments.
If The West Wing represented a fantasy of what the Clinton presidency could have been (and oddly predicted the Obama candidacy), The Ides of March perhaps represents a more realistic depiction of where American politics is at on the eve of the 2012 presidential election.
After Obama's historic win of 2008, the country is more bitterly divided than ever: tea party lunacy fuelled by internet nonsense jostles with Wall Street occupiers feeling betrayed by the faith their Baby Boomer parents put in the governments of the last 30 years.
With both political parties and the current system seemingly paralysed by an inability to reform the financial system, a drama like this feels weirdly appropriate for the current times in which we live.
By showing the compromises and skulduggery on the campaign trail, it mirrors the bleak reality of politicians once they are in actually in power and the crushed dreams of the present era.
> Official site
> Reviews from Venice and Toronto at MUBi and Metacritic
> More on the play Farragut North at Wikipedia (Spoilers)