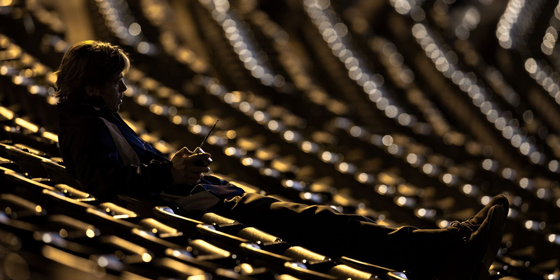 A statistical approach to baseball might not seem the most gripping basis for a sports movie, but this is a surprisingly compelling character portrait with hidden depths.
Adapted from Michael Lewis' unlikely bestseller, it explores how Oakland A's general manager Billy Beane (Brad Pitt) defied conventional wisdom with the help of an assistant (Jonah Hill) who convinced him of the hidden value of data.
As an ex-player, Beane had grown up in era where scouts and grizzled veterans had stifled both his own career and the true potential of players who weren't superstars on big salaries.
In late 2001 when his star players have been traded to bigger teams ("organ donors to the rich") he finds inspiration in Peter Brand (Jonah Hill), a young economics graduate who can spot underrated baseball players the bigger teams are ignoring (his character is a composite largely based on Paul DePodesta).
What follows is a movie every bit as brilliant and radical as the system that went on to revolutionise US baseball.
Fundamentally, it is a compelling portrait of a man motivated by his past to change the present, but it also quietly subverts the traditional US sports movie by not pandering to clichés of underdogs triumphing against the odds.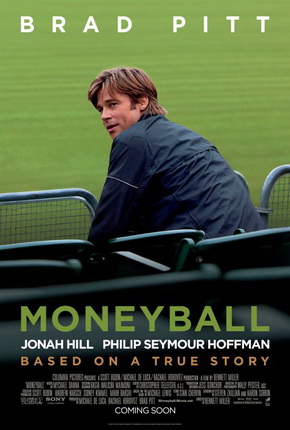 Director Bennett Miller brings an unusual aesthetic to the genre by making the off-field action more dramatic than what happens on the pitch, which dovetails beautifully with Beane's superstitious compulsion to never watch the games.
The harsh realities of running a sports team at the highest level are conveyed through his battles with coach Art Howe (Philip Seymour Hoffman), doubting scouts who naturally resent the new data driven approach and the chorus of critics amongst the media and fans.
There are personal dramas too: flashbacks of Beane's early playing career are skilfully woven into his motivational backstory, whilst his relationship with his young daughter (Kerris Dorsey) is both touching and central to the story.
The main challenge with this approach is to make things visually interesting, but the choice of DP Wally Pfister was shrewd: his brand of subtle lighting and shooting that serves the story wisely keeps the focus on the characters and the unfolding drama.
As for the screenplay – collaboration credited to Steven Zaillian and Aaron Sorkin – it manages to take the human drama behind a baseball franchise and make it a wider metaphor for anyone battling against personal demons or institutional arrogance.
One of the reasons the book became an unlikely bestseller and proved influential in both the sport and business world, is because by mining a very specific episode, it ultimately tapped into universal truths.
Although the film is an underdog story of sorts, it explores how people in a bad place are forced to become creative (they have nothing to lose) and how easy solutions (in this case 'on base percentage') to difficult problems can be so hard to see.
It also documents a time when old school sporting philosophies based on hunches gave way to statistical analysis powered by computers and spread sheets. Or more simply: when the geeks beat the jocks at their own game.
But it's the human drama that makes Moneyball really tick: Beane is a fascinating character and the exploration of why he went against conventional wisdom lies the heart of the film, but also possibly puts another interpretation on the title.
The film puts forward the daring notion that money ruined his playing career – his motivation as general manager was partly driven by a desire to push back against a sport corrupted by cash.
Brad Pitt gives perhaps his finest performance in the lead role, not only convincing as charismatic leader of a sports team but as a more vulnerable father and someone struggling with the past.
Jonah Hill might seem an unlikely choice as Beane's assistant, but he plays the straight man role very well and his chemistry with Pitt suggests his very casting highlights the 'hidden value' concept his character explains in the movie.
There are also solid turns from Philip Seymour Hoffman (showing a subtle, quiet gruffness), Chris Pratt as the first underrated player they sign and Kerris Dorsey as Beane's daughter, whose presence is always keenly felt in the background.
Where the film really triumphs is in how it applies the low-key approach Miller used so successfully in Capote to a big studio film about a fascinating chapter in America's most beloved sport.
The use of MLB footage and real locations grounds the film in a realistic setting far removed from the glossy visions of previous sports movies, whilst Mychael Danna's wonderful, atmospheric score sounds like Philip Glass' scoring an Errol Morris baseball documentary.
Like Beane's impact on Major League Baseball the final it is both surprising and effective.
Given the tortured production history of the project, which saw a noted director (Steven Soderbergh) leave over creative differences and one A-list screenwriter (Aaron Sorkin) hired to re-write another (Steve Zaillian), it is a miracle that the film exists at all.
Part of that must lie down to the persistence of Brad Pitt (who also serves as producer) and it is tempting to read parallels into his struggle to get this made at a major studio (Sony Pictures) with Beane's story.
To extend the analogy, Pitt is Beane (protagonist struggling against received wisdom), Bennett Miller is Brand (the unconventional catalyst), Sony Pictures is the Oakland A's (an organisation trying to meet commercial demands) and Major League Baseball is Hollywood (large institution where passion frequently clashes with pragmatism).
In a year in which he has also delivered a powerful performance and produced Terrence Malick's The Tree of Life, we can be grateful that a movie star like Pitt is using his influence to make interesting movies rather than just counting money.
This takes on a new relevance as the wonderfully staged final scenes click into place.
Perhaps the most potent aspect of Moneyball is that it grows in your mind long after you've seen it, which for a movie belonging to a genre prone to cliché is really quite an achievement.
Maybe it can also function as a parable for major studios to keep looking for those quietly interesting projects rather than just the loud, costly franchises.
> Official site
> Reviews of Moneyball at Metacritic and MUBi
> More about Billy Beane and Moneyball at Wikipedia