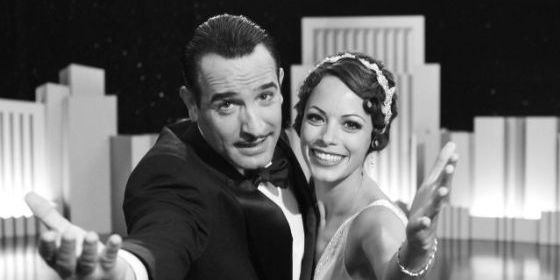 An ingenious love letter to the silent era of Hollywood is executed with an almost effortless brilliance.
One of the surprise hits on the festival circuit this year has been a black and white French film shot in Los Angeles with two relative unknown actors in the lead roles.
You might think that this was some kind of strange experiment designed exclusively for cinephiles, but is actually one of the most charming and audience-friendly films to be released this year.
Opening in 1927, the story charts the fortunes of a silent movie star George Valentin (Jean Dujardjin) and a rising young actress (Berenice Bojo) as the introduction of sound into cinema threatens to disrupt the established order.
As an box office star Valentin is dismissive of the new audio technology despite warnings from the key people (and animals) in his life: a cigar-chomping studio mogul (John Goodman), frustrated wife (Penelope Ann Miller), driver (James Cromwell) and a loyal dog (Uggie).
The key trick which director Michel Hazanavicius brilliantly pulls off is that the film itself is a silent movie (with some crucial exceptions) that manages to simultaneously pay homage to and have fun with a now distant era of the medium.
Not only has he clearly done his research on the period, using modern technology to recreate older techniques, but he brings in a sense of fun that could make this an unlikely cross over hit with open-minded audiences.
Cinematographer Guillaume Schiffman, production designer Laurence Bennett and costume designer Mark Bridges all combine to impressively recreate the 1920s, even if they slightly hold back on certain elements for effect.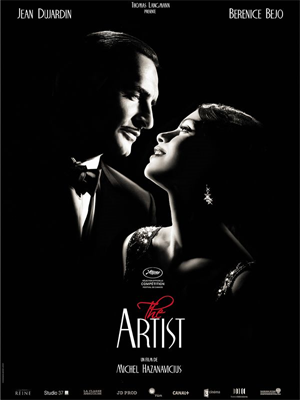 Shot in the Academy ratio of 1:33, the use of music and inter-titles give it an authentic feel, but Hazanavicius has a lot of fun with this world, sprinkling sequences with a sophisticated but heartfelt humour.
There's also lots of lovely touches such as spinning newspapers, exaggerated facial expressions and even a dog who seems to have a natural gift for comedy.
The lead performances are outstanding: Dujardin is every inch the silent matinee idol (heavily modelled on Douglas Fairbanks), whilst Bejos makes a charming foil.
Without using their voices – one of the essential tools of modern acting – their physical expression through their bodies and faces works beautifully and blends seamlessly with the intricately crafted world of the film and – even better – the films within the film.
In supporting roles, Goodman and Cromwell especially stand out, although special mention must go to Uggie (trained on set by Sarah Clifford and his owner Omar Muller), who is the most memorable screen dog since Flike in Umberto D. (he even won this year's Palme Dog award).
There is so much intelligence and charm packed into The Artist that I'm reluctant to reveal too much, but I will say that sequences involving a movie premiere, a nightmare and a house fire provide more satisfaction and humour than most contemporary comedies do in their whole running time.
It doesn't just riff on the silent era but also appears to have many references to classical Hollywood movies: Citizen Kane, A Star is Born and Vertigo are just some of the many movie easter eggs that discerning audience members will delight in spotting.
There is also the ingenious conceit that lies at the heart of the project: the film both is a recreation and pastiche of a silent-era melodrama, with much of the film mirroring both the classical style of the period and the actual film-within-a-film scenes.
If all this sounds a bit too clever for its own good, don't be alarmed – it blends this sophistication with a suprisingly light touch and injects plenty of inventive physical humour into almost every sequence.
Hazanavicius is best known for his spy pastiches OSS 117: Cairo, Nest of Spies and OSS 117: Lost in Rio but this film marks a new chapter for him as a director, even though he is using familiar elements (Dujardin and Bejo both worked in his previous films).
Whilst it shares the cunning craftsmanship and wry humour of his previous work there is something more audacious here in venturing to Hollywood in order to remind it of the wonder of cinema, which France invented and America exported around the world.
A contemporary French production baked in its love of older American movies, it is an unusual beast: sophisticated but accessible; nostalgic yet contemporary – the end result is almost a filmic representation of those two cultures shared passion for the movies.
There are many fascinating parallels with the present day: as Hollywood undergoes a painful but necessary transition to digital technology, roughly equivalent to the advent of sound, the film may have an unexpected resonance with contemporary filmmakers and audiences.
The fact that the economic difficulties of the Great Depression closely mirror those of the current climate will only add to its lustre, following in footsteps of silent icons like Chaplin and Keaton.
A late addition to this year's lineup at Cannes, I can now see why Parisian sales company Wild Bunch and The Weinstein Company (who acquired distribution rights for several territories back in May) were so bullish about this film: on paper it sounds eccentric, but in front of an audience it works like magic.
Although it lost out on the Palme d'Or, Harvey Weinstein must surely be rubbing his hands with glee.
Not only does this film resemble last year's unexpected hit The King's Speech (a well crafted, feel-good period film) but it is also the kind of foreign language title he excelled in marketing to Oscar voters back in the 1990s heyday of Miramax (Il Postino and Life is Beautiful are just two titles which spring to mind).
Veteran Academy members and actors (the largest voting branch) will find much to feast on.
Not only is it an inventive, loving tribute to their industry and town, but it also deals with the fears and hopes of performers in the same way that an Oscar favourite like All About Eve managed to do (although that used Broadway as a substitute for Hollywood).
The main challenge will be getting audiences outside of the art-house realm to see it, but the word of mouth on this could potentially spread like wildfire once people experience the film's heady charms for themselves.
Not only does the genuinely uplifting mood and sparkling invention make it attractive to audiences in depressing times, but the silent movie aspect means it could potentially translate across several continents and cultures.
A glorious and highly inventive tribute to cinema, its playful cleverness and uplifting tone often hide the considerable invention it took to craft what is easily one of the best films of 2011.
The Artist screens at the London Film Festival tonight (Tues 18th) and Saturday (22nd) before opening in the US on November 23rd. The UK release date is TBC
> Official site
> Collected reviews of The Artist at MUBi
> Find out more about the silent era of Hollywood at Wikipedia