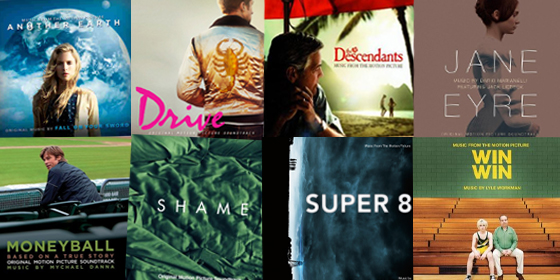 The best film music this year featured strong scores from composers like Cliff Martinez and Mychael Danna, whilst also providing us with plenty of memorable moments in the shape of individual tracks.
Soundtrack releases are often treated like the ugly duckling relation to a movie – I'm still waiting for an official soundtrack for Somewhere from last year – as it can often be just another commercial tie-in to a movie or bogged down by rights issues.
But when it is done right, there is something unique about music on film: it can sonically charge your emotions whilst sitting in the cinema or viscerally remind you of a film when you fire up the iPod.
As always there is some overlap between the use of pre-existing songs on soundtracks and scores written especially for the film, but the picks below all stood out for how they enriched their respective movies.
Given the varied nature of online music distribution these days, you'll be able to find the albums and tracks at iTunes, Amazon, Spotify and other places online (if not just email me).
* N.B. As I haven't yet seen The Girl With the Dragon Tattoo I'll have to reserve judgement on that score for the time being *
THE BEST SOUNDTRACK ALBUMS
Another Earth by Fall on Your Sword – Blending pulsating electronic elements with quiter atmospherics, this played a major role in reflecting the startling ideas and themes of Mike Cahill's low budget sci-fi drama. More varied than a first listen might suggest, it is worth keeping an ear out for the mix of instrumentation.
Drive by Cliff Martinez & Various Artists – A fantastic blend of songs by artists like Desire and College, along with some pulsating, moody electronica by Cliff Martinez, helped make this one of the most distinctive soundtracks of the year. Not only was it central to the cool aesthetic of the film, given the lack of dialogue it was almost a supporting character in the movie.
Hanna by The Chemical Brothers – Joe Wright's stylish thriller was given a pleasing jolt by the electronic beats on the soundtrack. Action sequences such as a prison escape and an extended rumble at a train station were given a real lift by the unusual instrumentation and sounds. I wouldn't be surprised to see it become influential in movie trailers and TV spots for other movies.
Hugo by Howard Shore – The score to Scorsese's ingenious love letter to the early days of cinema was a playful and sometimes deceptively light concoction. But it fitted the visual delights on screen perfectly, whilst also accentuating the deeply emotional closing stages. I suspect this film will be revisited in years to come (after all the industry chatter about awards and box office) and that the score will be a key part of how people connect with it.
Jane Eyre by Dario Marianelli – British costume dramas can often be stodgy way of squandering public money as BBC Films pander to middlebrow taste buds. But this exquisitely realised adaptation of Charlotte Brontë's novel was well served by an atmospheric score which mined the psychological depths of the book and gave it an extra emotional kick.
Moneyball by Mychael Danna – Perhaps the most memorable score of the year was this electrifying companion to Bennett Miller's marvellous adaptation of Michael Lewis' book. The subtle use of strings and piano cleverly contain the emotion throughout and the individual pieces 'The Streak' and 'Turn Around' accompany one the best film sequences I've seen in years.
Shame by Various Artists & Harry Escott – An eclectic selection of music added to Steve McQueen's outstanding drama. Not only did we have Carey Mulligan singing "New York, New York" and Glenn Gould playing Bach, but there were also great uses of tracks from Blondie and Chic. Also listen out for music from a key scene that sounds just like Hans Zimmer's Journey to the Line from The Thin Red Line (1999).
Super 8 by Michael Giacchino – J.J. Abrams' homage to early Spielberg movies was boosted by this lush reworking of John Williams. Like the film, it was a fascinating example of an artist finding his own voice through the work of another. Reminiscent of Giacchino's pioneering work in television with Lost (2004-2010) and his recent scores for Pixar, it provided a big emotional component to the film.
The Descendants by Various Artists – The first mainstream American movie scored exclusively with Hawaiian music was an unexpected treat. Its distinctive use of guitars and instruments native to the Aloha State and helped provide some unexpectedly touching moments. Like Payne's film it avoided bluster and cliché, complementing the bittersweet nature of the film.
The Ides of March by Alexandre Desplat – This moody score provided a suitable backdrop for George Clooney's political drama. Although the sound design and use of 'musical silence' is striking in places, the heavy use of strings suits the film like a glove. Clooney seemed to be channelling his favourite films of the 1960s and 1970s (especially Alan Pakula and Sidney Lumet) and whilst it wasn't on par with Michael Small's classic minimalism, it was in its own way a powerfully understated score.
The Skin I Live In by Alberto Iglesias – Another memorable score from Iglesias was for his regular collaborator Pedro Almodovar. It was something of a departure for the director, as he descended into Cronenberg territory and the music reflected this, creating a marvellous atmosphere of unease. There was also a dash of Bernard Herrman (although not as much as 2004's Bad Education) which added to the mix.
The Tree of Life by Alexandre Desplat/Various Artists – The story of music and this film is an interesting one as Alexandre Desplat wrote a score which director Terrence Malick mostly replaced with classical selections instead. Pieces by Ottorino Respighi, Bedrich Smetana and John Tavener were just some of the composers whose music helped make the film utterly transcendent.
Tinker Tailor Soldier Spy by Alberto Iglesias – It was a surprise to see Pedro Almodóvar's regular composer score this rich and haunting John Le Carre adaptation. But along with the brilliantly executed technical aspects of the film, the subtle use of strings played a big part in recreating the pervasive Cold War atmosphere. A version of Le Mer as the film reaches its climax stands out as perhaps the best ever use of Julio Iglesias in a movie.
Win Win by Lyle Workman and The National – Perhaps the single best use of a song this year was including The National's Think You Can Win over the closing credits of Tom McCarthy's quietly brilliant film. But the score also provided a rich musical accompaniment with acoustic guitars creating a tangible mood that suited the bittersweet nature of the comedy-drama.
PLAYLIST OF TRACKS
Fall On Your Sword – The First Time I Saw Jupiter (from Another Earth)
Desire – Under Your Spell (from Drive)
Dario Marianelli – Wandering Jane (from Jane Eyre)
Mychael Danna – The Streak (from Moneyball)
Glenn Gould – Goldberg Variations BWV 988: Aria (from Shame)
The Chemical Brothers – Escape 700 (from Hanna)
Julio Iglesias – Le Mer (from Tinker, Tailor, Soldier, Spy)
Deep in an Ancient Hawaiian Forest (from The Descendants)
ELO – Don't Bring Me Down (from 'Super 8')
Zbigniew Preisner – Lacrimosa (from The Tree of Life)
The National – Think You Can Wait (from Win Win)
What film music did you really respond to this year?