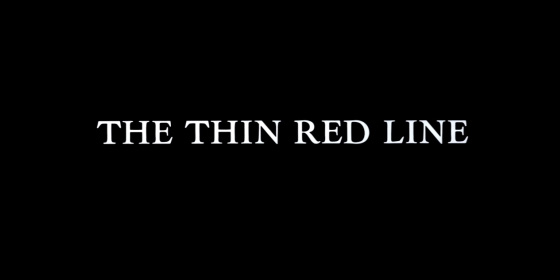 The release of Terrence Malick's 1998 World War II drama on Blu-ray is a major event for cinephiles and is easily one the best HD transfers I've ever seen.
Coming out in the UK in the very same week that his latest film The Tree of Life premiered at Cannes, this version looks essentially the same as the Blu-ray Criterion released in the US last September (though with slightly less extras).
Possibly one of the most singular movies ever released by a major Hollywood studio, it is a startling and impeccably crafted film which looks magnificent on Blu-ray and repays repeated viewings.
Adapted from the James Jones novel, which was a fictional account drawing on the author's direct experiences of the Battle of Mount Austen during the Guadalcanal campaign.
The sprawling narrative depicts the experiences of various troops during the campaign which sees the troops land on the island, struggle to take a crucial hill defended by the Japanese and then capture an airfield crucial to US victory in the Pacific.
Different characters intersect, but the principals include: Private Witt (Jim Caviezel) who comes in to conflict his cynical Sergeant Welsh (Sean Penn); Private Bell (Ben Chaplin), who daydreams about his wife back home (Miranda Otto) and Captain Staros (Elias Koteas), who comes in to conflict with his aggressive superior, Lieutenant Colonel Tall (Nick Nolte).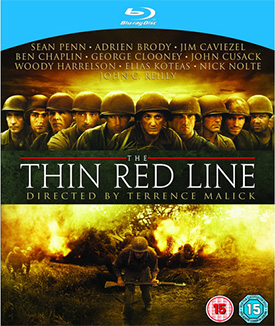 Around these are various supporting characters, including Captain John Gaff (John Cusack), Pfc. Doll (Dash Mihok), General Quintard (John Travolta), Corporal Fife (Adrien Brody), Sgt. Storm (John C. Reilly) and Capt. Charles Bosche (George Clooney).
When first released back in 1998, it was hotly anticipated as Malick's first film in 20 years and the extraordinary cast was testament to how many actors were willing to work with the director.
The way the film boldly jettisons the spurious modern 'rules' of movie-making (e.g. three-act structure, a central character) is not only refreshing but helps create a special mood, which Malick embellishes with his masterful control of mood and atmosphere.
In short, this is a film lover's dream, an enriching drama which explores deep themes of war and nature in a bold, poetic way.
Although it received mostly positive reviews and seven Oscar nominations, the 3-hour length and meditative tone prevented it from overshadowing the other big World War II epic of that year, Steven Spielberg's Saving Private Ryan.
There are many fascinating comparisons and contrasts between the two, but Malick's has aged better and certainly bears comparison with some of the great films of the 1990s.
Many things could be written about the film, but I'm going to focus on the different elements that struck me whilst watching all the elements on the disc.
IMAGE QUALITY
It is difficult to accurately describe how good this film actually looks on Blu-ray.
Part of that is down the outstanding technical craft of the original film, especially the production design from Jack Fisk and the stunning cinematography by John Toll, which help augment Malick's obsessive desire for poetic cinema.
This new high-definition digital transfer was supervised and approved by Malick and Toll, and was created on a Spirit 4K Datacine from the original 35mm camera negative in 4K resolution.
It looks immaculate and is among the best HD transfers I've ever seen, easily comparing with previous standout Blu-rays like Baraka (1992) and The New World (2005).
The shots of nature have an amazing amount of depth, the colours of the jungle and combat sequences are rendered beautifully and the faces of the soldiers are filled with detail.
Look out too for the how the transfer highlights the depth of field that Malick used in the film, as characters can be clearly seen in the background of certain sequences.
If you ever want a reference disc to show off the HD format then this is one of the films I'd recommend.
SOUND
The amazing visuals are complemented by a marvellous DTS-HD Master Audio 5.1 audio mix.
Remastered at 24-bit from the original 6-track magnetic audio, various noises were manually removed using Pro Tools HD and a lot of work has gone in to this mix.
The highlights are perhaps the battle sequences as the rifles and bombs really pop, but look out to for the more subtle sounds of nature (water, fire and wind) so beloved Malick in all of his films.
The various voiceovers that pepper the film from different actors are also given a new level of clarity, which helps figure out who they are if you happened to be confused before.
Hans Zimmer's astonishing score also sounds as good as it ever has.
EXTRAS
The extras don't contain any lengthy documentary material but a highly informative audio commentary, some intriguing deleted scenes and two featurettes (on the editing and music) give us some valuable insight into how it was made.
It doesn't seem to have all the extras that were on the US Criterion disc but there is still enough here for those interested in the film.
Audio Commentary: The audio commentary from producer Grant Hill, production designer Jack Fisk and cinematographer John Toll is a nice mixture of technical details and anecdotes about the production. Among the interesting facts they discuss are:

The opening shot was filmed on a crocodile farm.
Malick spent time persuading the Jones family about the film as they were reluctant that the novel be filmed again (a previous version had been shot in 1964)
The complex shots in the hill sequence were filmed with a very long, extended Akela crane as using a dolly or Steadicam in that location was very difficult.
No lights were used in the exterior day sequences and very little in the interiors for the most naturalistic look possible
Depth of field was used a lot and there was some small use of VFX used to augment the sky and background ships in certain scenes.
John Toll's wife worked on Saving Private Ryan as a makeup artist (which also shot in the summer of 1997) and Malick sent Steven Spielberg a Japanese flag. He returned the favour by sending him a Saving Private Ryan crew jacket.
Grant Hill agreed with Malick to keep a schedule which allowed room for change and improvisation but the movie was shot on time
The river sequence in the jungle was shot at the "limits of photographic exposure"
Fox executive Bill Mechanic and Laura Ziskin were always supportive of the project which originated at Phoenix Pictures with Mike Medavoy (Malick's old agent and long-time friend)
Malick has never taken a credit 'A film by Terrence Malick'
Toll says Malick makes half the film in the editing room as he 'discovers' it there when the sounds and images connect

Actors Perspective (22 min): The featurette sees the actors Elias Koteas, Jim Caviezel, Thomas Jane, Dash Mihok and Kirk Acevedo all talk about their experiences with Malick on the film (for some reason it omits certain actors who feature on the Criterion disc). All seem incredibly loyal and describe some anecdotes on set:

Koteas recalls that Malick didn't want rehearsals as 'life' was the real rehearsal
Caviezel says acting under Malick was like a collage; many dialogue scenes were cut and many were written the night before shooting
Jane describes how Malick just kept shooting no matter the weather or light, so he could have 3 versions of scenes he could drop into the edit. Although at times improvisatory, he had a method to his madness.
Mihok says he was hired to make a war movie but the film is actually a poem about the 'beauty of life'.

Deleted Scenes (13 mins): Given Malick's propensity to shoot as much footage as possible, there was at one point a 5 hour cut of the movie that the editors had to whittle down to just under three hours. These deleted scenes, totalling around 12 minutes, therefore have greater interest than the usual material that stays in the cutting room, even though they don't reveal a huge amount. Of the most interest are:

A scene featuring Mickey Rourke (whose character didn't make the final cut), who plays a sniper Witt comes across. Witt also reveals he is from Breathitt County, Kentucky.
Scenes where GI's debate whether to kill Japanese POWs after taking the all-important ridge.
George Clooney only had one scene towards the end of the film, but here is an extra one in which he talks to Bell (Chaplin) about his wife's divorce request and how he can help him out.
Adrien Brody was a major character in an earlier cut of the film and he has an extra scene at an army hospital where the doctor approves his evacuation.

Editing Of The Thin Red Line (24 mins): Editors Billy Weber, Lesley Jones and Saar Klein describe what it is like to edit a Terrence Malick film and their insights on to this particular project are fascinating. They talk about:

Weber says they had to force Malick to watch the first 5 hour cut and that he works more like a sculptor, discovering the film in post-production.
The director was listening to a Green Day CD during the edit (!)
Klein says Malick is 'wild and radical' and that he was brought on at a later stage to cut the hill battle, which included 'hours of footage'.
Malick is very selective about cutaways and how they are assembled (especially his trademark shots of nature and animals) and is incredibly specific about music and sounds.
The film took 18 months to cut – around a million feet of footage.

Hans Zimmer (16 mins): The score to the film is perhaps the finest of Hans Zimmer's career and this 16 minute featurette is a real treat, which sees the German composer talk about how he came across Malick through a friend and got hired for the film. Among other things, he mentions that:

Malick had the notion that the score should 'ask questions' and Zimmer wanted his music to have a slight vagueness, which encourages the audiences to 'fill in the blanks'
The epic 'Journey to the Line' cue was trying to capture time passing and how it flows like a river.
Malick and Zimmer are great procrastinators and talked a lot about other composers, some of whose music ended up in the film Arvo Paart (crocodile opening), Charles Ives and Gustav Faure.

Guadalcanal in Newsreels (10 mins): Archive newsreels from United News show the battle for the Solomon Islands. The black and white newsreel footage is an interesting counterpoint to the lush colours of Malick's film. Notice the use of the word 'Japs' and the 'little men of Nippon', which gives a flavour of wartime propaganda.
To sum up, this is one of the major Blu-ray releases of the year and an essential addition to true film fan's library.
An extraordinary film, which has been given a worthy HD release.
> Buy the Blu-ray from Amazon UK or Amazon US
> More on Terrence Malick at MUBi and Wikipedia
> Reviews of The Thin Red Line at Metacritic