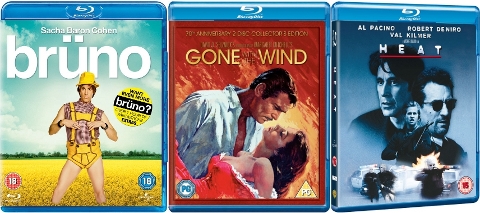 [ad]
BLU-RAY PICKS
Brüno (Universal): After the success of Borat, Sacha Baron Cohen returns with another mock-documentary comedy, this time playing the flamboyant Austrian fashionista Brüno, who wreaks havoc at a fashion show and then travels to America, where the fun continues.
Directed by Larry Charles, stand out sequences involve Bruno upsetting orthodox Jews and Palestinian terrorists; an uncomfortable appearance on a TV chat show with an adopted African child; an extended attempt to 'become straight' with the help of religion, martial arts and the US military; and a truly riotous climax involving a cage wrestling match in Arkansas. [Buy the Blu-ray at Amazon UK]
Extras on the Blu-ray include:
1080P 1.85:1 Widescreen
English 5.1 DTS-HD Master Audio
Latin American Spanish and Canadian French 5.1 DTS Surround
English SDH, Latin American Spanish and Canadian French subtitles
Alternative Scenes
Deleted Scenes (includes 1 extra scene not found on the DVD)
Extended Scenes (includes 1 extra scene not found on the DVD)
An Interview with Lloyd Robinson
Enhanced Commentary – Go behind the cameras and hear the true stories of how Sacha Baron Cohen and director Larry Charles pulled off their unscripted stunts with celebrities, politicians and other unsuspecting people
The extras on Blu-ray are all 1080P and have a listed running time of 1hr 15mins approx (not including the commentary).
Gone with the Wind: 70th Anniversary Edition (Warner): The classic 1939 romantic drama based on the Margaret Mitchell novel has gotten the full re-release treatment by Warner Bros.
Set in the South during the American Civil War and Reconstruction, it follows the life of Scarlett O'Hara (Vivien Leigh), the daughter of a plantation owner and her relationship with Rhett Butler (Clark Gable). Featuring supporting performances by Leslie Howard, Olivia de Havilland, Thomas Mitchell and Hattie McDaniel, it is still a beloved classic of cinema despite lasting nearly 4 hours.
Famous set pieces include the burning of Atlanta (which used a piece of scenery left over from King Kong) and one of the most famous closing lines of any film. In a year littered with classic films (1939 also included The Wizard of Oz, Mr Smith Goes To Washington, Stagecoach and Ninotchka), Gone With the Wind won ten Oscars, including: Best Picture, Best Director, Best Screenplay, Best Actress (Vivien Leigh), and Best Supporting Actress (Hattie McDaniel, who became the first African-American to win the award). [Buy the Blu-ray at Amazon UK]
Heat (Warner): The classic 1995 crime film directed by Michael Mann and starring Al Pacino and Robert DeNiro gets its debut on Blu-ray.
Set in Los Angeles, it explores the lives of Neil McCauley (Robert De Niro), a methodical professional thief and Lt. Vincent Hanna (Al Pacino) an impulsive LAPD homicide detective and those around them as they come into conflict with one another.
The supporting cast includes Val Kilmer as Chris, one of McCauley's partners; Ashley Judd as his wife Charlene; Amy Brenneman; Jon Voight; Natalie Portman; Diane Venora; Hank Azaria; William Fichtner and (in a cameo) Henry Rollins.
One of the best crime films of the 1990s, the big selling point at the time was the pairing of De Niro and Pacino, but there is much more to the film than just the cast. Mann creates a rich atmosphere and shoots the action set-pieces brilliantly, plus Elliot Goldenthal's moody score and Dante Spinotti's cinematography all add to the mix.
The general vibe with the HD transfer appears to be that it is good but not great. Gary Tooze of DVD Beaver has posted some comparisons of the DVD and Blu-ray versions here and says:
This Blu-ray presentation is significantly ahead of the DVD counterparts but doesn't exhibit the demonstrative depth and detail that many have come to expect from this new format.
If you are a fan of the film, it is likely you purchased the excellent 2-disc DVD which came out a few years ago. However, if you have made the jump to Blu-ray then this is still definitely worth purchasing as it is still one of Michael Mann's best films and a reach audio and visual feast. [Buy the Blu-ray at Amazon UK]
ALSO OUT
Night at the Museum 2 (Fox) [Buy it at Amazon UK]
The Informers (EIV) [Buy it at Amazon UK]
The Negotiator (Warner) [Buy it at Amazon UK]
> UK DVD & Blu-ray Releases for November 2009
> Browse more Blu-ray releases at Amazon UK and Play
> Check out the latest UK cinema releases including A Christmas Carol, The Men Who Stare at Goats, Bright Star, Jennifer's Body and Paper Heart (W/C Friday 6th November 2009)