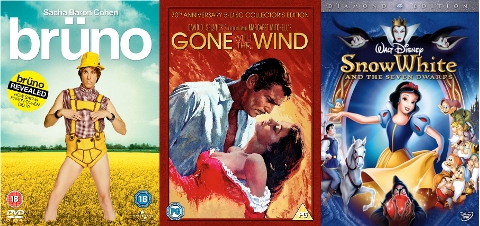 [ad]
N.B. For the foreseeable future I'm going to separate DVDs and Blu-rays into different posts. Part of the reason is that quite a few older films are being released on Blu-ray and I don't want there to be any confusion.
I'm also going to put Amazon affiliate links alongside each release to make it easier to buy them.
DVD PICKS
Brüno (Universal): After the success of Borat, Sacha Baron Cohen returns with another mock-documentary comedy, this time playing the flamboyant Austrian fashionista Brüno, who wreaks havoc at a fashion show and then travels to America, where the fun continues.
Directed by Larry Charles, stand out sequences involve Bruno debating the Middle East conflict with orthodox Jews and Palestinian terrorists; an uncomfortable appearance on a TV chat show with an adopted African child; an extended attempt to 'become straight' with the help of religion, martial arts and the US military; and a truly riotous climax involving a cage wrestling match in Arkansas. [Buy the DVD at Amazon UK]
Extras include:
Alternative Scenes
Deleted Scenes
Extended Scenes
An Interview with Lloyd Robinson
Enhanced Commentary – The true stories of how Sacha Baron Cohen and director Larry Charles pulled off their unscripted stunts with celebrities, politicians and other unsuspecting people.
Gone with the Wind: 70th Anniversary Edition (Warner): The classic 1939 romantic drama based on the Margaret Mitchell novel has gotten the full re-release treatment by Warner Bros.
Set in the South during the American Civil War and Reconstruction, it follows the life of Scarlett O'Hara (Vivien Leigh), the daughter of a plantation owner and her relationship with Rhett Butler (Clark Gable). Featuring supporting performances by Leslie Howard, Olivia de Havilland, Thomas Mitchell and Hattie McDaniel, it is still a beloved classic of cinema despite lasting nearly 4 hours.
Famous set pieces include the burning of Atlanta (which used a piece of scenery left over from King Kong) and one of the most famous closing lines of any film. In a year littered with classic films (1939 also included The Wizard of Oz, Mr Smith Goes To Washington, Stagecoach and Ninotchka), Gone With the Wind won ten Oscars, including: Best Picture, Best Director, Best Screenplay, Best Actress (Vivien Leigh), and Best Supporting Actress (Hattie McDaniel, who became the first African-American to win the award). [Buy the DVD at Amazon UK]
Extras on the DVD include:
Disc 1 The Movie, Part 1
Remastered feature with Dolby Digital 5.1 Audio
Commentary by historian Rudy Behlmer
Disc 2 The Movie, Part 2
Remastered feature
Commentary by historian Rudy Behlmer
Offer for a numbered Limited Edition copy of the Original 1939 Poster
Extras on the 5-disc version include:
Disc 3
About The Movie
The Making of a Legend documentary (1989 TV Special) (Narrated by Christopher Plummer)
Restoring a Legend – Chronicles the film/video restoration process
Dixie Hails Gone with the Wind -1939 Premiere newsreel
1940 MGM historical short – The Old South
Atlanta Civil War Centennial 1961 premiere newsreel
International prologue
Foreign language version sample scenes
Theatrical Trailers
Disc 4
About The Cast
Melanie Remembers: Reflections by Olivia de Havilland – Exclusive 2004 Documentary
Cast profile – Gable: The King Remembered
Cast profile – Vivien Leigh: Scarlett and Beyond
The Supporting Players – Cameo portraits of an unforgettable ensemble
At Tara
The O'Hara Plantation in Georgia
Thomas Mitchell as Gerald O'Hara
Barbara O'Neill as Ellen, his wife
Their Daughters
Evelyn Keyes as Suellen
Ann Rutherford as Carreen
The house servants
Hattie McDaniel as Mammy
Oscar Polk as Pork
Butterfly McQueen as Prissy
At Twelve Oaks
Leslie Howard as Ashley Wilkes
Rand Brooks as Charles Hamilton, her brother
Carroll Nye as Frank Kennedy, a guest
In Atlanta
Laura Hope Crews as Aunt Pittypat Hamilton
Eddie Anderson as Uncle Peter, her coachman
Harry Davenport as Dr. Meade
Jane Darwell as Mrs. Merriwether
Ona Munson as Belle Watling
Cammie King as Bonnie Blue Butler
Disc 5
New Bonus Disc
Warner Bros. Home Entertainment presents 1939: Hollywood's Greatest Year – New documentary about Hollywood's watershed year narrated by Kenneth Branagh
Gone with the Wind: The Legend Lives On — Exploring the legacy of the most beloved film through illuminating interviews, footage and visits to historical sites, events and museums
Moviola: The Scarlett O'Hara Wars 1980 WBTV Special never before on home video
Snow White and the Seven Dwarfs (Disney): One of the greatest Disney films ever made is being re-released on DVD and Blu-ray. Made in 1937, the concept of reviving a well-known Grimm's Fairy Tale was initially greeted with scepticism. But Walt Disney invested three years, $1,500,000, and the combined talents of 570 artists into the film.
The result was a film that was acknowledged a classic and also earned an incredible $8,500,000 dollars in gross rentals during the Great Depression. The story, characters and animation are all of the highest quality and notice the clever contrast between Snow White and Prince Charming (drawn realistically) and the Seven Dwarfs (rendered in the rounded, caricatured manner of Disney's short-subject characters). [Buy the DVD from Amazon UK]
The extras on the DVD include:
Audio Commentary with Walt Disney
Snow White Returns
The One That Started It All
The Princess and the Frog Sneak Peek
Someday My Prince Will Come by Tiffany Thornton
Dylan & Cole Sprouse Blu-ray is Suite!
Learn How To Take Your Favourite Movies on the Go (Disneyfile)
Dopey's Wild Mine Ride
Animation Voice Talent
Disney Through the Decades
"Heigh-Ho" Karaoke Sing-Along
[ad]
ALSO OUT
Desperate Housewives Season 5 (Disney) [Buy from Amazon UK]
Ghost Story (1974) (Nucleus Films) [Buy it from Amazon UK]
Tales of the Gold Monkey: The Complete Series (Fabulous Films) [Buy it from Amazon UK]
The Informers (EIV) [Buy it from Amazon UK]
Trinity (Fremantle) [Buy it from Amazon UK]
Lisbon Story (Axiom Films) [Buy it from Amazon UK]
Night at the Museum 2 (Fox) [Buy it from Amazon UK]
Russell Brand – Scandalous (4DVD) [Buy it from Amazon UK]
Russell Howard – Dingledodies (4DVD) [Buy it from Amazon UK]
> UK DVD & Blu-ray Releases for November 2009
> Browse more DVD Releases at Amazon UK and Play
> Check the latest DVD prices at DVD Price Check
> Check out the latest UK cinema releases including A Christmas Carol, The Men Who Stare at Goats, Bright Star, Jennifer's Body and Paper Heart (W/C Friday 6th November 2009)