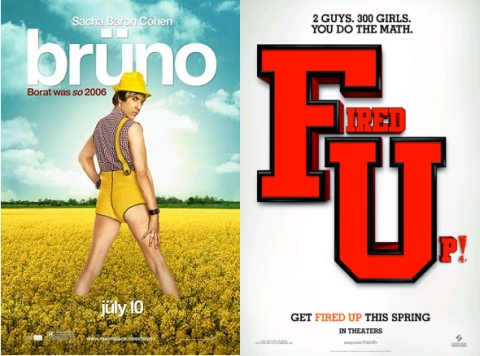 NATIONAL RELEASES
Brüno (Universal): The latest of Sacha Baron Cohen's comic creations to make it to the big screen is his flamboyant Austrian fashion journalist, Brüno. The film version sees him disgraced after causing chaos at a Milan fashion show and chronicles his attempts to make it big in the US with his assistant Lutz (Gustaf Hammarsten).
Once there he tries to get a pilot together with the help of an agent and interviews all manner of people including Paula Abdul, Harrison Ford and Ron Paul. For good measure he also goes to the Middle East where he upsets orthodox Jews and Palestinian terrorists; adopts an African baby; tries to 'become straight' with the help of religion, martial arts and the US military; and almost causes a riot at a cage wrestling match in Arkansas.
Directed by Larry Charles, it utilizes the same techniques used in Borat and Religulous in which various people were contacted and slyly duped into signing release forms before being interviewed. This all leads to another daring and frequently hilarious comedy with Baron Cohen demonstrating his gifts for physical and improvised comedy as well as considerable nerve in some unlikely situations.
Given that the subject matter is frequently more extreme than Borat, it has earned an 18 certificate which is almost certainly going to take the edge of its earnings. That said, Universal's marketing campaign for this film has been nothing short of brilliant with acres of coverage including that stunt with Eminem at the MTV awards, various premieres in character around the globe and some clever social media marketing (including specially branded pages on MeinSpace, Tvitter and Facebuch).
The word of mouth is likely to be very strong and box office could be stellar although it will be interesting to see how it fares with mainstream audiences. [Vue West End & Nationwide / Cert 18]
Fired Up (Sony Pictures): A US comedy about two high school football players (Nicholas D'Agosto and Eric Christian Olsen) who decide to become cheerleaders. Directed by Will Gluck, it earned poor reviews when it opened in the US back in February and is unlikely to do serious business over here.  [London & Nationwide / Cert 12A]
[ad]
IN LIMITED RELEASE

The Private Lives Of Pippa Lee (Icon): A drama about a 50-year-old woman (Robin Wright Penn) who begins to re-examine her life when her older husband (Alan Arkin) moves into a retirement home. Directed by Rebecca Miller, it features an impressive cast for a US indie drama with supporting turns from Keanu Reeves, Alan Arkin, Monica Bellucci, Julianne Moore, Maria Bello and Winona Ryder. [London & Key Cities / Cert 15]
Soul Power (Eureka Entertainment): A documentary about the famous R&B concert in Kinshasa, Zaire that took place ahead of the famous Rumble in the Jungle fight between Muhammad Ali and George Foreman in 1974. Organised by Hugh Masekela and Stewart Levine, it featured  a host of musical luminaries such as James Brown, BB King, Bill Withers, Celia Cruz and Miriam Makeba. Directed by Jeffrey Levy-Hinte, it is a verité film, entirely composed of footage shot at the legendary music festival dubbed Zaire '74. [Odeons G'Wich, Panton St., Surrey Quays & N'wide (P'views Glastonbury 2009) / Cert 12A]
35 Shots Of Rum (New Wave Films): A French family drama directed by Claire Denis about the relationship between a father and daughter which gets complicated by the arrival of a handsome young man. [Apollo Picc Circus, Cine Lumiere, Curzon Soho, Renoir & Key Cities / Cert 12A]
Cloud 9 (Soda Pictures): German drama about a happily-married woman in her mid-sixties who's world is turned upside down when she meets an older man she finds herself drawn to. Directed by Andreas Dresen and starring Ursula Werner, Horst Rehberg and Horst Westphal. [BFI Southbank, Renoir & Key Cities / Cert 15]
Echoes Of Home (ICA Films): Documentary about the Swiss tradition of yodelling relayed by old traditionalists and young innovators, directed by Stefan Schwietert. [ICA Cinema from today & Key Cities from 24 July]
Ichi (Manga Entertainment): A female take on the Zatoichi tales about a blind singer named Ichi who possesses lethal fighting skills. Directed by Fumihiko Sori. [ICA Cinema & Key Cities / Cert 15]
Mishima: A Life In Four Chapters (ICA Cinema/Screenwriters Festival): Director Paul Schrader's own cut of his 1985 film about Japanese novelist and playwright Yukio Mishima whose literary career ended in ritual suicide. [ICA Cinema & selected Key Cities / Cert 15]
> UK cinema releases for July 2009
> DVD Picks for this week including Doubt, The Red Shoes and Three Monkeys (W/C Monday 5th July)