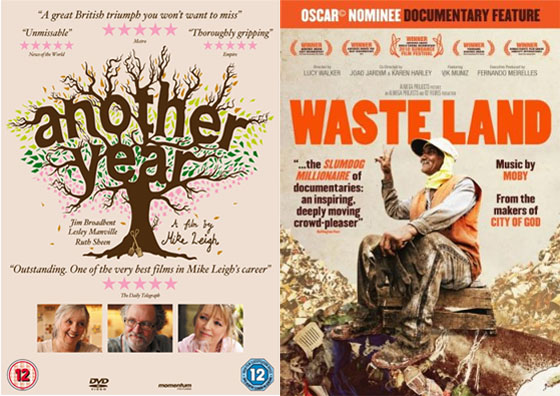 DVD PICKS
Another Year (Momentum): Mike Leigh's latest film is a pitch-perfect ensemble piece revolving around the friends and family of an ageing married couple.
Nearing retirement age, Tom (Jim Broadbent) and Gerri (Ruth Sheen) live in North London and seem genuinely happy as they work, tend to their allotment and play host to an array of characters who come in and out of their lives.
These include: their son Joe (Oliver Maltman), who is still close to them; Mary (Lesley Manville), a needy divorcee with relationship problems; Ken (Peter Wight), an old friend with a taste for food and alcohol; and Katie (Karina Fernandez), a therapist who forms a relationship with Joe.
Each section of the film is titled with a season and as they change, so do the characters to varying degrees as they deal with the stuff of life: love, death, humour, despair, loneliness and friendship.
It follows the familiar Leigh formula of finding drama in lives of distinctive characters in a particular setting and, like his previous films, relies heavily on the actors to make it work.
The good news is that nearly all the cast bring something distinctive to their roles, creating a rich tapestry of emotions and memorable situations.
After opening at Cannes in May, it deservedly garnered great reviews (some of the best of Leigh's career), although the expected awards nominations didn't really happen, which is a shame because Lesley Manville gave one of the great performances in recent memory.
Unfortunately, Momentum haven't done a Blu-ray release for this title (presumably for cost reasons) which is a shame because DP Dick Pope shot it beautifully and captured the everyday world with a keen eye for detail.
Extra features are hard to come by, but presumably feature a trailer and short making of featurette.
> Buy Another Year on DVD at Amazon UK
> Longer review of Another Year
> More reviews of Another Year at Metacritic and MUBi
Waste Land (Entertainment One): Lucy Walker's inspiring documentary charts the journey of Brazilian artist Vik Muniz who goes back to Brazil to literally create art out of rubbish.
Recruiting garbage pickers from Rio's largest landfill site he makes re-creations of paintings, and provides a fascinating glimpse into his creative process and the people who join him in his project.
Director Lucy Walker manages to capture the humanity of everyone involved without ever patronising them and the film deservedly received acclaim at Sundance and was Oscar-nominated for Best Documentary.
Again, cost considerations appear to have prevented a Blu-ray release and details of extras are thin on the gound.
> Buy Waste Land on DVD from Amazon UK
> Official Site
> Reviews of Waste Land at Metacritic
ALSO OUT
Alice in Wonderland (Walt Disney) [Blu-ray / with DVD – Double Play]
Battle Royale (Arrow Video) [Blu-ray / Normal]
Bedevilled (Optimum Home Entertainment) [Blu-ray / Normal]
Brighton Rock (Optimum Home Entertainment) [Blu-ray / Remastered]
Cronos (Optimum Home Entertainment) [Blu-ray / Special Edition]
Cuckoo (Verve Pictures) [Blu-ray / Normal]
Due Date (Warner Home Video) [Blu-ray / + DVD and Digital Copy]
Episodes (2 Entertain) [Blu-ray / Normal]
Pan's Labyrinth (Optimum Home Entertainment) [Blu-ray / Special Edition]
Paranormal Activity 2 (Paramount Home Entertainment) [Blu-ray / Normal]
Primal Kaleidoscope (Home Ent.) [Blu-ray / Normal]
The Bicycle Thieves (Arrow Video) [Blu-ray / Normal]
The Devil's Backbone (Optimum Home Entertainment) [Blu-ray / Special Edition]
The Promise (4DVD) [Blu-ray / Normal]
> UK cinema releases for Friday 25th February 2011
> > The Best DVD & Blu-ray releases of 2010