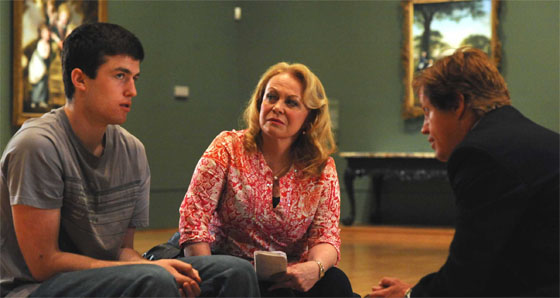 A superbly crafted Australian crime drama filled with excellent performances marks a stunning debut feature for director David Michôd.
Set in Melbourne, and loosely based on real events, it tells the story of Joshua Cody (James Frecheville), a teenager who joins a crime family headed by his grandmother, Janine 'Smurf' Cody (Jacki Weaver).
We gradually realise that his new suburban home is a snake pit of illegality featuring a sinister eldest son Pope (Ben Mendelsohn), his business partner Baz (Joel Edgerton), the livewire drug dealer Craig (Sullivan Stapleton) and the quiet Darren (Luke Ford).
When a local police officer (Guy Pearce) engaged in a lengthy battle with the family tries to tempt Joshua to help him bring down the Cody family, things start to escalate.
Skilfully avoiding crime movie clichés, Animal Kingdom has a distinctive, brooding menace that you rarely see in modern cinema, let alone the crime genre.
This is a claustrophobic and unpredictable world in which hardly anyone can be trusted and where slow burning tensions instantly explode.
Interestingly, the focus is kept mostly on the Cody clan and the police form a shadowy background presence, popping up like eagles snatching eggs from the family nest.
It works more as a riveting character study than a conventional crime film and features some brilliant ensemble acting: Frecheville is quietly brilliant as the protagonist; Weaver is wonderfully charismatic as the Lady Macbeth matriarch and Mendelsohn is hypnotic as one of the creepiest villains in recent film history.
Michôd must be given huge credit for the fact that this is a crime movie with no obvious influences. At times it appears to be channelling Michael Mann and Michael Haneke, but it has its own unique flavour.
Part of what makes the film so effective is that terror can lurk in the most everyday places, so the audience – like the protagonist – is always kept on edge and doesn't quite know who to trust.
One scene in which a car reverses out of a suburban garage is masterfully wrought with dread and tension.
The confident, widescreen visuals by DP Adam Arkapaw are highly effective, contrasting the shadowy, interior worlds of bungalows and offices with the harsh exterior light of Southern Australia.
A distinctive score by Antony Partos adds to the atmosphere of dread and overall Michôd has crafted one of the most accomplished films to come out of Australia in recent years.
> Official site
> Reviews of Animal Kingdom at Metacritic and MUBi
> David Michôd at the IMDb