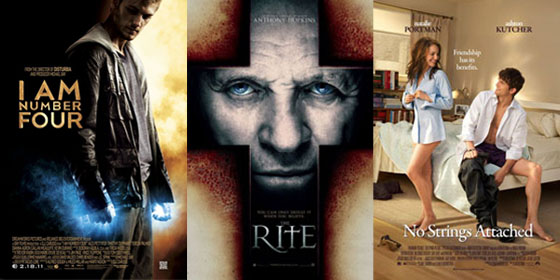 NATIONAL RELEASES
I Am Number Four (Walt Disney): A sci-fi drama aimed at the Twilight demographic about nine alien teens who come to Earth after their planet is destroyed by an enemy species.
Directed by D.J. Caruso (Disturbia, Eagle Eye) it stars Alex Pettyfer, Dianna Agron and Timothy Olyphant. Negative reviews in the US suggest this is a film for undiscerning teenagers. [Apollo West End, Cineworld Shaftsbury Avenue, BFI Imax Waterloo & Nationwide / 12A]
Drive Angry (Lionsgate UK): The latest action film starring Nicolas Cage sees the actor in full-on pay cheque mode (see The Wicker Man remake and Next) as he plays a character who breaks out of Hell (!) so he can stop a cult from sacrificing his infant granddaughter.
Directed by Patrick Lussier and co-starring William Fichnter and Amber Heard, this promises to shamelessly exploit every 3D trick in the book and, if successful, allow Cage buy a few more castles. [Vue West End & Nationwide / 18]
No Strings Attached (Paramount): Romantic comedy starring Natalie Portman and Ashton Kutcher as two friends who have sex one morning and make a pact to casual sex with "no strings attached".
Directed by Ivan Reitman, this seems like more Judd Apatow influenced 'raunchy' comedy that only succeeds in embarrassing all concerned. Ironically, it opens in the UK on the weekend when Portamn may win an Oscar for her work in Black Swan. [Vue West End & Nationwide / 15]
The Rite (Warner Bros.): Horror film about a young priest (Colin O'Donoghue) who travels to Rome where goes to study exorcism under the guidance of an elderly Father (Anthony Hopkins).
Directed by Mikael Hafstrom and co-starring Ciaran Hinds and Alice Braga, this has got negative reviews in the US and would appear to be early year nonsense designed for the easily pleased horror fan. [Nationwide / 15]
ALSO OUT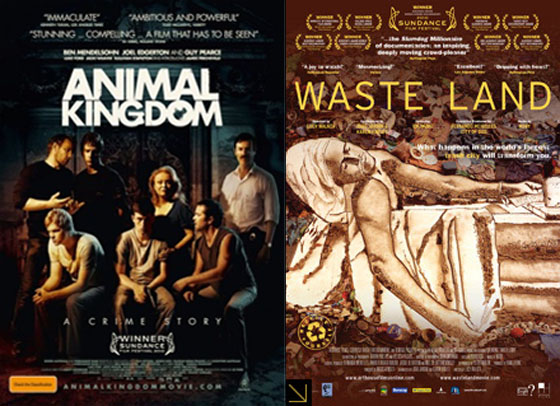 Animal Kingdom (Optimum Releasing): Outstanding Australian crime drama about a young man who joins a Melbourne crime family headed by a sinister matriarch (Jackie Weaver) and the cop (Guy Pearce) who tries to tempt him away.
An astonishing debut feature for David Michôd, it is filled with excellent performances, especially Ben Mendelsohn as a creepily psychotic villain, and the writing, music and visuals are all first class. Optimum will be hoping the strong reviews and festival buzz over the past year will translate into respectable art-house business. [Curzon Soho & Nationwide / 15] [Read our full review here]
Waste Land (Entertainment One): Oscar-nominated documentary that follows Brazilian artist Vik Muniz as he goes back to Rio and recruits garbage pickers from a landfill site to create art out of rubbish.
Directed by Lucy Walker, it is an accessible and inspiring look at an unlikely and fascinating subject. Critical buzz and Oscar recognition could provide a boost to its art-house prospects. [Apollo West End & Key Cities / PG]
Howl (Soda Pictures): The life of Beat poet Allen Ginsberg (played by James Franco) is recounted through his Six Gallery debut and the 1957 obscenity trial related to his poem Howl.
Written and directed by Rob Epstein and Jeffrey Friedman, it co-stars Jon Hamm and David Strathairn. After opening at Sundance in 2010 it has got middling reviews and may struggle to break out of its arthouse niche. [Soho, Wimbledon Curzon, Notting Hill Gate, Ritzy Brixton & Key Cities / 15]
West Is West (Icon): The long-delayed sequel to East is East (1999), is set four years after that film in 1975 as Father George Khan takes his youngest son, Sajid (now 15) to Pakistan.
Directed by Andy DeEmmony, it stars Aqib Khan, Om Puri, Linda Bassett, Ila Arun and Jimi Mistry. Lack of critical buzz and a general sense of 'why are they making this now?' could hamper its commercial prospects. [Empire Leicester Square & Nationwide / 15]
> Get local cinema showtimes at Google Movies or FindAnyFilm
> UK DVD & Blu-ray releases for Monday 21st February 2011, including Raging Bull and All About Eve