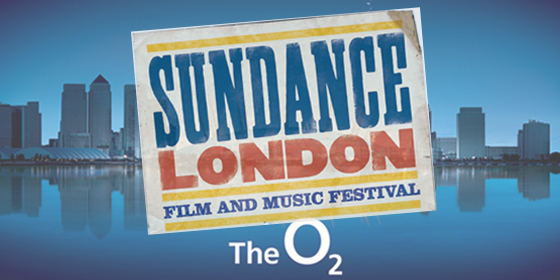 N.B. This is part of a series of posts looking back on the past year that I couldn't write up at the time.
The news that the Sundance Film Festival was coming to London back in April was intriguing as the log cabins and snow of Utah in January seemed a world away from the cavernous spaces of the 02.
Since its relaunch in 2007 as a music venue with a multiplex cinema, it has shed its image as the white elephant formerly know as the 'Millenium Dome'.
For the Sundance Institute it was a chance to experiment by taking a shorter festival abroad, (just four days) with a bigger emphasis on music and its relationship to film.
I couldn't attend every film or event, but settled on two films and two sessions, which caught my eye.
DAY ONE (Thursday 26th April)
Liberal Arts (Dir. Josh Radnor): Radnor is most famous for being on the TV show 'How I Met Your Mother' and his debut as director 'happythankyoumoreplease' in 2010.
It went down well at the festival, winning the audience award, but its poor box office and mixed reviews meant that it faded away, not even getting a UK theatrical release.
To a degree, his second film has followed the same pattern – although it did secure distribution here it didn't exactly set the box office alight.
It explores what happens when a careers adviser in his mid-30s (Radnor) accepts an invitation from an old professor (Richard Jenkins) to go back to his old Ohio college.
There he forms a connection with a student (Elisabeth Olsen) and generally takes stock of his life in much the same way that Zach Braff did in Garden State (2004).
But despite bearing some archetypal tropes of the typical US indie movie, Liberal Arts does contain some pleasures.
Radnor, Olsen and Jenkins are likeable in their roles and there is an interesting attempt to portray an early mid-life crisis that seems to be prevalent in Radnor's generation.
But like Radnor's character in the story, this is a US indie film that looks back with nostalgia to another era: quirky supporting characters  acoustic guitars on the soundtrack – and is ultimately overwhelmed by that.
DAY TWO (Friday 27th April)
SHUT UP AND PLAY THE HITS (Dir. Dylan Southern and Will Lovelace)
Maybe it was just serendipity, but when the documentary of LCD Soundsystem's premiered at Sundance in January, it seemed a natural fit for the inaugural London festival.
Not only did it tie in snugly with the overall 'film and music' theme – it is one of the best concert films in quite some time.
When the New York band announced in February 2011 that they were splitting up – effectively at the height of their career – a farewell concert at Madison Square Garden was planned for April 2, 2011.
A four hour show with appearances by Arcade Fire, Reggie Watts and others, this was essentially The Last Waltz (1978) for the Pitchfork generation.
In a decade of turmoil for the music industry, it seemed a curiously appropriate gesture.
Like Scorcese's classic concert film about The Band's farewell show, it intercuts concert footage with interviews, although much of this is dominated by frontman James Murphy.
The main advantage of seeing a concert film (or any film for that matter) in a cinema is the superior sound system (no pun intended) and the dynamic shifts were not only aural but visual.
Directors Dylan Southern and Will Lovelace, who previously made the Blur film No Distance Left To Run (2010), pace the action so that it becomes as much an intimate portrait of Murphy as a standard concert movie.
We see him the day after the concert inspecting the band's instruments, fielding unanswered voicemails and (in a very meta moment) being interviewed by a journalist about the end of the band.
Ultimately the theatrical potential for any concert film is limited in the modern era and most people will watch this on Blu-ray and DVD (it has since been released along with the full 4-hour concert).
But there was something joyful and exhilarating about experiencing the swansong of this band on the big screen.
It might not be in the same league as The Last Waltz or Talking Heads' Stop Making Sense (1983).
N.B. A longer review of the Blu-ray will be forthcoming.
DAY 3 (Saturday 28th April)
The idea of a 'Documentary Flash Lab' wasn't one I was familiar with, but ultimately very impressed by.
A two-hour event hosted by Cara Mertes, director of the Sundance Institute Documentary Program and Fund, it was possibly the best event of its kind I've ever been to.
Sometimes Q&A-style events at film festivals can be poorly hosted and plodding affairs with rambling non-questions from the audience.
Here was a textbook example of how it should be done: Mertes went through the history of Sundance and the importance of documentary to the festival and she was joined by directors Lauren Greenfield (The Queen of Versailles), Eugene Jarecki (The House I Live In) and Jeff Orlowski (Chasing Ice).
All gave informative insights into their respective films but about twenty minutes in, as Mertes introduced Orlowski, a familiar figure entered the room.
It turned out to be a surprise appearence by the founder of Sundance himself, Robert Redford.
He apologised for being delayed in London traffic, but went on give a quick speech about his love of documentary and how he first got hooked on factual content whilst watching a televised military hearing in the 1950s.
It was just a taste of Redford's commitment, but it has been a mainstay of the festival since the beginning, and his sincerity and contribution was obvious.
Over the years the festival he began has arguably become the global mecca for both filmmakers looking to sell their documentaries and distributors looking to buy them.
In retrospect 2012 has turned out to be a particularly strong year but it has also reflected both the frustrations and possibilities for documentarians.
Although each spoke eloquently about their films and the issues they explored, the question of how you actually get audiences to see them is another matter.
Eugene Jarecki expressed his desire to explore new was of getting his film out there, almost like a travelling musician going from city to city and forgoing more traditional distribution models.
On the one hand, it has always been difficult for documentaries to get attention in the theatrical marketplace, but reduced production costs (enabled by cheaper digital cameras, editing systems and prints) have dramatically levelled the playing field.
Representing the UK perspective was Jess Search, CEO of Channel Four BritDoc Foundation, and her enthusiasm matched that of her US counterparts as she went through the newer funding and distribution possibilities afforded by the web (e.g. Kickstarter, YouTube etc).
Two hours flew by and although there are deep anxieties about the technological revolution currently engulfing cinema, it was a session that left me excited about the shift to digital and the stories that will enable.
The downside is there will be plenty of bad films and documentaries made in the coming years, but overall I'm optimistic about the cream rising to the top.
DAY FOUR (Sunday 29th April)
Sunday afternoon was my personal highlight as Harry Gregson-Williams gave a two-hour talk on film music entitled 'Film Music from the Composer's Point of View'.
A composer probably best known for his collaborations with the late director Tony Scott (Unstoppable, Man on Fire), Ben Affleck (Gone Baby Gone, The Town) and various animated films such as Shrek.
Accompanied by the setup he uses on films and a group of musicians, the auditorium resembled a makeshift mixing stage.
After being introduced by Peter Golub, director of the Sundance Film Music Program, Gregson-Williams not only provided valuable insights into scoring for films but also dropped in some amusing anecdotes.
One of these was Ben Affleck's disarming honesty in admitting that he actually wanted Thomas Newman to score Gone Baby Gone (2007) – there is a distinct Newman-esque vibe to the opening titles.
Not only that, but two years later for The Town (2010), he again admitted Affleck wanted Newman (!) before eventually hiring him.
It is hard to compress the session into neat sound bites but his music setup was connected to the screen and he was clear as he could be about the different stages in scoring a film, with practical examples on the screen behind him.
Throughout he displayed a refreshing self-deprecating wit and if the composing work ever dries up he could start a side-career as a public speaker.
He also spoke of the importance of Hans Zimmer to his career and discussed how scores are done on software programmes like Cubase, Logic and Pro Tools, but also how that ties in with live musicians.
When he first started out, his Zimmer told him to lock himself in a room for several days and learn Cubase – the audio software programme he still uses to this day.
One thing that struck me after the session was how long the digital revolution has been with filmmaking process.
In the 1980s computers became more prominent in scores and chart music generally; the 1990s saw the arrival of the Avid and non-linear editing; and in the last decade we have seen cameras and projection switch to digital.
Ultimately the step-by-step way he broke down the elements of a film score was fascinating.
Using a sequence from Unstoppable (2010), he began by showing time-coded footage and gradually added in the elements that made up the final mix.
At the time he was scoring a film at Abbey Road Studios and another nice touch was that he passed around the vintage microphones and instruments from that iconic studio.
They still actually use them and it was a salient reminder that although the digital revolution has enveloped the music and film world, there is still a place for analogue pleasures.
> Sundance London
> Connect with them on Facebook (facebook.com/SundanceLondon) and Twitter (@sundancefestUK)
> More on the history of the Sundance Film Festival and The O2 at Wikipedia