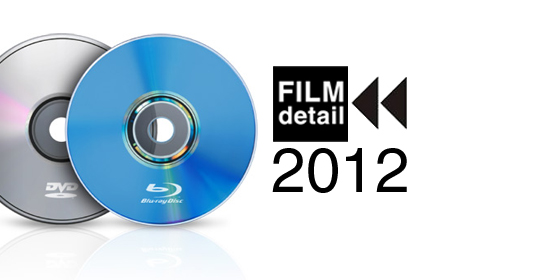 One of the major changes in home entertainment over the last year was the rise of video-on-demand, with services such as iTunes, Lovefilm and Netflix eating away at the disc market.
But discs are still alive and studios still control the major releases on Blu-ray and DVD, with some releases coming with the cloud-based format called UltraViolet, which allows users to legally rip a digital copy.
We'll have to wait and see how Christmas sales pan out, but we are currently living through a profound change in how we watch films in the home.
At the time of writing, the current situation resembles a confusing technical soup with various companies having to figure out some very difficult problems in how they produce and distribute their content.
But that is the subject of a longer post.
Here are my DVD and Blu-ray picks .
MAY
The Story of Film (Network) [Buy at Amazon]
Falstaff: Chimes at Midnight (Mr. Bongo) [Buy at Amazon]
Into the Abyss (Revolver)
The Jazz Baroness (3DD)
Treme: Season 2 (Warner Bros.)
Shame (Momentum) [Buy at Amazon]
Martha Marcy May Marlene (Fox)
The Artist (EV) [Buy at Amazon]
JUNE
Blue Velvet (Universal) [Buy at Amazon]
Lost Highway (Universal) [Buy at Amazon]
Odd Man Out (Network) [Buy at Amazon]
JULY
Chariots of Fire (Fox)
The Discreet Charm of the Bourgeoisie (StudioCanal) [Buy at Amazon]
Total Recall (Optimum Home Entertainment)
Some Like It Hot (MGM Home Entertainment)
A Fish Called Wanda (MGM Home Entertainment) [Buy at Amazon]
AUGUST
Le Harve (Artificial Eye) [Buy at Amazon]
Orlando (Artificial Eye)
This Must Be The Place (Trinity)
The Descendants (Fox) [Buy at Amazon]
Marley (Universal) [Buy at Amazon]
Rumble Fish (Eureka)
SEPTEMBER
Jaws (Universal) [Buy at Amazon]
Les Enfants Du Paradis (Second Sight) [Buy at Amazon]
All Quiet On The Western Front (Universal) [Buy at Amazon]
James Bond: Bond 50 (Fox) [Buy at Amazon]
To Catch a Thief (Paramount) [Buy at Amazon]
That Obscure Object of Desire (StudioCanal) [Buy at Amazon]
The Trial (StudioCanal) [Buy at Amazon]
The Turin Horse (Artificial Eye)
OCTOBER
Lawrence of Arabia (Sony) [Buy at Amazon]
Walkabout (Universal) [Buy at Amazon]
Dracula (Universal) [Buy at Amazon]
Frankenstein (Universal) [Buy at Amazon]
The Wolf Man (Universal) [Buy at Amazon]
Ai Weiwei – Never Sorry (Artificial Eye)
Indiana Jones: The Complete Collection (Paramount) [Buy at Amazon]
Prometheus (Fox)
Shut Up and Play the Hits (Pulse Films) [Buy at Amazon]
The Curse of Frankenstein (Lionsgate UK) [Buy at Amazon]
Woody Allen: A Documentary (Soda Pictures) [Buy at Amazon]
ET – The Extra Terrestrial (Universal) [Buy at Amazon]
Glengarry Glen Ross (ITV DVD)
Nostalgia for the Light (New Wave Films) [Buy at Amazon]
The Company of Wolves (ITV DVD) [Buy at Amazon]
The Shawshank Redemption (ITV DVD) [Buy at Amazon]
Homeland: Season 1 (Fox) [Buy at Amazon]
NOVEMBER
Citizen Kane (Universal) [Buy at Amazon]
Groundhog Day (Sony) [Buy at Amazon]
Alfred Hitchcock: The Masterpiece Collection (Universal) [Buy at Amazon]
Margin Call (Paramount) [Buy at Amazon]
The Man in the White Suit (Studiocanal) [Buy at Amazon]
Singin' in the Rain (Warner Home Video) [Buy at Amazon]