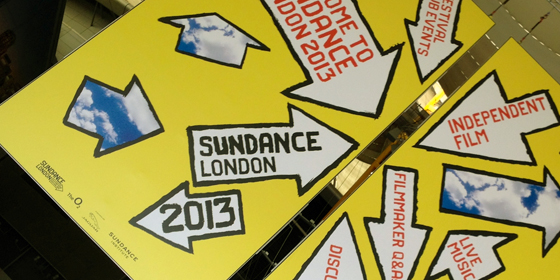 DAY ONE (April 25th)
Sundance London 2013 – Day 1 from Sundance London 2012 on Vimeo.
The Look of Love (Dir. Michael Winterbottom): After 24 Hour Party People (2002) Michael Winterbottom reunites with Steve Coogan for this biopic of the late Paul Raymond. The self-styled 'King of Soho' made his fortune with gentleman's clubs, erotic magazines and property but his great wealth was underscored by personal tragedy.
Coogan brings a huge amount of charisma to his role, but he is backed up by a fine supporting cast including Anna Friel, Tamsin Egerton, Chris Addison and especially Imogen Poots, who excels as his troubled daughter. Winterbottom deftly manages to balance humour and the film makes good use of real life locations in Soho.
DAY TWO (April 26th)
Sundance London 2013 – Day 2 from Sundance London 2012 on Vimeo.
Blood Brother (Dir. Steve Hoover): An enlightening and at times harrowing documentary about a filmmaker following his best friend (Rocky Braat) as he returns to a hostel in India for young children with HIV. Whilst it doesn't break any new ground stylistically, the engaging central figure and rawness of the story makes for compelling viewing.
It is rare to see filmmakers adopt a such an extreme verite approach, but what initially starts off as a traditional narrative soon becomes something more unexpected. One scene in particular during the final third may raise questions about the moral line between documentarians and their subjects.
DAY THREE (April 27th)
Sundance London 2013 – Day 3 from Sundance London 2012 on Vimeo.
The Kings of Summer (Dir. Jordan Vogt-Roberts): One staple of US indie films, is the coming of age tale. This one follows three disaffected boys (Nick Robinson, Gabriel Basso and Moises Arias) in a rural Ohio town as they run away from home and try to settle in the woods.
Despite the over familiar setting – and a considerable debt to Rob Reiner's Stand By Me (1986) – it manages to effectively capture the humour and frustration of those teenage years. This is mostly down to Vogt-Roberts nice eye for location and a solid ensemble cast, which includes a stand out turn from Nick Offerman from TV's Parks and Recreation.
DAY FOUR (April 28th)
Sundance London 2013 – Day 4 from Sundance London 2012 on Vimeo.
Mud (Dir. Jeff Nichols): Interesting US directors outside the LA/New York axis have been rare in recent years. A notable exception has been Arkansas native Jeff Nichols. With his first two films, Shotgun Stories (2007) and Take Shelter (2011), he has firmly established himself as a distinct voice.
His latest comes soaked in the storytelling tradition of the Deep South, mainly Huckleberry Finn, as two young boys (Tye Sheridan and Jacob Lofland) come across a stranger named Mud (Matthew McConaughey) who is hiding on an island in the Mississippi river. Strong performances abound from McConaughey, Sheridan, Reese Witherspoon and Sam Shepherd, but it is the confident writing and directing that really mark this out as another chapter in the career of Nichols.
Upstream Color (Dir. Shane Carruth): Ever since his remarkable debut Primer (2004) scooped the Grand Jury Prize at Sundance, people have been wondering what had happened to its writer/director Shane Carruth. The answer appears to have been a period of long development hell, but his second feature is well worth the wait. If you were baffled by Primer then be prepared for this film.
Just describing it is hard as it eschews conventional notions of plot but the basic premise revolves around a woman (Amy Seimetz) who comes across a man (Shane Carruth) who may or may not have the answers to a recent trauma she's undergone. Imagine if David Lynch and Terrence Malick remade Memento (2000) and you might get some idea of the haunting puzzle box Carruth has crafted. The performances, visuals and score all combine to dazzling effect, and it is hard to recall a more mysterious and original film.
> Sundance London
> Connect with them on Facebook (facebook.com/SundanceLondon) and Twitter (@sundancefestUK)
> More on the history of the Sundance Film Festival and The O2 at Wikipedia