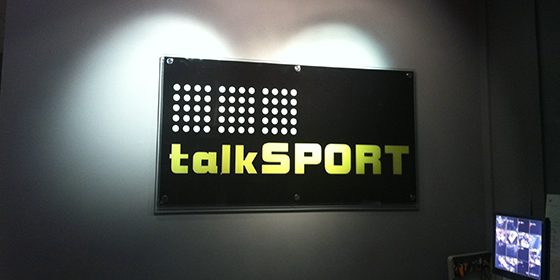 Tonight marks the end of a radio era for me when Ian Collins presents his final show on TalkSPORT.
The very title of this website comes from Ian ("a bit of film detail"), whose show I started reviewing films on back in March 1999 when the station was called Talk Radio.
He was generous enough to let me come in every Friday and discuss the latest releases or interesting titles from the past.
His show has gone through several incarnations, not least a station name change, various moves around the schedule and different co-presenters and producers.
Aside from 'what is your favourite film?' the question I'm most often asked is 'why don't you write for ______ magazine?'.
The main reason – apart from the fact that I never really pursued it – is that I prefer the medium of radio to print.
I owe a great deal to Ian (and various team members down the years, some sadly no longer with us) for letting me come in and talk about films to the nation.
On Monday I was on Ian's show and we had an hour long chat about the history of the film slot and various aspects of modern cinema, which you can listen to by clicking here (I have no idea why the web copy is completely wrong, but never mind).
But tonight (Thursday 1st September) is his last night, so I thought I'd publish a film-related timeline of the show from 1999-2011, which includes world events, some random things that happened, notable and quirky film stuff, my favourite films to be released between 1999-2011 and significant film trends of the period.
A RADIO TIMELINE
March 1999

July 1999

November 1999
Christopher Nolan's Following (1998) is released at one cinema in London
Ian and the Creatures of the Night team go to a restaurant in North London, right near where Christopher Nolan grew up and filmed some of Following. Parts of which were also filmed in Central London (near the Talk Radio studios) and Southwark (not far from the TalkSPORT studios).
January 2000
March 2000
June 2000
Danny Boyle is spotted buying a copy of The Observer in East London
Early version of FILMdetail.com launches as a bunch of .html files on a web server.
September 2000
January 2001
A man who 'sounds like a Shakespeare character' phones in
September 2001
October 2001
November 2001
May 2002
June 2002
July 2002
August 2002
November 2002
March 2003
April 2003
October 2003
Finding Nemo (2003) opens in the UK and eventually becomes the biggest grossing film of that year
Ralph Fiennes is spotted in a bar at the Royal Festival Hall on the South Bank
December 2003
February 2004
April 2004
May 2004
Jeff Beck offers members of the show tickets to see his concert at the Royal Albert Hall – but it coincides with the England Portugal game.
July 2004
October 2004
November 2004
December 2004
May 2005
An early version of YouTube launches online
June 2005
July 2005
August 2005
October 2005
Director Tony Scott rings up talkSPORT to talk about his latest film and is mistakenly put through to a phone-in about Arsenal in another studio.
November 2005
The 150-minute cut of Terrence Malick's The New World (2005) screens in London
December 2005
Members of the team meet director George A Romero at a hotel in London, where he offers us some vodka and ice.
July 2006
A TalkSPORT employee misses a screening of Superman Returns (2006) because he is "stuck in Henley"
September 2006
Director Stephen Frears refuses to believe that anyone is called 'Ambrose'.
Sometime in Autumn 2006
A famous Hollywood actor in a hotel wants to know if he will be asked "anything about his personal life" even though we never did that anyway.
November 2006
January 2007
March 2007
April 2007
July 2007
October 2007
Ken Loach explains to us that he listens to talkSPORT on the way to games
December 2007
January 2008
February 2008
July 2008
September 2008
October 2008
President Bush signs the Emergency Economic Stabilization Act of 2008, which uses $700 billion of tax payers money to bail out Wall Street banks.
Economics correspondent later tells us that during this period the UK is 48 hours away from 'cash machines not working'
November 2008
December 2008
January 2009
February 2009
August 2009
December 2009
James Cameron's Avatar (2009) is released and goes on to become the biggest film of all time as well as triggering a boom in 3D movies.
January 2010
The iPad is unveiled by Apple.
April 2010
May 2010
An actor in Four Lions (2010) explains how director Chris Morris once wanted him to play Noel Edmonds' golf caddy in a sketch for Brass Eye (1997).
July 2010
November 2010
January 2011
The Arab Spring begins in Tunisia before spreading across the Middle East to countries including Egypt, Libya and Syria.
February 2011
March 2011
May 2011
July 2011
August 2011
THE BEST FILMS TO BE RELEASED 1999-2011 (in chronological order)
Magnolia (Dir. Paul Thomas Anderson, 1999)
The Insider (Dir. Michael Mann, 1999)
Three Kings (Dir. David O'Russell, 1999)
The Thin Red Line (Dir. Terrence Malick, 1999)
Memento (Dir. Christopher Nolan, 2000)
In the Mood For Love (Dir. Wong Kar Wai, 2000)
Mulholland Drive (Dir. David Lynch, 2001)
Spirited Away (Dir. HayaoMiyazaki, 2001)
Hero (Dir. Zhang Yimou, 2002)
Adaptation. (Dir. Spike Jonze, 2002)
The Fog of War (Errol Morris, 2003)
The Triplets of Belleville (Dir. Sylvain Chomet, 2003)
Touching the Void (Dir. Kevin MacDonald, 2003)
Finding Nemo (Dir. Andrew Stanton, 2003)
Sideways (Dir. Alexander Payne, 2004)
Eternal Sunshine of the Spotless Mind (Dir. Michel Gondry, 2004)
The New World (Dir. Terence Malick, 2005)
Kiss Kiss Bang Bang (Dir. Shane Black, 2005)
United 93 (Dir. Paul Greengrass, 2006)
Pan's Labyrinth (Dir. Guillermo Del Toro, 2006)
Children of Men (Dir. Alfonso Cuaron, 2006)
The Lives of Others (Dir. Florian Henckel von Donnersmarck, 2006)
There Will Be Blood (Dir. Paul Thomas Anderson, 2007)
No Country for Old Men (Dir. The Coen Brothers, 2007)
The Diving Bell and the Butterfly (Dir. Julian Schnabel, 2007)
Zodiac (Dir. David Fincher, 2007)
Taxi to the Darkside (Dir. Alex Gibney, 2007)
Michael Clayton (Dir. TonyGilroy, 2007)
I'm Not There (Dir. Todd Haynes, 2007)
4 Months, 3 Weeks and 2 Days (Dir. Christian Mungiu, 2007)
Hunger (Dir. Steve McQueen, 2008)
Waltz With Bashir (Dir. Ari Folman, 2008)
WALL-E (Dir. Andrew Stanton, 2008)
The Class (Dir. Laurent Cantet, 2008)
Il Divo (Dir. 2008)
A Prophet (Dir. Jacques Audiard, 2009)
The White Ribbon (Dir. Michael Haneke, 2009)
A Serious Man (Dir. The Coen Brothers, 2009)
Carlos (Dir. Olivier Assayas, 2010)
Exit Through The Gift Shop (Dir. Banksy, 2010)
Inception (Dir. Christopher Nolan, 2010)
Inside Job (Dir. CharlesFerguson, 2010)
The Social Network (Dir. David Fincher, 2010)
Senna (Dir. Asif Kapadia, 2011)
The Tree of Life (Dir. Terrence Malick, 2011)
The Interrupters (Dir. Steve James, 2011)
SIGNIFICANT FILM TRENDS (March 1999 – September 2011)
The Rise of Digital: Movies are increasingly shot on digital cameras and now digital projection is common in both multiplex and arthouse cinemas in the UK
Pixar: Their astonishing run of animated films from the mid-90s continued with films like the Toy Story sequels, Finding Nemo, WALL-E and Up, which won Oscars and spawned many imitators.
The Decline of Retail: HMV is pretty much the only physical music and film retailer left standing after a decade in which Amazon and online shopping has eroded their profits.
HD: The rise in widescreen, high-definition televisions in the latter years of the decade has meant that many people have upgraded their home sets. But sales of Blu-ray have not replaced DVD and streaming (or downloading) content online looks to be the long-term future.
YouTube: One of the most significant websites of the last decade could have been sued out of existence but its survival – after being bought by Google in 2006 – has changed consumer attitudes to content (TV, film and music) and also become the world's largest video library.
Netflix and Downloads: The US DVD rental and movie streaming service has displaced Blockbuster in the US (the UK equivalent is Love Film) and looks set to expand globally in the coming years as downloads replace optical discs.
CGI Tentpoles: The end of year box-office has been dominated by big-spectacle franchises like Pirates of theCaribbean, Spider-Man, Harry Potter, Lord of the Rings, the Star Wars prequels and The Matrix.
Special Effects: Increased computing power has allowed ever more sophisticated effects, most notably in The Matrix (1999), The Lord of the Rings Trilogy (2001-03), The Curious Case of Benjamin Button (2008), Avatar (2009) and Inception (2010).
Documentaries: Films like Bowling For Columbine (2002), Touching the Void (2003), Fahrenheit 9/11 (2004) broke through at cinemas whilst near the end of a decade filled with global turmoil, films like An Inconvenient Truth (2006), Taxi to the Darkside (2007) and Inside Job (2010) helped explain key events. Later Exit Through The Gift Shop (2010) and Catfish (2010) played with the form in bold and inventive ways.
The Fall and Rise of The Indie: After indie movies got increasingly expensive in the 2000s, the bubble burst in 2008 and a newer generation of indie movies – made with cheaper digital technology – has come along with films like Catfish, Winter's Bone, Another Earth and Monsters.
Torture Horror: The huge success of the Saw franchise and countless remakes of 1970s horror films has seen new levels of sadism and torture enter the multiplex.
Adult Comedies: Towards the end of the decade Hollywood realised that there was a gap in the market for slightly ruder comedies like Knocked Up (2007), Superbad (2007), The Hangover (2009) and Bridesmaids (2010).
War Films Prove a Box Office Turnoff: Mainstream US audiences rejected seeing movies aboutAfghanistan and Iraq, with even the Oscar winning The Hurt Locker (2009) only making its real money on DVD.
Chaos Cinema: Mainstream action movies such as The Bourne trilogy and Transformers increasingly used quick cutting and jerky camera movements to dizzying effect. Was modern technology to blame for the worst of these films?
The Best TV Got Really Good: The best US TV got really good with shows like The Sopranos, Six Feet Under, The Wire and Mad Men proving that movie production values could work on the small screen. It put a lot of crap British TV to shame.
Promising Signs in the UK: After a lean period of lottery-funded crap, homegrown UK cinema experienced something of a renaissance with films such as Hunger (2008), Fish Tank (2009) and Submarine (2011).