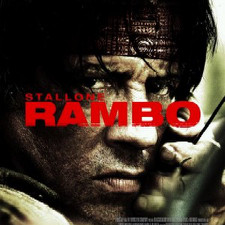 The new Rambo film opens in the UK this week and I recently spoke to Sylvester Stallone about reprising the role.
Set amidst the backdrop of unrest in Burma, the film sees John Rambo go to the aid of a group of Christian missionaries captured by army rebels.
We discuss why older film characters (like John McClane, Indiana Jones and Rambo) are making a return to cinema screens, the real life backdrop to this film, the appeal of Rambo and his love of golf.
Listen to the interview here:
[audio:http://filmdetail.receptionmedia.com/Sylvester_Stallone_on_Rambo.mp3]
To download this as a podcast via iTunes just click the image below:

Rambo is out at UK cinemas nationwide from Friday
> Download this interview as an MP3 file
> Sylvester Stallone at the IMDb
> Official website for Rambo
> Get local showtimes for this film via Google Movies