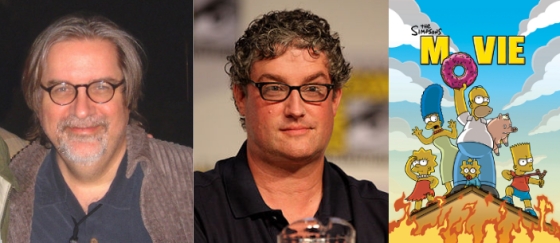 The Simpsons Movie is finally released this week after years in various stages of development.
After 18 years and 400 episodes the TV show has become an indelible part of modern pop culture with phrases entering the language and all manner of celebrities lining up for cameos in the show. But what can we expect from the full length film?
Up to now the plot has been shrouded in secrecy and expectations are running high. I recently spoke to two of the key men behind it to discuss the challenges of bringing Springfield to the big screen.
Matt Groening is the creator of The Simpsons and the man who started it all when producer James L Brooks asked him to come up with an animated sketch on The Tracy Ullman Show in the spring of 1987.
It soon became a success and the fledgling Fox network under the guide of Barry Diller decided to launch it as a half hour show. The result was one of the most successful TV shows of all time that continues to be shown all around the world.
I spoke with Matt about how long the idea of a Simpsons movie has been around, how they made it in conjunction with the TV show, what fans can expect from the film and why he thinks the show has endured all these years.
Al Jean is the executive producer of the movie and has worked on the show as a writer and producer. Armed with an encyclopedic knowledge of each season, he has been a key player in bringing the movie to the screen.
He was the show runner in seasons 3 and 4, which meant he was responsible for the day-to-day operation of the series and in recent seasons has returned to that role. Fans may be familiar with his voice as he regularly contributes to the audio commentaries on the DVD releases.
We talked about the challenges in bringing a TV show to the big screen, why it took so long for the movie to finally get made, the business of editing the best jokes, how he got involved in the early days and how long the show can go on for.
Listen to the interview podcast with Matt and Al by clicking here:
[audio:http://filmdetail.receptionmedia.com/Matt_Groening_and_Al_Jean_on_The_Simpsons_Movie.MP3]
You can also download it via iTunes by clicking the image below:
The Simpsons Movie is out this Thursday
> Download the interview as an MP3 file
> Official site for The Simpsons Movie
> Get local showtimes for the film via Google Movies
> The extensive Wikipedia entry for The Simpsons
> In depth Vanity Fair article on the history of the show
> The Simpsons Archive – an excellent resource on the show
> Photos of the recent 7/Eleven Kwik-E-Mart promotion
> Anne Thompson of Variety reports on the recent 'footage screening' in London and the fact that Springfield in Vermont has won the race to hold the July 26 premiere in the US
> The latest buzz on The Simpsons Movie at Technorati