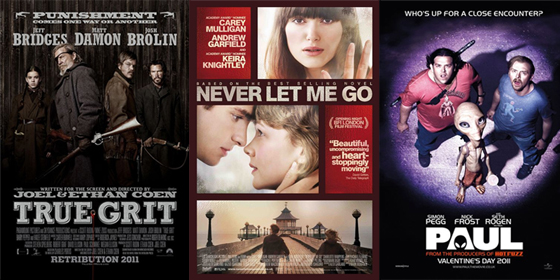 NATIONAL RELEASES
True Grit (Paramount): This beautifully crafted Western from the Coen Brothers is a much richer adaptation of the Charles Portis novel than the 1969 film version. It begins in Arkansas during the 1870s with a young girl named Mattie Ross (Hailee Steinfeld) hiring grizzled US Marshal Rooster Cogburn (Jeff Bridges) to track down her father's killer (Josh Brolin).
A Texas Ranger named Le Beouf (Matt Damon), who is also after Chaney, joins them as they head out into Indian Territory (present day Oklahoma) and, despite their differences in age and temperament, gradually form a close bond. Although regarded by some as a remake of the film that finally won John Wayne his first Oscar, this is actually more faithful to the original novel, preserving the point of view of Mattie and its distinctive depiction of the Wild West.
Both the town of Fort Smith and the rugged surrounding landscape are recreated with consummate skill: regular cinematographer Roger Deakins shoots the terrain with a harsh beauty and Jess Gonchor's production design helps create a detailed, but never romanticised, world.
Coming off positive reviews, Oscar nominations and surprisingly strong box office in the US, it stands a good chance of doing decent business here, although UK audiences are notoriously resistant to the Western genre. But the sheer quality and the fact that The King's Speech has peaked in popularity could be factors in discerning audiences going to see this. [Vue West End & Nationwide / 15] [Read our full review]
Never Let Me Go (20th Century Fox): Adapted from Kazuo Ishiguro's novel this is an exquisitely crafted drama set in an alternate timeline of England, where a young woman named Kathy (Carey Mulligan) looks back on her childhood when she grew up with two friends, Ruth (Keira Knightley) and Tommy (Andrew Garfield). As youngsters they attend Hailsham, a boarding school sheltering them from the outside world, and as they grow older it slowly dawns on them that they have been excluded from mainstream society for a reason.
From the opening credits director Mark Romanek establishes a carefully controlled mood, and for the early section we see younger actors (Isobel Meikle-Small, Ella Purnell and Charlie Rowe) convincingly play the three leads as children in 1978. Hints are dropped fairly early on about the mysterious nature of their youth, alongside a developing love triangle as Kathy realises Tommy, who she bonded with from an early age, is in love with Ruth.
The recreation of an ageing English boarding school is thoroughly convincing, with some first rate costume and production design, and the transition to their teenage years in the mid-1980s is fairly seamless. Romanek handles the material with considerable skill and technically the film is exquisitely made: Adam Kimmel's widescreen cinematography and Barney Pilling's editing all help to create a rich mood of sadness and regret.
Although it seemed like an early contender for BAFTAs and Oscars, the early reactions on the festival circuit were mixed and it ended up dying a quick death at the US box office. Its UK release was timed for BAFTA nominations which never materialised. It will probably suffer the same fate here as the nature of the story will put some viewers off. Nevertheless, it is a film of considerable craft, emotion and intelligence that deserves to find a wider audience over time. [Curzon Mayfair, Vue West End & Nationwide / 12A] [Read our full review here]
Paul (Universal): A new comedy about two British comic geeks (Simon Pegg and Nick Frost) who go on a road trip through America only to discover an alien named Paul (voiced by Seth Rogen) who has escaped from Area 51. [Nationwide from Monday 14th / 15]
Yogi Bear (Warner Bros.): A live-action film adaptation of the Hanna-Barbera cartoon series directed by Eric Brevig and featuring Dan Aykroyd as the voice of Yogi Bear, and Justin Timberlake as the voice of Boo-Boo Bear. [Vue West End & Nationwide / U]
Gnomeo & Juliet (Entertainment One UK): An animated animated family film based on William Shakespeare's play Romeo and Juliet, directed by Kelly Asbury and featuring the voices of James McAvoy and Emily Blunt. [Empire Leicester Square & Nationwide / U]
Just Go With It (Sony Pictures): A romantic comedy starring Adam Sandler and Jennifer Aniston based on the 1969 film Cactus Flower about a plastic surgeon who pretends to be unhappily married in order to get women. [Nationwide / 12A]
ALSO OUT
Son Of Babylon (Dogwoof): A Iraqi drama directed by Mohamed Al-Daradji set in 2003 about a 12-year-old boy and his grandmother who go on a cross-country journey to find a loved one. [Empire Leicester Square & Key Cities]
Nothing To Declare (Pathe): A comedy written and directed by Dany Boon set in 1993, about two customs officers, one Belgian and the other French, who find out their small customs post is to be closed. [Showing exclusively at Cine Lumiere]
The Flying Machine (Break Thru Films): A a part animation part live action production, celebrating the life of Frederic Chopin. [Royal Festival Hall / 12th & 13th Only]
Two In The Wave (New Wave Films): A documentary about Jean-Luc Godard and Francois Truffaut and their creative and personal differences. [BFI Southbank, ICA & Key Cities / ]
My Kidnapper (Renegade Pictures): Documentary about Mark Henderson, one of eight backpackers taken hostage in Colombia during 2003. [Ritzy Picturehouse & selected Key Cities]
Tantric Tourists (Independent/Slack Alice Films): A documentary about a tantric guru and 10 US students who go to India in search of a life-changing tantric experience. [Opens on February 14th in Key Cities]
> Get local cinema showtimes at Google Movies or FindAnyFilm
> UK DVD & Blu-ray releases for Monday 7th January 2011, including Once Upon A Time in America