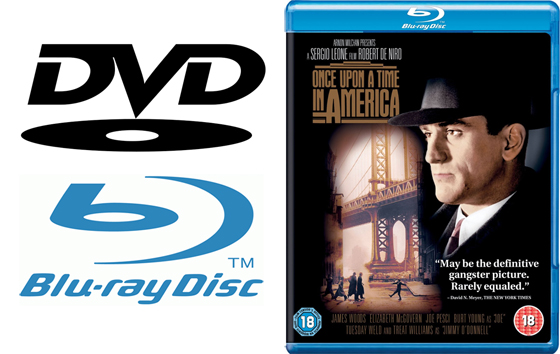 DVD & BLU-RAY PICK
Once Upon A Time America (Warner Home Video): Sergio Leone's crime epic is one of the genuinely great films of the 1980s. Adapted from the novel 'The Hoods' by Harry Grey, it charts the lives of two Jewish gangsters over a 40 year period, David "Noodles" Aaronson (Robert De Niro) and Maximilian "Max" Bercovicz (James Woods), as well as the various people who surround them.
Originally released in 1984 a heavily butchered and linear version, it was later restored to its current running time of nearly 4 hours with the original flashback structure. Violent, elegiac and masterfully crafted, the sprawling narrative shifts between the 1920s, 1930s and the late 1960s as it charts the shifting actions, emotions and memories of its central characters.
DeNiro and Woods are excellent in the lead roles and look out for Leone's clever audio and visual cues throughout as well as Ennio Morricone's haunting score. The violent energy of the gangster's early years is also neatly contrasted with the wistful tone of their later period.
Although this is about the best version of the film available, some have already noted that transfer is 'imperfect' which is possibly a problem with the original materials.
That being said, it is still well worth getting, especially as it fits on to one disc – unlike the 2003 DVD which was spread over 2 – and the extra features are good, including the following:
Commentary by film critic Richard Schickel
Excerpt from the documentary Once Upon a Time: Sergio Leone profiling the making of the film (19:34)
Theatrical Trailer (1:33)
> Buy Once Upon A Time in America on Blu-ray or DVD from Amazon UK
> Find out more about the film at Wikipedia, the IMDb and this dedicated site
ALSO OUT
Bambi (Walt Disney) [Blu-ray / with DVD – Double Play]
Big Momma's House (20th Century Fox Home Ent.) [Blu-ray / Normal]
Big Momma's House 2 (20th Century Fox Home Ent.) [Blu-ray / Normal]
Brief Encounter (ITV DVD) [Blu-ray / Normal]
Diary of a Wimpy Kid (20th Century Fox Home Ent.) [Blu-ray / with Digital Copy – Double Play]
Eat Pray Love (Sony Pictures Home Ent.) [Blu-ray / Normal]
I Spit On Your Grave (Anchor Bay/Elevation) [Blu-ray / Normal]
National Geographic: Great Migrations (National Geographic) [Blu-ray / Normal]
Red and White (Kaleidoscope Home Ent.) Blu-ray / Normal
Takers (Sony Pictures Home Ent.) [Blu-ray / Normal]
The Death and Life of Charlie St. Cloud (Universal Pictures) [Blu-ray / Normal]
The Rebound (Momentum Pictures) [Blu-ray / Normal]
True Grit (1969 Version) (Paramount Home Entertainment) [Blu-ray / Normal]
> UK cinema releases for Friday 4th February 2011, including The Fighter and Rabbit Hole
> The Best DVD & Blu-ray releases of 2010