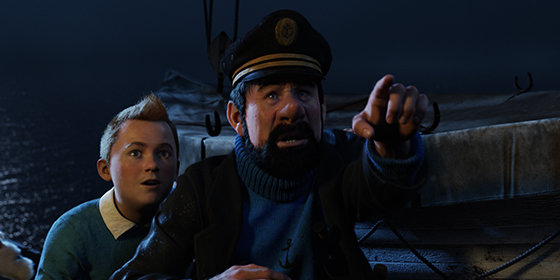 Steven Spielberg's long cherished dream of bringing Herge's famous character to the screen utilises cutting edge visual effects to create a delightful adaptation.
Although as his first animated film it marks new technical territory for the director, the globe-trotting nature of the narrative closely resembles his Indiana Jones movies and he weaves something fresh and exciting out of a much loved character.
The story blends elements of the first three Tintin books – The Crab with the Golden Claws, The Secret of the Unicorn and Red Rackham's Treasure – and centres around an intrepid reporter (Jamie Bell) and his loyal dog Snowy as they come across a valuable model boat.
They soon discover that various other people are interested in it and their investigation sees them come across various characters, including: enigmatic Sakharine (Daniel Craig), drink-soaked Captain Haddock (Andy Serkis) and twin Interpol agents Thomson and Thompson (Nick Frost and Simon Pegg).
Using a similar 3D motion capture process that James Cameron pioneered on Avatar, Spielberg shot the actors on a stage with a virtual camera and then producer Peter Jackson's visual effects company Weta Digital essentially animated over the performances and created the world in which they inhabit.
It should be noted that Jackson was closely involved in the project – he is even credited as 2nd unit director – and will probably co-direct a sequel, if this one meets commercial expectations.
The end result is visually stunning, a rich and immersive depiction of Herge's world filled with impressive detail and colour.
Spielberg especially seems energised by the new process, exploring visual angles and movements that wouldn't be possible in a conventional live action film.
Various action sequences utilise the virtual locations extremely well and the filmmakers really squeeze the excitement out of different spaces, be they streets, ships or deserts.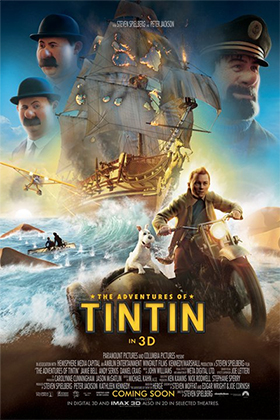 Nowhere is this more apparent in the character of Snowy – an integral part of Tintin's world – who simply wouldn't have been possible in a live action process (unless they found a ridiculously talented dog).
The motion-capture process also gives the main characters bodies a greater sense of weight and their movement a greater believability, although it is still early days in the technology when it comes to the detail of the face.
A slight sense of weirdness comes when there are facial close ups, as they are so rich in detail that they venture into uncanny valley territory, but overall this isn't too much of a problem as the look has been carefully designed on pre-existing source material and isn't meant to duplicate real people.
It perhaps isn't a surprise that the stand-out performance comes from Serkis, now the most experienced motion-capture actor in the world after his pioneering work in The Lord of the Rings trilogy, King Kong and Rise of the Planet of the Apes.
Not only is his character engaging and hilarious, his performance is the most complete hybrid of voice and movement in the cast, setting a new benchmark in this new technical zone of acting.
That said the other main performances – especially Bell – help bring their characters to life and unlike recent Robert Zemeckis films that have used motion capture (such as A Christmas Carol) they feel more complete and polished.
The recreation of light, be it from lamps on a ship or direct sunlight, is remarkable and matched by the tricky business of water (which is similarly impressive) giving scenes which combine them a real wow factor.
Mainstream audiences are likely to be dazzled by the overall look and some of the visual transitions, which explain potentially tricky plot elements, are done with such finesse and joy they suggest Spielberg was thoroughly enamoured with his new digital tool kit.
Is it too much of a stretch to suggest his love of shooting on celluloid and editing on a Steenbeck could be waning in the face of the possibilities afforded by digital? (Michael Kahn has confirmed that they edited the upcoming War Horse on an Avid)
Spielberg has always stated that he's going to shoot on film stock for live action movies, but the screening of this in very week that Panavision and ARRI announced they would stop making traditional film cameras in favour of digital models seems like some kind of portent.
But whatever the future holds, this is probably Spielberg's most purely enjoyable film since Minority Report as he handles the action and characters with effervescent aplomb, each sequence snapping easily into another.
Much of the solid foundation of the film lies in the witty, respectful script by British writers Steven Moffat, Edgar Wright and Joe Cornish, who have wisely focused on getting the fundamental characters right and letting everything flow from there.
Fans of the books and a whole new audience will find much to enjoy in Snowy's persistence, Tintin's fearlessness and Haddock's drunken wisdom, whilst enjoying the mix of playful humour and genuine excitement.
The eagle eyed will notice the loving references to Herge's world and what seemed to me like Easter egg references to each of the first three Indiana Jones movies – I won't spoil what they were, but keep an eye out for a van, a plane and a motorbike side-car.
In some ways, there are parallels to Raiders of the Lost Ark as that was an adventure film heavily influenced by existing source material (the serials of the 1930s and 40s) and Secret of the Unicorn sees Spielberg flex similar creative muscles, with its mix of fast-paced action, humour and globe-trotting adventure.
Perhaps the best credit you can give the filmmakers is that it seemed like they had a blast making it and that infectious enthusiasm – a classic trait in Spielberg's best work – transmits to the end result.
As for the 3D, the filmmakers and distributor seem to have taken into consideration the problem of brightness levels, which has bedevilled recent releases such as Captain America: The First Avenger and the final Harry Potter movie.
Although the colours are distinctive to begin with, the brightness level on the cinema screen I saw (the Odeon Leicester Square in London) was amongst the best I've seen in a 3D screening and Spielberg also makes intelligent use of the sense of space that the medium offers.
As for the director's usual collaborators, Michael Kahn's editing helps give the film an energy and smooth sense of movement, whilst the score from John Williams – whilst not one of his most immediately melodic – forms a similar function and never overpowers the visuals.
Given the nature of the production, which involves digital rather than traditional photochemical cinematography, regular DP Janusz Kaminski has performed a different role as a 'visual consultant' but seems to have played a role in the realisation of Herge's drawings and the virtual lighting and camera moves.
Unusually for a major release, this will be released in Europe almost two months before America, presumably to build buzz and anticipation in the continent where the characters are most familiar.
There was a lot that was unconventional about this project, as two major directors have teamed up for a franchise that is being released by a pair of major studios, with Paramount distributing in Europe and Sony in America.
It is ironic that the latest digital filmmaking technology has been utilised to bring such a traditional character to the big screen, but it says a lot that Spielberg and his team of collaborators have kept faith with the core characters and look of the source material.
The end result has a beautiful charm and simplicity to it which should appeal to a wide spectrum of audiences around the world, possibly paving the way for an enduring franchise.
The Adventures of Tintin: Secret of the Unicorn opens in the UK on October 26th and in the US on December 19th
> Official Tintin site, Facebook and Twitter
> Find out more about the Tintin books at Wikipedia