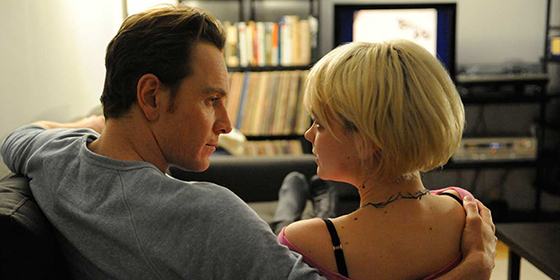 Steve McQueen's second feature is a stunning depiction of sexual compulsion.
Set in contemporary New York, it explores the life of an advertising executive (Michael Fassbender) who is struggling to cope with an addiction to sex and a needy sister (Carey Mulligan) who has just arrived to stay.
Like his astonishing debut, Hunger, this is bold filmmaking centred around an incredible central performance from Fassbender who manages to convey the pleasure and pain of a man in the throes of an all-consuming impulse.
Essentially a portrait of an addict enabled by the modern world (e.g. promiscuity, internet porn) the main character comes across as an unlikely combination of George Clooney in Up in the Air (surface charm hiding an inner emptiness) and Robert De Niro in Raging Bull (inner rage finding an expression through physical activity), with a dash of Christian Bale in American Psycho (only without the blood).
Fassbender manages to balance the fleshy demands of the role (which go near the boundaries of what is accepted in mainstream cinema) with an impeccable surface charm and is completely believable as a modern day sexual vampire.
Mulligan provides a compelling counterweight as a messy, needy sibling and the carefully calibrated chemistry between them hints at a dark past, which may (or may not) explain their present behaviour.
It says a lot that despite their strange, unusual actions, these characters feel utterly authentic and their worlds utterly defined.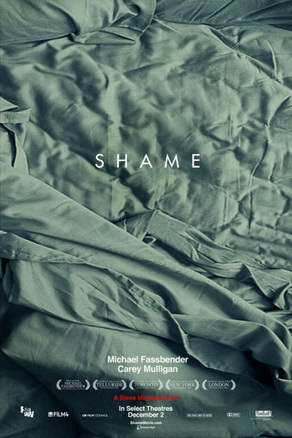 Visually, Shame is almost a companion piece to Hunger as McQueen and his cinematographer Sean Bobbit fill the screen with some stunning widescreen imagery.
Not only is there impeccable framing and the now signature long takes, including a breathtaking street sequence, but the use of lighting is also unusual – one night-time scene goes to the very limits of lighting and photography to great effect.
Despite the innate heaviness of the subject matter, there is also a surprising amount of charm and humour – after all the protagonist is someone who is necessarily seductive – and separate scenes involving a restaurant and an infected computer provide some clever light relief.
McQueen and Abi Morgan have written a screenplay which feels like a blue-print for a more visual style of storytelling, although some sequences – especially a telling, claustrophobic argument – are sharply scripted and allow the images on screen to say much more than words ever could.
The use of music is appropriately sombre and simultaneously epic, with Harry Escott's score channeling Hans Zimmer's music to the The Thin Red Line (1998) – one signature piece is very reminiscent of Journey to the Line – whilst the use of Bach in places is restrained but highly effective.
New York provides an interesting metropolitan backdrop, as McQueen deliberately downplays the usual visual cliches (Empire State building, Statue of Liberty etc) to depict an urban environment which could actually be any modern city.
Apparently the filmmakers chose the Big Apple over London because it was easier to research sex addiction there, but it also provides a hauntingly sterile backdrop.
Production designer Judy Becker helps create interiors which match the emptiness of the characters, whilst the location filming brilliantly utilises trains, nightclubs and streets: all of the highs and lows of city living are displayed, with a visual attention to detail that is often jaw-dropping.
In the same way that Hunger used the 1981 IRA hunger strike to indirectly comment on modern day torture and incarceration, Shame could be seen as a telling metaphor for the soulless nature of urban living, fuelled by a self-destructive brand of capitalism.
In a month which has seen part of the city occupied by a younger generation puzzled and appalled by a global financial crisis partly engineered by their Baby Boomer parents.
Shame is a curiously timely film, even if its makers didn't intend it to be.
There has already been considerable buzz about it on the festival circuit, due to the graphic sexual content and sheer quality of the acting and direction but, again like Hunger, it seems unlikely that this will break out of the urban art-house realm.
That being said, Fox Searchlight have acquired it (major kudos and respect to them) and are likely to make a big push for Best Actor for Fassbender.
Make no mistake, this is a performance that actors (the biggest voting block in the Academy) will be dazzled by.
After his breakthrough roles in Hunger and Inglourious Basterds, he has already demonstrated a remarkable command of screen acting: his physicality, voice and presence are something to behold.
Even if he doesn't become a major A-list star that producers and agents clearly want him to be, who cares when he gives performances like this?
Older Oscar members might have a coronary at some of the sex scenes and those explicit, but never gratuitous, sequences are likely to pose an interesting dilemma for the distributor and the MPAA ratings board – many have predicted an NC-17 for this film in the US as the racier scenes are difficult to edit around, due to the way they have been shot.
Given that NC-17 spells commercial death for a film (it means reduced mainstream advertising and refusal of some multiplex chains to screen it) maybe it is time the ratings board grew up and gave this an R with no cuts?
After all, we live in an age when the most sadistic, violent junk is given the green light by the US ratings board but shots of a naked body are deemed to be immoral or unacceptable.
Or we would know this for sure if the MPAA was an open, accountable body, rather than the secretive shambles it currently is.
Despite the American setting, it is interesting to note that this is a home grown British production, with See-Saw Films teaming up with Film4 and some funding from the now defunct UK Film Council.
It is interesting to note that homegrown British films have undergone something of a renaissance in a terrible economic climate since 2008, compared to the Lottery funded disasters of the late 1990s and early 2000s.
Is it an uncomfortable truth that bad social times lead to risk-taking directors with something to say?
Where Steve McQueen goes from here career wise is hard to call because I doubt he wants to take on the next big studio comic-book franchise, but if he can keep making films like this then discerning audiences will have much to be grateful for.
Shame screens tonight (Friday 14th) and tomorrow (Sat 15th) at the London Film Festival, opens in the US on December 2nd and in the UK on January 13th
> Shame on Twitter
> Reviews from Venice, Telluride and Toronto at MUBi