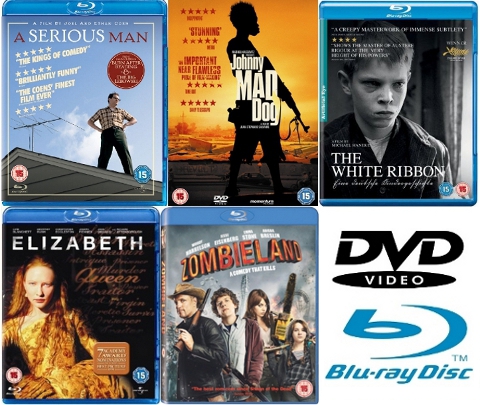 [ad]
DVD & BLU-RAY PICKS
A Serious Man (Universal): The Coen Brothers returned from the Oscar success of No Country For Old Men, with this exquisitely crafted black comedy exploring the pointless nature of suffering. Beginning with a seemingly incongruous prologue set in an Eastern European shtetl, it moves on to explore the hellish suburban existence of a Jewish maths professor named Larry Gopnik (Michael Stuhlbarg) in Minnesota, during 1967.
With a hectoring wife (Sari Lennick) who wants a divorce, her annoying widower lover (Fred Melamed), a leeching brother (Richard Kind), a pothead son (Aaron Wolff ) into Jefferson Airplane, dithering academic colleagues, an awkward Korean student and a succession of perpetually useless rabbis, he appears to living in a modern day version of The Book of Job. One of the best films of the year, it might just be the Coen Brothers' finest film to date. [Buy the Blu-ray | Buy it on DVD]
The White Ribbon (Artificial Eye): Director Michael Haneke won the Palme d'Or at Cannes back in May with this expertly crafted drama about the strange and disturbing things that start to happen in a German village on the eve of World War I. The action revolves around the dominant characters in the stern Protestant community: the Baron (Ulrich Tukur), the pastor (Burghart Klaussner) – who wields a significant influence on the local children – and the doctor (Rainer Bock).
As you might expect of a Haneke film the technical aspects are superb, especially Christoph Kanter's production design and Christian Berger's stark black and white photography. The deliberate lack of a musical score helps add to the sense foreboding as viewers get a chilling glimpse of the generation that would grow up to embrace Nazism. [Buy the Blu-ray | Buy it on DVD]
Johnny Mad Dog (Momentum): A riveting and brutal examination of child soldiers in Africa from director Jean-Stéphane Sauvaire ranks amongst the best war films in recent memory. Although nominally set in an unnamed African country, it was shot in Liberia – still recovering from a long civil war – and makes use of former child soldiers and documentary-style techniques to create a hellish recreation of a contemporary issue.
Based on the 2002 novel Johnny Chien Méchant by the US-based Congolese author Emmanuel Dongala, it is a remarkable achievement even if many audiences might not make it through the gut wrenching opening sequence. [Buy it on DVD]
Elizabeth (Universal): This 1998 historical drama explored the early reign of Elizabeth I (Cate Blanchett) and how she became one of the most iconic rulers in British history. Torn between her duty to political allies – Walsingham (Geoffrey Rush) and Cecil (Richard Attenborough – and her love for childhood sweetheart Dudley (Joseph Fiennes), she also has to see off Catholic conspirators such as the Duke of Norfolk (Christopher Eccleston) and a Vatican spy (Daniel Craig). Capably directed by Shekhar Kapur, it plays fast and loose with historical details, but remains an absorbing look at one of the most fascinating periods in British history. The production design and costumes are convincing and all look terrific on Blu-ray. Nominated for several Oscars, it helped launch Blanchett as a star and also look out for small roles featuring Eric Cantona and a 12-year-old Lily Allen. [Buy the Blu-ray | Buy it on DVD]
Zombieland (Sony Pictures Home Entertainment): One of the sleeper hits of last summer was this horror comedy about a group of survivors (Woody Harrelson, Jesse Eisenberg, Emma Stone, and Abigail Breslin) trying to stay alive after a zombie apocalypse hits the USA.
A road trip film of sorts, it bears quite a few similarities to Shaun of the Dead in its jokey, referential humour. That said it is an entertaining ride and a welcome antidote to the scores of gory, horror remakes which have sprouted up in the last decade. Strangely, it also bears some similarities to Adventureland, which also starred Jesse Eisenberg, as well as featuring a theme park. [Buy the Blu-ray | Buy it on DVD]
[ad]
ALSO OUT
Clash of the Titans (Warner Bros) [Buy the Blu-ray | Buy it on DVD]
Elizabeth: The Golden Age (Universal) [Buy the Blu-ray | Buy it on DVD]
Ninja (Lionsgate UK) [Buy the Blu-ray | Buy it on DVD]
Pink Floyd: Momentary Lapses (Classic Rock Productions) [Buy it on DVD]
Survival of the Dead (Optimum) [Buy the Blu-ray | Buy it on DVD]
The Beatles: A Magical History Tour (Classic Rock Productions) [Buy the Blu-ray | Buy it on DVD]
The Crimson Wing (Walt Disney) [Buy the Blu-ray | Buy it on DVD]
The Fourth Kind (EV) [Buy the Blu-ray | Buy it on DVD]
Cold Souls (Universal) [Buy it on DVD]
Goal! III – Taking On the World (In 2 Pictures) [Buy the Blu-ray | Buy it on DVD]
Seven Ages of Britain (2 Entertain) [Buy it on DVD]
> The Best DVD and Blu-ray releases of 2009
> UK cinema releases for Friday 12th March including Green Zone and Shutter Island