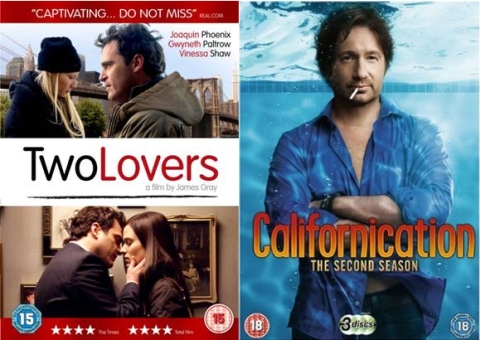 DVD PICKS
Two Lovers (Lionsgate): A romantic drama film, very loosely based on Dostoevsky's "White Nights" which stars Joaquin Phoenix as a troubled young man living in Brighton Beach in New York, who falls in love with two very different women (Gwyneth Paltrow and Vinessa Shaw).
Directed by James Gray, who has made films such as The Yards and We Own the Night, it is a pleasingly old fashioned and charming film with Phoenix excellent in the central role (easily his best since Walk The Line in 2005) and good work from Paltrow and Shaw.
The technical work (notice the lack of sets) and cinematography by Joaquin Baca–Asay are all first rate and although it didn't get the love it deserved at cinemas, it is well worth checking out on DVD.
Available on regular DVD and Blu-ray, the extra features include:
English DD5.1 (DVD) / English 5.1 DTS-HD Master Audio (BD)
English HOH subtitles
Audio Commentary with Co-Writer and Director James Gray
Deleted Scenes
[ad]
Californication – Season 2 (Paramount): The second season of this smart Showtime TV series created by Tom Kapinos, sees David Duchovny return as Hank Moody, a novelist in California struggling to cope with writer's block and his relationships with various women as well as his ex-girlfriend Karen (Natascha McElhone) and daughter Becca (Madeleine Martin).
Whilst not as good as the first season, Duchovny is still very good value in the lead role and for people in the UK who didn't catch it on Five, it is an amusing and well written series.
Extras include:
"Coke, Dick and the First Kick" commentary
"Heart, Balls & Swagger" cast interviews & commentary
Trivia Factoids
Tom Kapinos interview
Name That Girl
Marcy's Wax Salon (easter egg)
"Caliwood" Bubble Map
Cast Bios and Filmographies
Stills Gallery
ALSO OUT
17 Again (EIV)
Cradle Will Fall (Momentum)
CSI: New York Season 5 Part 1 (Momentum)
Doctor Who: Black Guardian Trilogy (2 Entertain)
Friday the 13th (2009) (Paramount)
God Man Dog (Terracotta Distribution)
Gossip Girl Season 2 Part 2 (Warner)
Mega Shark vs. Giant Octopus (Metrodome)
No. 3 (Third Window Films)
Oasis (Third Window Films)
Paul Blart: Mall Cop (Sony)
Stargate Atlantis Season 5 (Fox)
Streets of Blood (Momentum)
The Fox Family (Terracotta Distribution)
The Kevin Bishop Show (2 Entertain)
The Ramen Girl (Momentum Pictures)
The Ungodly (Metrodome)
[ad]
> Browse more DVD Releases at Amazon UK and Play
> Check the latest DVD prices at DVD Price Check
> Take a look at the current UK cinema releases (W/C Friday 7th August)