Two Lovers is the latest film from director James Gray and it screened in competition yesterday.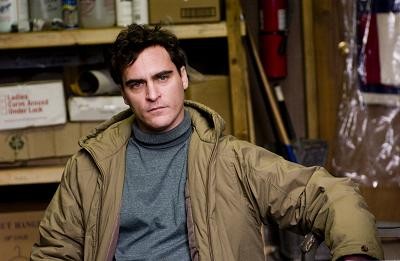 It is a drama set in Brooklyn about a bachelor (Joaquin Phoenix) who is torn between two women (Gwyneth Paltrow and Vinessa Shaw).
Here is a summary of the critical reaction:
Todd McCarthy of Variety says it is 'involving' and 'touching':
An involving, ultimately touching romantic drama about a young man's struggle deciding between the two women in his life, 'Two Lovers' reps a welcome change of pace for director James Gray from his run of crime mellers.

Well acted by Joaquin Phoenix, Gwyneth Paltrow and Vinessa Shaw, this very New York tale is old-fashioned in good ways that have to do with solid storytelling, craftsmanship and emotional acuity.

Developing an audience will be another matter altogether; its central romantic dynamic would be entirely accessible to a mass audience, but pic's smallish nature and lack of real B.O. names suggest that interest will need to be built among discerning viewers via fest exposure and critical support, leading into gradual platform release by a dedicated distrib.
Ray Bennett of The Hollywood Reporter predicts it will 'please many' and 'may win awards':
Shot, paced and scored like a 1950s kitchen-sink romance, the film spurns the school of Judd Apatow with a complete disdain for adolescent contrivance and stupid gags.
Boxoffice will depend on audiences in the "Grand Theft Auto" era deciding that the fate of three little people adds up to more than a hill of beans. Lacking a larger context such as a world war, odds are they won't, but the film will please many and it may win awards.
Allan Hunter of Screen Daily is not too impressed, dubbing it 'well crafted' but 'maudlin':
Two Lovers is a maudlin, melancholic tug at the heartstrings that marks a welcome break from Gray's preoccupation with crime and corruption.

It is well-crafted and ably acted but never especially moving and winds up feeling like something from the classier end of the American TV movie spectrum.

Neither eye-catching indie nor surefire blockbuster, it will struggle to find a comfortable commercial berth, leaving its future dependent on the drawing power of Gray regular Joaquin Phoenix.
Jeffrey Wells of Hollywood Elsewhere says it is 'too earnest' but 'not half bad':
…an attractively composed, persuasively acted but slightly too earnest and on-the-nose drama about romantic indecision.

But it's not half bad — a little Marty-ish at times, maybe a bit too emphatic here and there, but nonetheless concise, reasonably well-ordered and, for the most part, emotionally restrained and therefore believable.
Glenn Kenny of Some Came Running was 'frequently moved':
Most of my U.S. colleagues here hated James Gray's new film even more than they did last year's booed-right-here We Own The Night, which I wasn't too crazy about myself.

But I gotta give it up—as earnest and awkward as this loose rethink of Dostoevsky's "White Nights" can get, it frequently moved me.
Anne Thomspson of Variety thinks it is a 'gem' :
Two Lovers played well not only for the black tie crowd at the Lumiere but for the U.S. buyers who haven't been rocked by anything so far and have been looking bedraggled (by constant rain) and gloomy.

It's specific to its New York borough locale. It features a vulnerable, touching performance by Joaquin Phoenix as an unhappy young man who is in love with a good girl beloved by his family (Shaw) and a bad girl (Paltrow) who dangles escape from his limited prospects.

It's a gem.
The film hasn't yet secured US distribution but that is likely to change in the next couple of days.
> Two Lovers at the official Cannes site
> James Gray at the IMDb