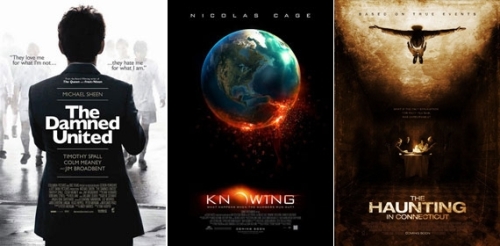 NATIONAL RELEASES
The Damned United (S0ny Pictures): The film adaptation of David Peace's bestselling novel about Brian Clough and his turbulent spell as manager of Leeds United sees Michael Sheen in the central role.
Adapted by Peter Morgan and directed Tom Hooper (best known for his TV miniseries work on Longford and John Adams) it lacks the dark, interior qualities that made the book so riveting but features some excellent performances.
Sheen does a fantastic job in the title role, bringing the same kind of charm and authenticity that featured in his previous portrayals of Tony Blair and David Frost.
There are also some excellent supporting turns from Colm Meaney as Don Revie and Jim Broadbent as Sam Longson.
It is unusual for Sony to do a British film like this but they have done an excellent job in marketing as a film as something football and non-football fans can enjoy.
Given the competition this week, it stands a chance of claiming the top spot given the good reviews and positive word of mouth.   
Knowing (E1 Films): The current number 1 film at the US box office stars Nicolas Cage as a scientist who comes across a set of numbers that appear to predict disasters.
Directed by Alex Proyas, it mixes drama, action and sci-fi and whilst plodding for the most part, does actually contain three excellent set-pieces and an ending that may surprise people with its ambition. 
E1 Films were a little reluctant to screen it for critics and actually released it early on Wednesday to bump up the opening weekend's figures.
Given that Cage is still quite a big draw in the action genre (despite his incessant frowning in films like this) it should crack the top two and depending on how well The Damned United does, looks like the marginal favourite to claim the top spot.    
The Haunting in Connecticut (Entertainment): Another horror film hits UK cinemas and this one is about the allegedly true story (which almost certainly means its total bollocks) of the Snedeker family's encounter with the paranormal in Southington, Connecticut.
This is one of those films with plenty of posters and billboards and virtually no real buzz.
Given that the most well-known actors in it are Virginia Madsen and Elias Koteas, Entertainment will be hoping that horror fans will be up for it and that all those billboards have had some impact. 
I'm guessing that it will have a short cinema life and will make most of its money on DVD. [Cert 15 / Vue West End & Nationwide]
[ad]
IN SELECTED RELEASE

Two Lovers (Lionsgate):  A romantic drama film, very loosely based on Dostoevsky's "White Nights"  which stars Joaquin Phoenix as a troubled young man living in Brighton Beach in New York, who falls in love with two very different women (Gwyneth Paltrow and Vinessa Shaw).
Directed by James Gray, who has made films such as The Yards and We Own the Night, it is a pleasingly old fashioned and charming film with Phoenix excellent in the central role (easily his best since Walk The Line in 2005) and good work from Paltrow and Shaw.
The technical work (notice the lack of sets) and cinematography by Joaquin Baca-Asay are all first rate and although it is getting a limited release, is well worth seeking out. [Cert 15 / Apollo Picc Circus, C'World Haymarket, Curzon Mayfair & Key Cities]
Genova (Metrodome): Another film from the festival circuit last year is the story of two American girls and their British father (Colin Firth) who move to Italy after their mother dies.
Directed by the prolific Michael Winterbottom, it also stars Catherine Keener and Hope Davis.
It was filmed in the titular city of Genoa (Genova in Italian) during the summer of 2007. [Cert 15 / Curzon Soho, Ritzy Clapham, Odeon Swiss Cottage, Barbican & Key Cities]
The Life Before Her Eyes (Paramount): A thriller directed by Vadim Perelman adapted from the Laura Kasischke novel of the same name starring Uma Thurman and Evan Rachel Wood. [Cert 12A / Key Cities]
Traitor (Momentum Pictures): A political thriller about an FBI agent (Guy Pearce) who heads up the investigation into a dangerous international conspiracy, which seems to lead back to a former U.S. Special Operations officer, Samir Horn (Don Cheadle). [Cert 12A / Empire Leicester Square & Key Cities]
Tyson (Revolver Entertainment): A dcoumentary about boxer Mike Tyson directed by James Toback and produced by Nicholas Jarecki. [Cert 15 / Curzon Soho, Ritzy & selected Key Cities]
Aa Dekhen Zara (Eros): A Bollywood romantic sci-fi action thriller (yes, you did read that right), starring Neil Mukesh and Bipasha Basu. [C'Worlds Feltham, Ilford, S'bury Ave., Odeon Greenwich, Vue O2 & Key Cities]
Afghan Star (Roast Beef Prod): A documentary exploring how contestants on Pop Idol in Afghanistan risk their lives to appear on the show. [ICA Cinema]
Martyrs (Optimum Releasing): A French mystery–horror film written and directed by Pascal Laugier. [ICA Cinema]
[ad]
> See what other films came out in March 2009
> Check out our latest DVD picks (W/C Monday 23rd March)