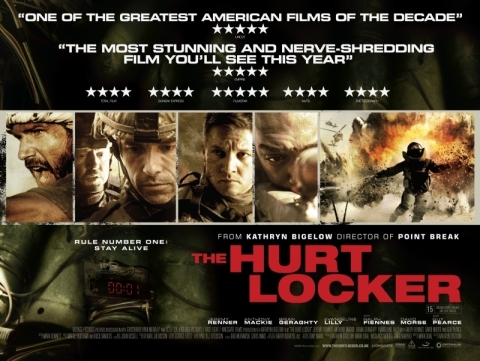 The Hurt Locker is a new film which tells the story of a United States Army bomb squad in Baghdad during the Iraq War during 2004.
The script was written by Mark Boal, based on his experiences as a embedded journalist in Iraq and directed by Kathryn Bigelow.
It stars Jeremy Renner as the team leader of an Explosive Ordnance Disposal (EOD) unit and Anthony Mackie and Brian Geraghty as the troops assigned to cover him whilst he defuses the bombs that litter the city.
Ralph Fiennes, Guy Pearce and David Morse all feature in key supporting roles and the film was shot by cinematographer Barry Ackroyd, who also worked on United 93 and various Ken Loach films over the years.
After premièring at the Venice film festival last September the film has achieved enormous critical acclaim and is a likely contender at the Oscars next year.
I recently spoke to Kathryn Bigelow and Mark Boal in London about the film and you can listen to the interview here:
[audio:http://filmdetail.receptionmedia.com/Kathryn_Bigelow_and_Mark_Boal_on_The_Hurt_Locker.mp3]
You can download this interview as a podcast via iTunes by clicking here
The Hurt Locker is out at UK cinemas from Friday 28th August
> Download this interview as an MP3 by clicking here
> Official UK site for The Hurt Locker
> Kathryn Bigelow and Mark Boal at the IMDb
> Read more reviews of The Hurt Locker at Metacritic
> Find out more about the Iraq War at Wikipedia