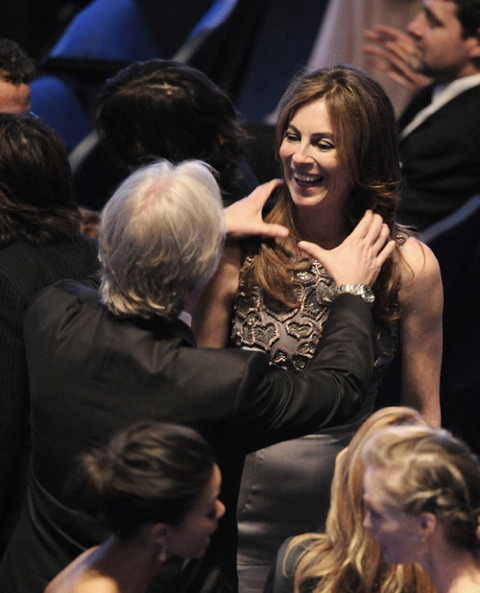 [ad]
If there is one image that sums up this year's Oscar race, it is this hilarious shot of Avatar director James Cameron and The Hurt Locker director Kathryn Bigelow from last night's ceremony.
They were once married, but contrary to a lot of lazy media coverage in the build up to the awards, remain friends and even consult each other on their respective film projects.
Cameron urged his ex-wife to do The Hurt Locker after reading the script and even screened Avatar for Bigelow several times in post production to solicit her opinion on the sci-fi blockbuster.
Also, both films were – in their different ways – about the Iraq War as Cameron pointed out in an interview with CBS recently.
Someone has also done a nice Muckety map of the connections between the two directors.
In a way, it all worked out nicely as Avatar scooped the technical awards it deserved, as well as becoming the biggest grossing film of all time.
Meanwhile The Hurt Locker went from a film that almost no major studio wanted to make or release to a  Best Picture winner that also made Bigelow the first woman to get a Best Director Oscar.