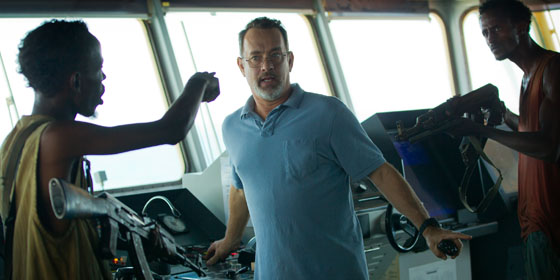 Director Paul Greengrass returns to the tensions of the post 9/11 era, with a gripping account of the 2009 hijacking of a US cargo ship.
Based on the real life account of Richard Phillips, it depicts how he and his crew came across a gang of pirates whilst travelling the dangerous shipping lanes of East Africa.
Early on we see the contrasting figures of Phillips (Tom Hanks), as he leaves his wife (Catherine Keener) at the airport, and the skinny Somalian pirate Muse (Barkhad Abdi) who is forced out to sea by his bosses.
In this we see a snapshot of globalisation: the well off captain of a US cargo ship and the poor fisherman with an AK-47, both conducting their own forms of business but ultimately caught up in events outside of their control.
Billy Ray's script touches upon these issues but wisely skips ponderous, explanatory dialogue, instead opting for a lean depiction of a particular event.
Within this, the film touches upon the seemingly incongruous aspects of modern piracy, ships using water hoses rather than armed security as owners won't insure them and the desperation of Somalis who face a choice between piracy and selling Khat.
Greengrass and his cinematographer Barry Ackroyd do a highly efficient job of getting us quickly into the action and ramping up the drama without resorting to sentiment or bombast.
Ackroyd's distinctive handheld style and Christopher Rouse's pacy editing gives the proceedings the necessary kick, helping to sustain the tension in the bright sunlight of the ocean or the dark bowels of the ships.
As it reaches its latter stages and the US military response cranks into life, the tensions kicks up a gear with the kind of precision you might expect from the director of the best Bourne movies.
Looking at the film overall, we see different genre elements at play: it quickly builds up steam to become a chase film, a hostage drama, a portrait of two clever but defiant individuals and ultimately a study in endurance.
Hanks is dependably solid in the title role, with one remarkable scene at the end which will surprise many and may secure him a lot of awards attention, and the rest of the cast are convincing, especially Abdi as the lead pirate.
After the relative disappointment of Green Zone (2010), this marks a return to form for Greengrass and in some ways could be seen as a companion film to United 93 (2006).
Both contain extended interior sequences and explore how people react under extreme, life-threatening situations. Whilst United 93 remains the superior work, Captain Phillips is another sturdy addition to the Greengrass CV.
It may lack the thematic weight of some of his previous films, such as Bloody Sunday (2002) and United 93, but it shows his brilliant knack in wringing out tension and emotion from real life events.
Captain Phillips opens the London Film Festival on Weds 9th October and also screens on October 10th.
(It opens wide in the UK on October 18th)
> Captain Phillips at the LFF
> Official site
> Reviews of Captain Phillips at Metacritic