Frost/Nixon, the film version of Peter Morgan's play about the famous TV interviews between David Frost and Richard Nixon, will open this year's London Film Festival on Wednesday 15th October.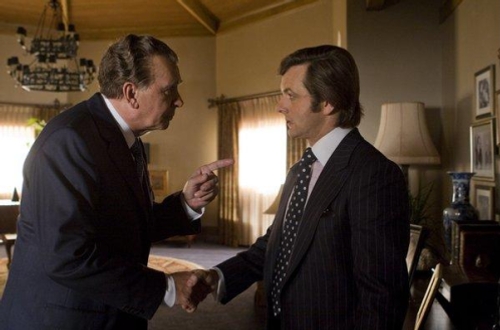 Directed by Ron Howard and produced by Brian Grazer and Working Title, it sees both principals reprise their West End and Broadway roles as Michael Sheen returns as Frost and Frank Langella as Nixon.
The supporting cast includes Kevin Bacon (Jack Brennan), Oliver Platt (Bob Zelnick), Sam Rockwell (James Reston Jr.), Rebecca Hall, Toby Jones (Swifty Lazar) and Matthew Macfadyen (John Birt).
Set during the summer of 1977, the interviews between Frost and Nixon became a huge TV event as over 45 million viewers tuned into to see what their disgraced former leader had to say about his role in the Watergate affair.

Sandra Hebron, the Festival's Artistic Director says:
"We're delighted to be opening our festival with this fascinating study of a unique moment in cultural and political life. Engrossing and entertaining by turns, and brilliantly performed, it is a film with strong London links and a perfect opener for this year's festival."
Screenwriter and executive producer Peter Morgan notes:
"I've been so fortunate with FROST/NIXON, working with two world-class directors in theatre and film and watching two lead actors at the top of their games. Now, having the film premiere at my hometown just completes a thrilling, fairy-tale ride for me."
On behalf of Working Title, producer Eric Fellner added:
"We are thrilled to open the London Film Festival with FROST/NIXON, and it is entirely appropriate as London is where the journey began for all of us when we saw and were enthralled by the original play when it opened here in August 2006."
Imagine Entertainment's Ron Howard and Brian Grazer concluded:
"We take great pride in documenting the lives of those who have changed our world. What David Frost and Richard Nixon said and did in their series forever altered public perception of authority figures and the media's role in interviewing them.

We are honoured that the London Film Festival is allowing Imagine and Working Title to open its festival by showcasing our story of these two men and their stunning display of truths."
I remember seeing the play in the West End back in November 2006 and was riveted by how it explored the tensions behind the scenes, the negotiations that were struck over what could be asked, the motivations of the two principals (in many ways Frost had as much at stake as Nixon) and how it brilliantly weaved history with informed speculation.
It is good to see Sheen and Langella return for the film version as both gave knockout performances on stage – Sheen in particular gave one of the most impressive portrayals I have ever seen in a live theatre.
The film version – if it delivers the goods – looks like an end-of-year awards contender.
Frost/Nixon will open the London Film Festival on Wednesday 15th October, opens in the US on 5th December (in limited release) and in the UK on January 9th 2009.
> Official site of the London Film Festival
> Frost/Nixon at the IMDb
> Gareth McLean of The Guardian interviews David Frost back in August 2006
> New York Times review of the Broadway production
> Find out more about Watergate at the Washington Post