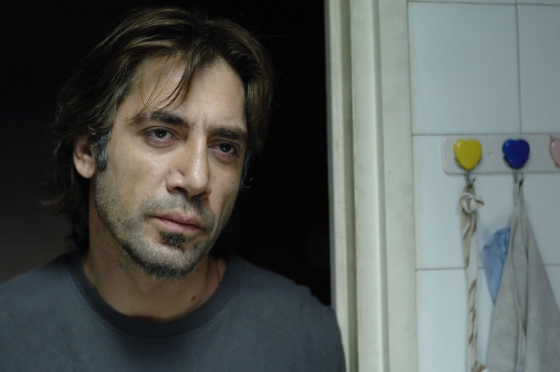 A powerful depiction of life on the edges of a modern city, the latest film from Alejandro González Iñárritu is a full on experience featuring a dazzling central performance by Javier Bardem.
Marking a break from his triptych of films with screenwriter Guillermo Arriaga, Biutiful is the more linear tale of Uxbal (Bardem), a father struggling in the slums of contemporary Barcelona.
A fixer of sorts for illegal immigrant labour in the city, he sets up jobs, smoothes over 'relations' with the local police and deals with various figures involved in this hidden economy, including his brother Tito (Eduard Fernandez) and business partner Hai (Taisheng Cheng).
He is also a devoted father to his children, Ana (Hanaa Bouchaib) and Mateo (Guillermo Estrella), and in addition to caring for them, struggles to cope with his bipolar ex-wife, Marambra (Maricel Alvarez) and an immigrant Senegalese woman (Diaryatou Daff) he feels responsible for.
There is more to the story and clocking in at 138 minutes, Iñárritu doesn't hold back in showing us a kaleidoscope of problems as Uxbal deals with health issues, emotional anxieties and a deep sense of his own mortality.
The film's grim milieu is expertly realised and, to its great credit, doesn't shy away from showing the stark reality of a modern metropolis built on cheap labour and the suffering of the poor.
Rodrigo Prieto's handheld camerawork captures the exterior and interior worlds of Barcelona with remarkable authenticity, and there are shifts in aspect ratio and camera speeds which add to the rich visual architecture of the film.
Stephen Mirrione's editing is another standout element, stitching the action together with considerable skill – one sequence involving the police chasing an immigrant gang is a masterclass in construction and pacing.
The sound design by Martin Hernandez is also highly effective, used to accentuate the reality of Uxbal's world but also employing unconventional effects to take us inside his mind.
After the globetrotting nature of Babel, Innaritu seems to have become more interested in a single place and a central, unifying character who acts as a nexus for the themes and events of the story.
Uxbal is an intriguing protagonist of considerable contradictions: he uses people, whilst also helping them; is angry but loving with those closest to him; and appears to be both resigned to and in denial about his ultimate fate.
The character is brought vividly to life by an incredible central performance by Javier Bardem: in addition to his magnetic screen presence, he convinces as a shady, underworld operator but also conveys his interior emotions with remarkable grace and authenticity.
It is one of the most affecting portrayals of fatherhood I can remember seeing on screen: the chemistry with his children is touchingly real and the emotional latter stages are almost hard to watch.
But whilst Bardem dominates the film, other actors also leave their mark: as Uxbal's ex-wife, Alvarez convincingly alternates between her moods; and as their children Bouchaib and Estrella display a realism and maturity rare amongst young actors.
Iñárritu is a director who likes to deal with big themes on a wide canvas, which can run the risk of seeming grandiose or self-important.
But Biutiful – the title comes from a misspelling within the story – is admirable precisely because it tackles huge subjects with an unusual intensity and a refreshing lack of distance or irony.
Although he seems to be returning to similar themes in his films – love, death, existence – Iñárritu has considerable skills as a filmmaker and uses his full armoury to open these subjects up for the audience to process.
Not everything works – a diversion into the supernatural is perhaps a step too far – but the barrage of elements presented is wildly ambitious and admirable for its naked, emotional quality.
In exploring life in a modern city through one character he manages to find something universal in the particulars of a man's life and it ends up being more than just a supercharged retelling of the Book of Job.
Biutiful is not a film that will please everyone or reach a massive audience, but it features one of the great modern screen performances and in exploring the rawness of existence, reaches a level of transcendence rare in modern cinema.
> Biutiful at the LFF
> Reviews from Cannes and TIFF at MUBi
> IMDb entry