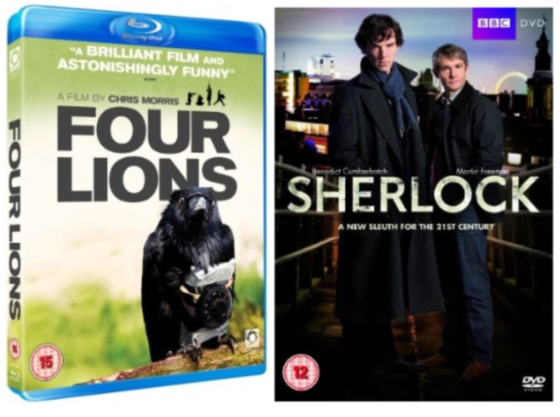 [ad]
Four Lions (Optimum): When this project was first announced, it promised to be another taboo-shattering project from Chris Morris, one of the most brilliant satirists of his generation.
After pioneering work in radio (On the Hour) and television (The Day Today, Brass Eye) which lampooned media and politics with diamond-sharp precision, it seemed like a bold and fascinating prospect.
Set in an unnamed northern town, it centres around four disenchanted young men: Omar (Riz Ahmed) is the unofficial leader determined to become a martyr for oppressed Muslims around the world; Waj (Kayvan Novak), a recruit who essnetially does what Omar says; Barry (Nigel Lindsay), a white Islamic convert obsessed with operational detail; and Faisal (Adeel Akhtar), who struggles trying to train crows to fly bombs through windows.
For the most part, the feature directorial debut of Morris is highly impressive. The comedy is rooted in detailed research which gives it an uncomfortable authenticity, whilst also providing some stand out set-pieces.
The performances are excellent, managing to convey the arrogance, ambition and stupidity of extremists, with Riz Ahmed especially good as the ringleader.
As the film moves into its final third, it manages to combine comedy with the more troubling realities of terrorism, which is an impressive juggling act by the filmmakers.
It isn't as ingenious or as polished as Morris' previous work, but as satire it manages to process one of the darkest contemporary problems with a rare tact and skill.
Extras include:
Deleted scenes
Background material: Lost Boys & Interview with Mo Ali
Interview with cast from Bradford Film Festival premiere
Behind the scenes
> Buy Four Lions on DVD or Blu-ray from Amazon UK
Sherlock (2entertain): Coming just months after a big-budget film about the famous detective, this three part BBC series could have been another excuse to cash in on the fact that Arthur Conan Doyle's character recently came out of copyright.
Fortunately, this contemporary take on the classic stories is a witty and inspired update and manages to preserve the essence of Holmes while transferring it to modern London.
Co-created by Steven Moffat and Mark Gatiss, Sherlock (Benedict Cumberbatch) is a consultant to the police who helps solve puzzling crimes with the help of a doctor (and ex-soldier) John Watson (Martin Freeman).
Although there were plenty of potential pitfalls, the fast pacing and breezy intelligence make this well above average for what normally appears on prime time British television.
The DVD and Blu-ray features the three episodes "A Study in Pink", "The Blind Banker" and "The Great Game" and come with the following extras:
Audio commentaries: Steven Moffat, Mark Gatiss and Sue Vertue on "A Study in Pink" and Benedict Cumberbatch, Martin Freeman and Mark Gatiss on "The Great Game".
The unaired pilot episode, which is a 60-minute version of "A Study in Pink", directed by Coky Giedroyc.
> Buy Sherlock on DVD or Blu-ray from Amazon UK
[ad]
ALSO OUT
Cemetery Junction (Sony Pictures Home Ent.)
City of Life and Death (High Fliers Video Distribution)
Clint Eastwood Collection (20th Century Fox Home Ent.)
Furry Vengeance (E1 Entertainment UK)
Hot Tub Time Machine (20th Century Fox Home Ent.)
Jerusalema (Anchor Bay Entertainment UK)
The Last Seven (Metrodome Distribution)
The Magnificent Seven (MGM Home Entertainment)
When You're Strange (Universal Pictures)
> The Best DVD and Blu-ray releases of 2009
> UK cinema releases for Friday 27th August 2010 including Scott Pilgrim Vs The World