[ad]
NATIONAL RELEASES
A Nightmare On Elm Street (Warner Bros.): A remake of Wes Craven's 1984 horror film which stars Jackie Earle Haley as Freddy Krueger and Rooney Mara as Nancy Holbrook, loosely based on the character Nancy Thompson. Set in the present day, it sees Freddy stalking the dreams of Nancy and her friends as they discover a dark secret from their past.
Directed by Samuel Bayer, it is yet another 1980s horror film rebooted by Michael Bay (with his producer's hat on) which is going to get poor reviews but still make enough money to reboot the franchise. [Nationwide / 18]
Furry Vengeance (E1 Entertainment):  A real estate developer (Brendan Fraser) has to supervise a development in a forest and then has to contend with the animals who live there and start to make his life hell.
Directed by Roger Kumble, it was co-produced by Summit Entertainment and Participant Media it looks like an attempt to make a family friendly comedy with an environmental message. It was universally panned in the US and bombed at the box office, so looks unlikely to make waves here. [Empire Leicester Square & Nationwide / PG]
Hot Tub Time Machine (20th Century Fox): The film with the most self-descriptive title since Snakes on a Plane sees four men (John Cusack, Clark Duke, Rob Corddry and Craig Robinson) travel back in time to 1986 via a hot tub, where they have to remember what they did in order to return to the future.
Directed by Steve Pink, it has its moments – although the best ones are actually in the trailer – but is surprisingly pedestrian for stretches, despite the potential of the concept. Think The Hangover meets Back to the Future, only not as funny or clever as those films. [Vue West End & Nationwide / 15]
The Back-Up Plan (Sony Pictures): A new romantic comedy about a woman (Jennifer Lopez), who decides to have her baby alone in a sperm clinic, before she starts to have second thoughts about a man (Alex O'Loughlin).
Poor reviews and relatively lacklustre US box office probably means that this is likely to appeal only to undiscerning female audiences. [Nationwide / 12A]
[ad]
ALSO OUT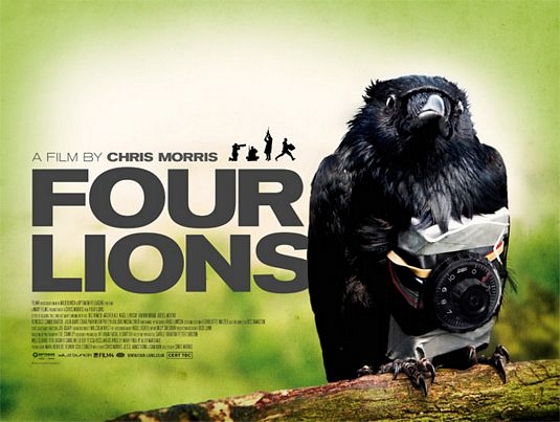 Four Lions (Optimum Releasing): The feature film debut of Chris Morris as a director is the story of four suicide bombers in a Northern town struggling to plan an attack on the London marathon.
Based on detailed research into recent terrorist plots, there are some very funny and uncomfortable scenes, although it doesn't have the polish and sustained brilliance of Morris' best work on TV and radio. The expected controversy about the difficult subject matter has not really materialised and powered by warm reviews, this could do decent arthouse box office despite the limited presence in multiplexes. [Clapham Picturehouse, Curzon Soho, Odeon Covent Garden & Nationwide / 15]
Cameraman: The Life & Work Of Jack Cardiff (Optimum Releasing): A documentary about famed cinematographer Jack Cardiff, who shot several films including The Red Shoes, The African Queen and Rambo: First Blood Part II. [BFI Southbank & selected key cities]
Just For The Record (Metrodome Distribution): A British mockumentary about the making of  the worst film ever, which seems to be ironic judging by the trailer. Like a lot of recent low-rent British films it stars Danny Dyer, who has been in the headlines this week for all the wrong reasons. [Key Cities / 18]
One Night In Turin (Kaleidoscope Entertainment): A documentary about England's adventures in the 1990 World Cup, directed by James Erskine from Pete Davies' book All Played Out. [Empire Leicester Square & Nationwide / 15]
Psych 9 (Galaxy): A serial killer tale set in an old psychiatric institution directed by Andrew Shortell and starring Sara Foster and Cary Elwes.
A Room And A Half (Yume Pictures): A semi-fictional account of Russian poet Josef Brodsky, who was forced into American exile in 1972. [Cine Lumiere, Curzon Mayfair, Everyman, Ritzy & Key Cities / 12A]
Sus (15) (Independent): Drama about the stop and search laws directed by Robert Heath and starring Clint Dyer, Ralph Brown and Rafe Spall [Apollo Piccadilly Circus, Genesis Cinema & selected key cities]
> DVD and Blu-ray Picks for Monday 3rd May including The Railway Children and Me and Orson Welles
> Get local cinema showtimes for your area via Google Movies