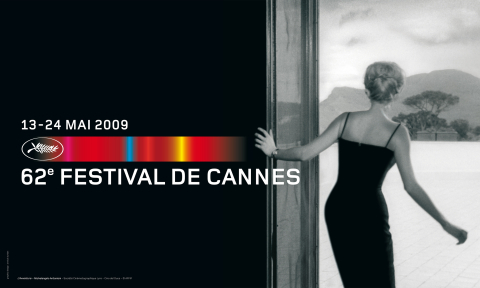 The official lineup for the 2009 Cannes Film Festival was announced today at a press conference in Paris.
The main talking point for some will be the lack of American filmmakers in competition for the Palme d'Or.
The festival runs from May 13th until 24th and here is the lineup in full. 
OPENING FILM
Up (U.S.A, Dir. Pete Docter and Bob Peterson)
IN COMPETITION
Bright Star (Australia-U.K.-France, Dir. Jane Campion)
Spring Fever (China-France, Dir. Lou Ye)
Antichrist (Denmark-Sweden-France-Italy, Dir. Lars von Trier)
Enter the Void (France, Dir. Gaspar Noe)
Face (France-Taiwan-Netherlands-Belgium, Dir. Tsai Ming-liang)
Les Herbes folles (France-Italy, Dir. Alain Resnais)
In the Beginning (France, Dir. Xavier Giannoli)
A Prophet (France, Dir. Jacques Audiard)
The White Ribbon (Germany-Austria-France, Dir. Michael Haneke)
Vengeance (Hong Kong-France-U.S.A, Dir. Johnnie To)
The Time That Remains (Israel-France-Belgium-Italy, Dir. Elia Suleiman)
Vincere (Italy-France, Dir. Marco Bellocchio)
Kinatay (Philippines, Dir. Brillante Mendoza)
Thirst (South Korea-U.S.A, Dir. Park Chan-wook)
Broken Embraces (Spain, Dir. Pedro Almodovar)
Map of the Sounds of Tokyo (Spain, Dir. Isabel Coixet)
Fish Tank (U.K.-Netherlands, Dir. Andrea Arnold)
Looking for Eric (U.K.-France-Belgium-Italy, Dir. Ken Loach)
Inglourious Basterds (U.S.A, Dir. Quentin Tarantino)
Taking Woodstock (U.S.A, Dir. Ang Lee)
CLOSING NIGHT FILM
Coco Chanel & Igor Stravinsky (France, Dir. Jan Kounen)
OUT OF COMPETITION
MIDNIGHT SCREENINGS
SPECIAL SCREENINGS
Petition (China, Dir. Zhao Liang)
L'epine dans le coeur (France, Dir. Michel Gondry)
Min ye (France-Mali, Dir. Souleyumane Cisse)
Jaffa (Israel-France-Germany, Dir. Keren Yedaya)
Manila (Philippines, Dir. Adolfo Alix Jr. and Raya Martin)
My Neighbor, My Killer (U.S.A, Dir. Anne Aghion)
UN CERTAIN REGARD
Samson & Delilah (Australia, Dir. Warwick Thornton)
Adrift (Brazil, Dir. Heitor Dhalia)
The Wind Journeys (Colombia, Dir. Ciro Guerra)
Demain des l'aube (France, Dir. Denis Dercourt)
Irene (France, Dir. Alain Cavalier)
Air Doll (Japan, Dir. Hirokazu Kore-eda)
Independance (Philippines-France-Germany, Dir. Raya Martin)
Le Pere de mes enfants (France-Germany, Dir. Mia Hansen-Love)
Dogtooth (Greece, Dir. Yorgos Lanthimos)
Nobody Knows About the Persian Cats (Iran, Dir. Bahman Ghobadi)
Eyes Wide Open (Israel, Dir. Haim Tabakman)
Mother (South Korea, Dir. Bong Joon-ho)
The Silent Army (Netherlands, Dir. Jean van de Velde)
To Die Like a Man (Portugal, Dir. Joao Pedro Rodrigues)
Police, Adjective (Romania, Dir. Corneliu Porumboiu)
Tales from the Golden Age (Romania, Dir. Hanno Hofer, Razvan Marculescu, Cristian Mungiu, Constantin Popescu and Ioana Uricaru)
Tale in the Darkness (Russia, Dir. Nikolay Khomeriki)
Tzar (Russia-France, Dir. Pavel Lounguine)
Nymph (Thailand, Dir. Pen-ek Ratanaruang)
Precious (U.S.A, Dir. Lee Daniels) 
THE JURY
LA CINEFONDATION AND SHORT FILM JURY
One little interesting note.
At the end of the press conference Cannes president Gilles Jacob said:
…the Festival de Cannes has decided to continue helping independent creators as best it can.

Since our new website has greater bandwidth, we would like to offer this platform to any of the films in the Official Selection that would like to make use of it, when comes the time of their theatre release.

The idea is to present to the audience, and especially young audiences, the first 5 minutes of the film and not the usual typical trailer that extinguishes all desire.

Was it Altman or Renoir, I forget, who said that the great artists are at their best in the first and last reel? Let's hope that Internet users everywhere might drop their games and be tempted to rush to their nearest theatre to find out what happens next.

Let's hope so, for the sake of the artists. We make no distinction between their films.

They are all there, somewhere, in the atmosphere that surrounds us all. They are all there and available, chemically, digitally, electronically, in binary, in VOD, virtually, we can feel them, they surround us. They are looking out for us.

Let's not abandon them.
You can read the full speech here.
> Official site for the Cannes Film Festival
> IndieWIRE with a transcript of Cannes president Gillies Jacob at the launch press conference 
> Find out more about the festival at Wikipedia