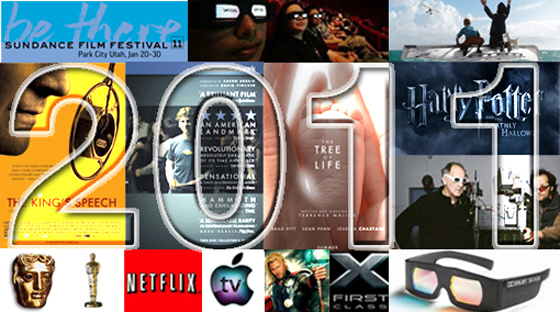 As I saw my first film of the year last night (Season of the Witch – don't ask) it felt the time to do a preview of what lies ahead this year.
This isn't some breathless rundown of blockbusters to look out for (in fact this year already feels like a dire crop is on its way) but rather some general observations on films, awards season and trends to look out for in 2011.
SUNDANCE 2011
In recent years the festival seems to have retreated from the high-profile auction madness of the last decade to its indie roots.
Last year, the big breakout films included Winter's Bone, Catfish and Restrepo, all of which seemed to reflect the original ethos of the festival.
This year, films to keep an eye on include:
THE KING'S SPEECH WILL DOMINATE THE BAFTAs
Since becoming an audience favourite at Telluride and Toronto, the British drama about the relationship between King George VI (Colin Firth) and his speech therapist (Geoffrey Rush) quickly became an Oscar frontrunner.
Given the British bias at the BAFTAs (remember when Atonement beat No Country For Old Men?), it is a shoo-in to win on home turf, although a Best Actor Oscar will probably go Firth's way too.
THE SOCIAL NETWORK WILL WIN BEST PICTURE
David Fincher's brilliant drama about the creation of Facebook has dominated the awards season so far, racking up critics awards and dominating end-of-year lists.
Oscars for Best Picture and Best Director now look very likely, although the major acting categories feel like they are going to Colin Firth (The King's Speech) and Natalie Portman (Black Swan).
Other winners in the supporting categories might include Christian Bale (The Fighter), Geoffrey Rush (The King's Speech), Melissa Leo (The Fighter) and Hailee Steinfeld (True Grit).
THE TREE OF LIFE WILL BE A MAJOR EVENT FOR CINEPHILES
The latest film from Terence Malick in May will be greeted with relief in a summer dominated by sequels and comic book adaptations.
With a major star (Brad Pitt), Fox Searchlight releasing it and a captivating trailer already out there, this could be an early contender for next year's awards season.
If you are depressed at the current state of mainstream cinema with its sequels, remakes and brightly lit comedies starring Katherine Heigl, then this could be the antidote for discerning audiences who don't give a toss about Thor.
THIS WILL BE A CRUCIAL YEAR FOR 3D
After the box office bonanza of Avatar convinced many studios to shoot big releases in 3D, 2011 will see the results of that production pipeline.
There is an absolute slew of 3D movies out this year, with most of the major tent poles coming out in the format including: The Green Hornet, Sucker Punch, Thor, Pirates of the Caribbean: On Stranger Tides, Kung Fu Panda 2, Green Lantern, Cars 2, Harry Potter and the Deathly Hallows: Part 2, Captain America: The First Avenger, The Smurfs and The Adventures of Tintin: Secret of the Unicorn.
These films will all make money but, aside from the mark-up on ticket prices, will they be much more profitable than if done in 2D? This could be the year when studios crunch the numbers and really decide if 3D is the long term future.
James Cameron accused Piranha 3D of devaluing the format (or 'peeing in the pool') and this year we will see the sequel Piranha 3DD (yes, it is really called that) and 5nal Destination (see what they did there?), although more interesting films may include Martin Scorsese's first film in the format, Hugo Cabret, and the Werner Herzog documentary Cave of Forgotten Dreams.
THE FINAL HARRY POTTER FILM WILL RULE THE SUMMER BOX OFFICE
This isn't exactly news given that the Harry Potter franchise is now the biggest in history, but the final film is probably going to be on a different level to its predecessors.
For kids who grew up in the last decade, the Potter series is what the original Star Wars trilogy was to a previous generation, appealing to most age groups.
The fact that this is the climax to the series and will be the final time you'll be able to see one in a cinema means a box office bonanza on a huge scale.
When it opens in July, opening records will tumble and it will probably be the first film to have a serious crack at getting near Avatar's all-time record.
SUPERHEROES WILL LOSE SOME OF THEIR BOX OFFICE POWER
We are now in the second decade of The Comic Book Movie after a decade which saw several blockbusters based on famous Marvel or DC characters.
Comic-Con has become a mecca for Hollywood executives looking to pander to the nerd hordes and launch a new franchise (and ignore all the disasters that previewed there).
Take a look at what's coming out this year and you'll see reboots (X-Men: First Class), lower-tier characters (Green Hornet, Thor) and a character so dated (Captain America) you wonder how it will play around the world (I'm betting it won't break records in the Middle East).
The big comic-book franchises that dominated the last decade (Spider-Man, Batman) came after a long period when (with the exception of the Caped Crusader) they were out of favour with Hollywood, but will audiences tire of the same characters being endlessly recycled?
And does anyone really care about The Green Lantern?
SERIOUS FILMS WILL STILL BE MADE AT MAJOR STUDIOS
With the collapse of dependants like Paramount Vantage, Warner Independent and Picturehouse in the last couple of years, it has been a bleak time for films with a more independent edge and flavour.
But although studio resources are geared towards tent-pole releases that keep them profitable, maybe the critical and commercial success of The Social Network (funded and released by Sony) and True Grit (released by Paramount) points towards a future where smart and serious films can be made at the major studios.
There are only so many films that can be based on comic books or board games and talent will always be attracted to material that will get critical and awards attention.
Perhaps it's blind optimism, but there seems to be a vacuum for smart movies if studios can take calculated risks on the right talent and material and make it for a reasonable price.
APPLE SHOULD BUY NETFLIX
Given that they have a huge amount of surplus cash, Steve Jobs should take film delivery to the next level and purchase Netflix.
Both companies have been at the forefront of delivering music and movies to consumers, so why not join forces and create a home entertainment behemoth?
It would allow Apple to venture into the streaming market that Netflix have pioneered and could mark the moment that legal internet downloads capture the consumers who still want to buy DVD or Blu-ray discs.
A lot of the movie industry (and the media that cover it) is obsessed with the current pipeline of movies, but the average viewer doesn't get to see that many in a year, so is this the year they realise the potential of on-demand viewing?
There are some who see the breaking of release windows as a dangerous heresy, but could an Apple-Netflix combo do to Hollywood what iTunes did to the music industry in the last decade?
> 2011 in film at Wikipedia
> All the UK cinema releases in 2011