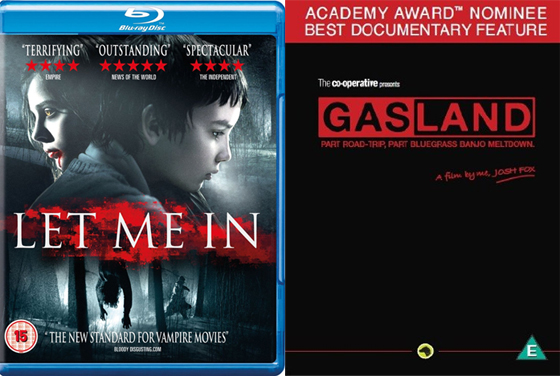 DVD & BLU-RAY PICKS
Let Me In (Icon Home Entertainment): The US remake of the 2008 Swedish vampire film was surprisingly excellent, even surpassing the original in some respects, and relocates the action to New Mexico during the early 1980s. There a young boy (Kodi Smit-McPhee) befriends a mysterious girl (Chloe Grace Moretz) who has moved in next door with an older man (Richard Jenkins).
Directed by Matt Reeves, it evokes the time period brilliantly and certain sequences are superbly orchestrated, especially one dazzling set-piece involving a car. Michael Giacchino's wonderfully creepy score and the wintry location shooting helps create an effective atmosphere of dread. Although it bombed at the box office, appreciation for this film will grow over the years.
> Buy Let Me In on DVD or Blu-ray from Amazon UK
> Read our longer review of the film
Gasland (Dogwoof Entertainment): A brilliant documentary written and directed by Josh Fox that explores US communities affected by natural gas drilling and the legislation that was passed during the Bush administration. Based on the director's personal experiences, it is a diverting and powerful film about politics and the environment.
Fox travels around the country to interview various home owners about their experiences with gas companies engaging in reckless drilling and manages to capture some startling footage on camera. Nominated for the Best Documentary Oscar, it is one of the best non-fiction films of 2010.
> Official site
> Buy Gasland on DVD from Amazon UK
ALSO OUT
71 – Into the Fire (Showbox Media Group) [Blu-ray / Normal]
Altitude (Anchor Bay Entertainment UK) [Blu-ray / Normal]
Jackass 3 (Paramount Home Entertainment) [Blu-ray / Normal]
Legacy – Black Ops (Revolver Entertainment) [Blu-ray / Normal]
Misfits: Series 1 and 2 (4DVD) [Blu-ray / Normal]
My Bloody Valentine (3D) (Lionsgate UK) [Blu-ray / 3D Edition with 2D Edition]
The Arbor (Verve Pictures) [Blu-ray / Normal]
The Beyond (Arrow Video) [Blu-ray / Normal]
This Is England '86 (4DVD) [Blu-ray / Normal]
> UK cinema releases for Friday 11th March 2011
> The Best DVD & Blu-ray releases of 2010