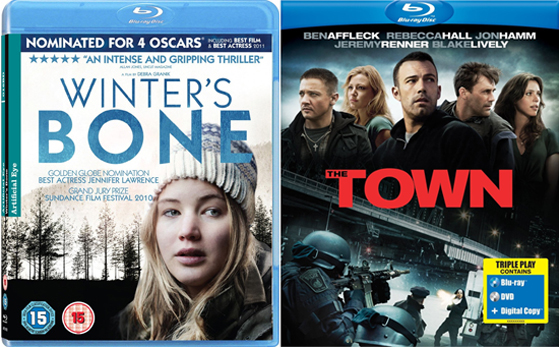 DVD & BLU-RAY PICKS
Winter's Bone (Artificial Eye): An acclaimed US indie drama set in the Ozarks (the rural area covering Arkansas and Missouri) about a young woman (Jennifer Lawrence) determined to find out what happened to her missing father whilst struggling to support her family.
Co-written and directed by Debra Granik, it was one of the genuine indie breakout hits of the past year and manages to skilfully combine the tropes of a serious drama within the framework of a thriller.
> Read our full review of Winter's Bone
> Buy Winter's Bone on Blu-ray or DVD from Amazon UK
The Town (Warner Home Video): Crime drama set in Boston about a bank robber (Ben Affleck) who falls in love with a woman (Rebecca Hall) his gang have kidnapped. Affleck also directs and the film features Jeremy Renner and Jon Hamm in supporting roles.
Ben Affleck's second film as director is a satisfyingly lean crime drama, with solid performances across the board and excellent contributions from cinematographer Robert Elswit and editor Dylan Tichenor.
> Read our full review of The Town
> Buy The Town on Blu-ray or DVD from Amazon UK
ALSO OUT
22 Bullets (Anchor Bay Entertainment UK) [Blu-ray / Normal] 31/01/2011
Amer (Anchor Bay Entertainment UK) [Blu-ray / Normal]
Going the Distance (Warner Home Video) [Blu-ray / Normal]
Legend of the Fist – The Return of Chen Zhen (Metrodome Distribution) [Blu-ray / Normal]
Mr Nice (Entertainment One) [Blu-ray / Normal]
Nuclear Blast Clips: Volume 1 (Nuclear Blast) [Blu-ray / Normal]
The Color Purple (Warner Home Video) [Blu-ray / Normal]
Wall Street: Money Never Sleeps (20th Century Fox Home Ent.) [Blu-ray with Digital Copy]
> UK cinema releases for Friday 28th January 2011, including Hereafter, Tangled and Biutiful
> The Best DVD & Blu-ray releases of 2010