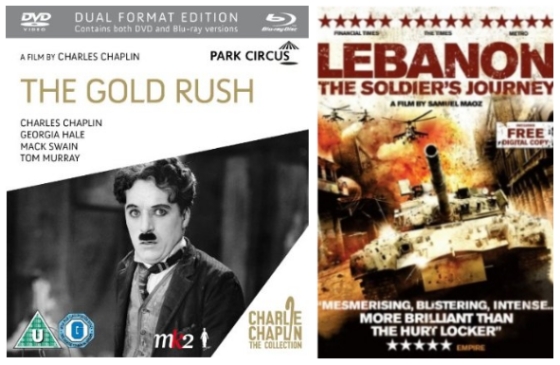 [ad]
DVD & BLU-RAY PICKS
The Gold Rush (Park Circus): Charles Chaplin's classic 1925 silent film combined humour and pathos in depicting the tale of a prospector struggling to strike gold in Alaska.
Featuring some memorable sight gags, such as the eating of a boot, it was Chaplin's first hit for United Artists (the studio he co-founded), reaffirming his status as a film maker and Hollywood icon.
This dual format edition (Blu-ray and DVD combined in one package) includes both versions of The Gold Rush: the 1925 silent original restored by Kevin Brownlow and the digitally restored 1942 film, which saw Chaplin re-edit the 1925 original with a new musical score and narration.
Other extras include:
Introduction by David Robinson
Chaplin Today: Gold Rush
Chaplin Trailer Reel
Photo Gallery
> Buy The Gold Rush from Amazon UK
[ad]
Lebanon (Metrodome): One of a batch of recent films exploring the legacy of the first Lebanon war was this striking drama set almost entirely inside an Israeli tank.
Written and directed by Samuel Maoz, it is set in June 1982 as Israel invades Lebanon and focuses on the four men inside the claustrophobic world of a tank – Assi (Itay Tiran), Shmulik (Yoav Donat), Hertzel (Oshri Cohen) and Yigal (Michael Moshonov).
As the mission progresses, they can only see each other and what appears through the tank's tiny sight window as they gradually encounter fellow Israeli soldiers, a bombed out town and a band of Syrian resistance fighters.
Startling in its sparse depiction of the conflict, the central concept is a little played out by the end, but it remains a worthy addition to recent films exploring Israeli troops in Lebanon (such as Beaufort, Waltz With Bashir) and won the Golden Lion at the Venice Film Festival last year.
Extras include:
Commentary from director Samuel Maoz upon whose real life experiences the film is based
History of the first Lebanon War (text document)
'LEBANON': the background story to the film (text document)
> Buy Lebanon on Blu-ray or DVD from Amazon UK
ALSO OUT
A Zed and Two Noughts (BFI)
Ali Baba and the Forty Thieves (Eureka)
Basement (Revolver Entertainment)
Modern Times (Park Circus)
Charlie's Angels (Sony Pictures Home Ent.)
Dead Fish (Boulevard Entertainment Ltd)
Dear John (Momentum Pictures)
Flash Gordon (Optimum Home Entertainment)
Going Postal (20th Century Fox Home Ent.)
Little Dorrit (2 Entertain)
Lock Up (Optimum Home Entertainment)
Loving Memory (BFI)
Repo Men (Universal Pictures)
The Burmese Harp (Eureka)
The Edge of the World (BFI)
The Innocents (BFI)
The Pixies: Acoustic and Electric Live (Eagle Rock Entertainment)
The Vampire Diaries: The Complete First Season (Warner Home Video)
The World (Eureka)
> The Best DVD and Blu-ray releases of 2009
> UK cinema releases for Friday 20th August 2010 including Salt and The Expendables