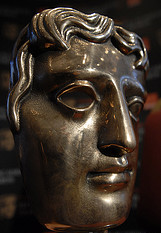 Variety have posted the BAFTA longlist, which is all the films that have been selected in the first round of voting.
The longlist of films includes 15 contenders in each category, from which the five nominees will be chosen in the second round of voting.
Once the final nominees are selected, the whole membership votes again to decide the best film, four acting prizes and film not in the English language.
In all the remaining categories, the members of each chapter determine the vote.
The best British film is not included on the longlist, as the whole membership will vote for nominees in the first round and the BAFTA film committee will whittle that number down in the next two.
Here is the longlist in full:
BEST FILM
The Boy in the Striped Pajamas
Burn After Reading
Changeling
The Curious Case of Benjamin Button
The Dark Knight
Doubt
Frost/Nixon
In Bruges
I've Loved You So Long
Milk
The Reader
Revolutionary Road
Slumdog Millionaire
Wall-E
The Wrestler
ADAPTED SCREENPLAY
The Baader Meinhof Complex
The Boy in the Striped Pajamas
The Curious Case of Benjamin Button
The Dark Knight
Dean Spanley
Defiance
Doubt
The Duchess
Frost/Nixon
Gomorrah
Mamma Mia!
Persepolis
The Reader
Revolutionary Road
Slumdog Millionaire
DIRECTOR
The Boy in the Striped Pajamas
Burn After Reading
Changeling
The Curious Case of Benjamin Button
The Dark Knight
Doubt
Frost/Nixon
Hunger
In Bruges
I've Loved You So Long
Milk
The Reader
Revolutionary Road
Slumdog Millionaire
The Wrestler
ORIGINAL SCREENPLAY
Burn After Reading
Changeling
Che: Part One
Happy-Go-Lucky
Hunger
In Bruges
I've Loved You So Long
Milk
Rachel Getting Married
Vicky Cristina Barcelona
The Visitor
W.
Wall-E
Waltz With Bashir
The Wrestler
MAKE UP & HAIR
Australia
The Boy in the Striped Pajamas
Brideshead Revisited
Changeling
The Curious Case of Benjamin Button
The Dark Knight
The Duchess
Frost/Nixon
Mamma Mia!
Milk
The Reader
Revolutionary Road
Slumdog Millionaire
Tropic Thunder
The Wrestler
VISUAL EFFECTS
Australia
Changeling
The Chronicles of Narnia: Prince Caspian
Cloverfield
The Curious Case of Benjamin Button
The Dark Knight
Hancock
Hellboy II: The Golden Army
Indiana Jones and the Kingdom of the Crystal Skull
Iron Man
Quantum of Solace
Slumdog Millionaire
Tropic Thunder
Wall-E
Waltz With Bashir
SOUND
Australia
Burn After Reading
Changeling
The Curious Case of Benjamin Button
The Dark Knight
Frost/Nixon
In Bruges
Indiana Jones and the Kingdom of the Crystal Skull
Iron Man
Mamma Mia!
Quantum of Solace
The Reader
Revolutionary Road
Slumdog Millionaire
Wall-E
EDITING
The Boy in the Striped Pajamas
Burn After Reading
Changeling
The Curious Case of Benjamin Button
The Dark Knight
Doubt
Frost/Nixon
In Bruges
Man on Wire
Milk
Quantum of Solace
The Reader
Revolutionary Road
Slumdog Millionaire
The Wrestler
COSTUME DESIGN 
Australia
The Boy in the Striped Pajamas
Brideshead Revisited
Changeling
The Curious Case of Benjamin Button
The Dark Knight
The Duchess
Frost/Nixon
Mamma Mia!
Milk
The Reader
Revolutionary Road
Sex and the City
Slumdog Millionaire
The Wrestler
PRODUCTION DESIGN 
Australia
The Boy in the Striped Pajamas
Brideshead Revisited
Changeling"
The Curious Case of Benjamin Button"
The Dark Knight"
The Duchess"
Frost/Nixon"
Indiana Jones and the Kingdom of the Crystal Skull"
Mamma Mia!"
Milk"
Quantum of Solace"
The Reader"
Revolutionary Road"
Slumdog Millionaire"
CINEMATOGRAPHY
Australia"
Changeling"
The Curious Case of Benjamin Button"
The Dark Knight"
Doubt"
The Duchess"
Frost/Nixon"
In Bruges"
Mamma Mia!"
Milk"
Quantum of Solace"
The Reader"
Revolutionary Road"
Slumdog Millionaire"
The Wrestler"
ANIMATED FILM
Kung Fu Panda"
Persepolis"
The Tale of Despereaux"
Wall-E"
Waltz With Bashir"
MUSIC
Australia
Burn After Reading
Changeling
The Curious Case of Benjamin Button
The Dark Knight
The Duchess
Frost/Nixon
Mamma Mia!
Milk
Quantum of Solace
The Reader
Revolutionary Road
Slumdog Millionaire
The Visitor
Wall-E
LEADING ACTOR
Benicio del Toro – "Che Part One"
Brad Pitt – "The Curious Case of Benjamin Button"
Christian Bale – "The Dark Knight"
Colin Farrell – "In Bruges"
Dev Patel – "Slumdog Millionaire"
Frank Langella – "Frost/Nixon"
George Clooney – "Burn After Reading"
Javier Bardem – "Vicky Cristina Barcelona"
Josh Brolin – "W."
Leonardo DiCaprio – "Revolutionary Road"
Michael Fassbender — "Hunger"
Michael Sheen – "Frost/Nixon"
Mickey Rourke – "The Wrestler"
Richard Jenkins – "The Visitor"
Sean Penn – "Milk"
LEADING ACTRESS 
Angelina Jolie – "Changeling"
Anne Hathaway – "Rachel Getting Married"
Cate Blanchett – "The Curious Case of Benjamin Button"
Frances McDormand – "Burn After Reading"
Kate Winslet – "Revolutionary Road"
Kate Winslet – "The Reader"
Keira Knightley – "The Duchess"
Kristen Scott Thomas – "I've Loved You So Long"
Meryl Streep – "Mamma Mia!"
Meryl Streep – "Doubt"
Nicole Kidman – "Australia"
Penelope Cruz – "Elegy"
Rebecca Hall – "Vicky Cristina Barcelona"
Sally Hawkins – "Happy-Go-Lucky"
Scarlett Johansson – "Vicky Cristina Barcelona"
SUPPORTING ACTOR
Brad Pitt – "Burn After Reading"
Brendan Gleeson – "In Bruges"
David Kross – "The Reader"
Eddie Marsan – "Happy-Go-Lucky"
Heath Ledger – "The Dark Knight"
John Malkovich – "Burn After Reading"
John Malkovich – "Changeling"
Josh Brolin – "Milk"
Kevin Bacon – "Frost/Nixon"
Peter O'Toole – "Dean Spanley"
Philip Seymour Hoffman – "Doubt"
Ralph Fiennes – "The Duchess"
Ralph Fiennes – "In Bruges"
Ralph Fiennes – "The Reader"
Robert Downey Jr. – "Tropic Thunder"
SUPPORTING ACTRESS
Amy Adams – "Doubt"
Charlotte Rampling – "The Duchess"
Elsa Zylberstein – "I've Loved You So Long"
Emma Thompson- "Brideshead Revisited"
Freida Pinto – "Slumdog Millionaire"
Judi Dench – "Quantum of Solace"
Julie Walters – "Mamma Mia!"
Kathy Bates – "Revolutionary Road"
Marisa Tomei – "The Wrestler"
Penélope Cruz – "Vicky Cristina Barcelona"
Rebecca Hall – "Frost/Nixon"
Tilda Swinton – "The Curious Case of Benjamin Button"
Tilda Swinton – "Burn After Reading"
Vera Farmiga – "The Boy in the Striped Pajamas"
Viola Davis – "Doubt"
The BAFTA screening and awards schedule for this year breaks down like this:
Thursday 20 November 2008: Deadline for entry of films and submission of Screen Credits Forms
Monday 8 December: Round 1 of voting begins
Thursday 18 December: All entered films, including qualified films, must be screened to members by this date. Screenings may continue after this date
Monday 5 January 2009: Round 1 of voting ends
Tuesday 6 January 2009: Round 2 of voting begins
Tuesday 13 January 2009: Round 2 of voting ends
Thursday 15 January 2009: Nominations announced. Round 3 of voting begins.
Monday 2 February 2009: Round 3 of voting ends
Friday 6 February 2009: All entered films must open on general release by this date
Sunday 8 February 2009: Orange British Academy Film Awards