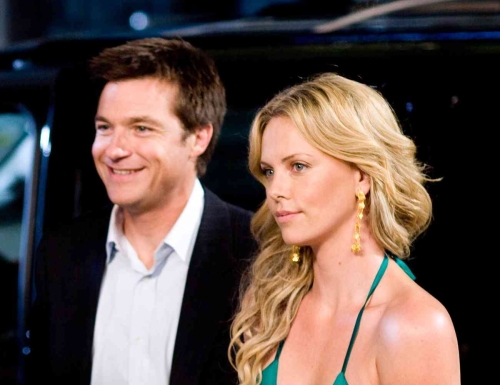 Hancock is the new film starring Will Smith as a depressed, drunken superhero loathed by a public that finds him a dangerous nuisance.
Jason Bateman plays a Ray Embrey, a PR man who decides to help Hancock rehabilitate his image after he is saved by him whilst Charlize Theron plays Ray's sceptical wife, Mary.
I recently spoke to Jason and Charlize about their roles in the film and Arrested Development – the TV show they starred in from 2003-2006.
Listen to the interviews here:
[audio:http://filmdetail.receptionmedia.com/Jason_Bateman_and_Charlize_Theron_on_Hancock.MP3]
You can download this interview as a podcast via iTunes by clicking here
Hancock is out at cinemas on July 2nd
> Download the interviews as an MP3 file
> Jason Bateman and Charlize Theron at the IMDb
> Official site for Hancock
> Find out more about Arrested Development at Wikipedia
[Photo credit: Frank Masi SMPSP. ©2008 Columbia Pictures Industries, Inc. and GH Three LLC All Rights Reserved.]