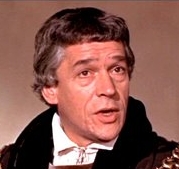 Actor Paul Scofield has died aged 86.
In a sad week that has seen actor Anthony Minghella and writer Arthur C Clarke die, news comes through that the Oscar winning actor – famous for his role on screen as Thomas More and on stage as King Lear – has passed away.
The Guardian report:
The British actor Paul Scofield, who won an Oscar for his portrayal of Thomas More in A Man for All Seasons, has died, aged 86.

His agent said he died peacefully yesterday in hospital near his Sussex home after being diagnosed with leukaemia.

Scofield was voted to have produced the finest ever performance as Shakespeare's King Lear by his contemporaries and was widely thought of as one of the best actors of his generation.

He made his name on the London stage as a classical actor and also won several Baftas.

Noted for his powerful voice and a presence described as "monumental but reassuring", he achieved fame for his role as the tormented composer Salieri in Peter Shaffer's play Amadeus, and as Thomas More in Robert Bolt's A Man For All Seasons, for which he won an Oscar in 1966.
If you have never seen A Man For All Seasons, which dramatises the dilemmas of Thomas More in the reign of Henry VIII, then it should be an immediate DVD purchase.
Scofield's towering central performance is just one of the many highlights in one of the finest historical films ever made. It deservedly won Oscars in 1966 for Scofield, director Fred Zinneman, writer Robert Bolt (who had written the original play), cinematography, costume design and Best Picture.
Scofield also reprised his role as King Lear in Peter Brook's 1971 film version of the play and in recent times had memorable supporting roles in Quiz Show (1994) and The Crucible (1996).
> Guardian obituary
> A Man For All Seasons at the IMDb
> Trailer for A Man For All Seasons at YouTube