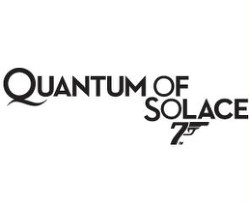 The new Bond film Quantum of Solace will now get released in the UK on Friday 31st October.
Here is the official press release with a synopsis of the film:
LONDON,  Wednesday 19 March 2008 – Sony Pictures Releasing (UK) are pleased to  confirm that the UK release date for the eagerly anticipated 22nd James Bond adventure QUANTUM OF SOLACE will be Friday, 31st October 2008, opening at the Odeon Leicester Square and all over the country.

QUANTUM  OF  SOLACE  continues  the  high  octane  adventures of James Bond (DANIEL CRAIG) in CASINO ROYALE.

Betrayed  by  Vesper,  the  woman he loved, 007 fights the urge to make his latest mission personal. 

Pursuing his determination to uncover the truth, Bond  and  M  (JUDI  DENCH)  interrogate Mr White (JESPER CHRISTENSEN) who reveals  the  organisation which blackmailed Vesper is far more complex and dangerous than anyone had imagined.

Forensic intelligence links an Mi6 traitor to a bank account in Haiti where a  case  of  mistaken identity introduces Bond to the beautiful but feisty Camille (OLGA KURYLENKO), a woman who has her own vendetta. 

Camille leads Bond  straight to Dominic Greene (MATHIEU AMALRIC), a ruthless business man and major force within the mysterious organisation.

On  a  mission  that  leads  him  to Austria, Italy and South America, Bond discovers  that  Greene,  conspiring  to  take  total control of one of the world's most important natural resources, is forging a deal with the exiled General Medrano (JOAQUIN COSIO). 

Using his associates in the organisation, and  manipulating  his  powerful  contacts  within  the CIA and the British government, Greene  promises  to  overthrow the existing regime in a Latin American country, giving the General control of the country in exchange for a seemingly barren piece of land.

In  a  minefield  of  treachery,  murder  and  deceit, Bond allies with old friends in a battle to uncover the truth. 

As he gets closer to finding the man responsible for the betrayal of Vesper, 007 must keep one step ahead of the CIA,  the terrorists and even M, to unravel Greene's sinister plan and stop his organisation.
It will be the 22nd Bond film.
> Official site for Quantum of Solace
> Check out the photos from the launch press conference
> Get all the latest info about the film at Wikipedia