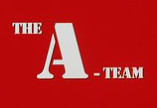 The movie version of 80s TV show The A-Team is finally in the works.
Variety are reporting that John Singleton will direct:
Twentieth Century Fox has skedded John Singleton's film version of 1980s TV series "The A-Team" for release on June 12, 2009.

Singleton will direct the action-adventure from a script by writing partners Michael Brandt and Derek Haas ("Wanted," "3:10 to Yuma").

Film will bring to the bigscreen the exploits of Hannibal Smith and his team of former special forces soldiers, who have been set up for a crime they didn't commit.
No cast members have been announced yet but the June release date would seem to indicate to me that some decent names are likely.
For those who don't remember the show here is the old TV opening sequence:
> Report at Variety
> The A-Team movie at the IMDb
> Find out more about the show at Wikipedia