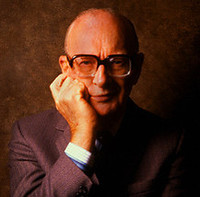 Science fiction writer Sir Arthur C Clarke has died in Sri Lanka at the age of 90.
Ravi Nessman of the AP reports:
Arthur C. Clarke, a visionary science fiction writer who won worldwide acclaim with more than 100 books on space, science and the future, died Wednesday in his adopted home of Sri Lanka, an aide said. He was 90.

Clarke, who had battled debilitating post-polio syndrome since the 1960s and sometimes used a wheelchair, died at 1:30 a.m. after suffering breathing problems, aide Rohan De Silva said.
Although he had a considerable body of literary work, film fans will best remember him for writing The Sentinel – the short story that was made into 2001: A Space Odyssey by director Stanley Kubrick in 1968.
His visions of technology and space travel captured the popular imagination and had an enormous influence on subsequent writers and filmmakers.
He also published a paper during World War 2, in which he predicted that communications satellites would sit in geo-stationary orbit above the Earth's surface – thus allowing electronic signals to be bounced around the globe.
The geostationary orbit is now sometimes known as the Clarke Orbit or the Clarke Ring in his honour.
Satellite technology had a profound effect on communications and the broadcasting industry, which meant media barons like Rupert Murdoch and Ted Turner could be counted amongst his friends.
On his 90th birthday last December he recorded a video message with reflections on his life:
> AP article in full
> Find out more about Arthur C Clarke at Wikipedia